Palm Springs Tourist Attractions
Riverside CountyLocation and originPalm Springs is less than 113mi/180km from Los Angeles, via the U.S. 10 and CA 111 roads. Together with its sister towns of Palm Desert, Rancho Mirage, Cathedral City, Desert Hot Springs, Idyllwild and Indian Wells it has grown together into what is really one single holiday haunt and winter resort for the richest Americans.
Coachella Valley Preserve
Located east of Palm Springs, the Coachella Valley Preserve is a great place for naturalists and outdoor types. The preserve covers 13,000 acres of desert landscape, home to great horned owls, lynx, hares, kestrels, lizards, snakes, and all kinds of small birds. It's also a nice place to see some of the local desert plants, including fan palms in the oasis.Guided tours are available, which will help greatly in understanding the ecosystem. Or, there are self guided hiking trails throughout the preserve. Trail maps and information on guided hikes can be obtained from the visitor center. Note the visitor center is closed during the summer months, from June to August.
Palm Canyon
Palm Canyon, about 6mi/10km south of the center of Palm Springs at the end of South Palm Canyon Drive, is a 15mi/25km long canyon wilderness belonging to the Agua Caliente Indians.Palm Canyon is a beautiful natural area with some wonderful hiking. The canyon is a bit of an oasis in the desert with a creek and waterfalls. Fan palm trees grow abundantly here at the base of the canyon, giving color and life to the otherwise barren surroundings.Perhaps the best way to see the canyon is on one of the many hikes. There is a Trading Post selling souvenirs, Indian art, and various other things. From the parking lot are hiking trails of various lengths. An easy trail leads through the palms and will give you an up close look at the canyon without taking up a huge amount of time or energy. Or, for the more adventurous, you can also try tackling a longer trail for views over the canyon and surrounding area. You can also see the neighboring Andreas and Murray Canyons.
Palm Springs Art Museum (Formerly the Desert Museum)
The Palm Springs Art Museum is a multifaceted museum offering both displays of artwork and performing arts. The museum has been in existence since the late 1930s and formerly focused almost exclusively on the desert. However, over the years the direction has shifted to modern and contemporary art, including Native American art. Permanent collections include paintings, photography, glass, pottery, sculpture, and architecture. Guided tours led by docents are available on certain days of the week, free with the cost of admission. There are also time limited exhibitions.This massive complex of the Palm Springs Art Museum also contains the Annenberg Theater, capable of holding over 400 people. There is always a full calendar of performances that might include musicals, musical artists, comedians, and more. In addition there are also sometimes special events, such as seasonal presentations and film screenings.
Palm Springs Air Museum
The Palm Springs Air Museum is known for having one of the largest collections of Second World War period aircrafts. Despite this, the museum is relatively compact and can easily be seen in a relatively short period of time. Much of the collection is displayed in hangars so it is a great place to visit when the weather is too hot to be outside or you are looking for an escape from the outdoors for a change.The museum will be of particular interest to war buffs. The staff of volunteers is very knowledgeable and the displays are interesting. In addition to the planes there are war time photos and art, uniforms, and a library on military history. There are also special events and programs so depending on when you visit, you may be able to see a flight exhibition.
Agua Caliente Cultural Museum
The Agua Caliente Cultural Museum offers an in depth look at the Agua Caliente Band of Cahuilla Indians, including their culture and history. Other native cultures are also presented. Exhibitions at the museum change but are generally long term, lasting a year. As a result they are also quite extensive offering a wealth of information.In addition, watch for festivals and special events throughout the year. These may include films, dinners and other programs.
Moorten's Botanical Garden
Moorten Botanical Garden contains countless species of desert flora, placed in order according to where they were found and with detailed descriptions on the signposted pathways.There are over 3,000 varieties on display.
Ruddy's General Store Museum
The Ruddy's General Store Museum features a 35 year collection of general store merchandise from the 1930s and 1940s. Original showcases, fixtures, signs and products such as groceries, tobacco, hardware, clothing, medicines, beauty aids, soaps and notions are displayed.
Agua Caliente Indian Reservation
The Agua Caliente Indian Reservation is a vast scenic area that includes hiking trails and picnic areas set aside by the Tribal Council.
Annenberg Theater
Annenberg Theater presents performances from the world of music, drama, comedy, opera, and dance.
McCallum Adobe Museum
The McCallum Adobe Museum in Palm Springs houses the Palm Springs Historical Society. Built in 1884 the adobe was the first home of the settlers of Palm Springs.
Soak City
The Soak City in Palm Springs is a 21 acre site with 13 waterslides including a 70 foot twin Scorpion. There is a wave pool and Squirt City for small children.
Map of Palm Springs Attractions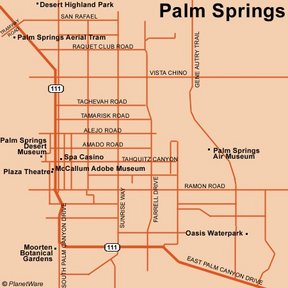 Map - Palm Springs