Oranjestad, Aruba Tourist Attractions
Oranjestad is the capital of Aruba. The older buildings are in Dutch Colonial style, but the Spanish influence of balconies and gardens, and the Caribbean influence of bright colors makes them unique to The Netherlands Antilles.The city has many historic sites and museums, as well as gardens and a busy shopping street.
Wilhelmina Park
Wilhelmina Park in Oranjestad is best seen in June, September or October when the tropical foliage is in bloom. The park was created in 1955 in honor of Queen Juliana and Prince Bernhard of the Netherlands. There is also a marble sculpture of Wilhelmina, the queen mother, created by Arnoldo Lualdi of Italy.
Fort Zoutman and King Willem III Tower
The King Willem III Tower stands at Fort Zoutman. It was built as a lighthouse and to sight pirates. On Tuesday evenings from May to December the Bon Bini Festival welcomes guests to enjoy Aruban cuisine and entertainment.The King Willem III Tower also houses the Historical Museum.
Aruba Historical Museum
The Aruba Historical Museum is located in the Tower at Fort Zoutman. The museum displays artifacts related to the entire history of the island of Aruba.
Atlantis Submarine
The Atlantis Submarine takes visitors on a tour through the Barcadera reef to see the marine life, coral formations, and ship wrecks. Although the tour is just under two hours long, guests spend only 45 minutes in the submarine.
Butterfly Farm
The Butterfly Farm in Oranjestad houses butterflies from around the world in an enclosed tropical garden. Displays at the site illustrate each stage of a butterfly's development from larva to adult.
Numismatic Museum of Aruba
The Numismatic Museum of Aruba displays world currency dating as far back as 221 BC and includes coins, Aruban shell artifacts, wampum, shell-beads and bills made from linen or silk. This was once the private collection of Mr. Mario Odor.
Strea Charters
Strea Charters offers cruises and snorkeling excursions out of Oranjestad. A typical trip involves a morning sightseeing cruise with stops for snorkeling, along with a lunch. The company also offers private charters with a captain and crew.
Access Art Gallery
The Access Art Gallery in Oranjestad features contemporary works by national and international artists. There is also a cafe on site.
Archaeological Museum of Aruba (Closed Temporarily)
The Aruba Archaeological Museum closed temporarily to the public while relocating to a historic complex.
Floating Market
From their boats, merchants sell Venezuelan fish, fruits, vegetables and spices along the dock.
Protestant Church
The Protestant Church in Oranjestad has a unique modern edifice. Inside is a Bible Museum.
Map of Oranjestad Attractions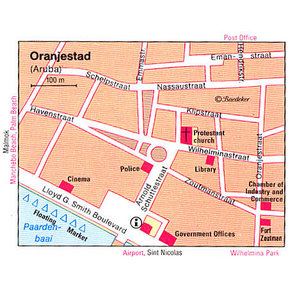 Map - Aruba - Oranjestad