10 Top-Rated Tourist Attractions in Olympia
The evergreen city of Olympia sits at the southern end of Puget Sound, where the Deschutes River meets saltwater, and the glaciered slopes of Mount Rainier rise in the background. Though large in ambition, the Washington state capital is a compact city with an array of grandiose government buildings, unusual museums, and a lively waterfront district. In the surrounding rural areas, nature takes a firm hold at the Nisqually National Wildlife Refuge and amid the mysterious Mima Mounds.
1 Washington State Capitol Building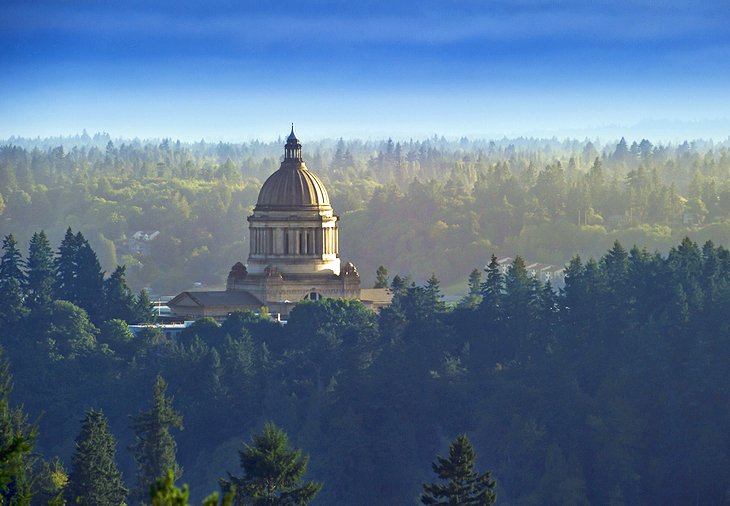 Completed in 1928 at a cost of more than seven million dollars, Washington's Legislative Building rises 287 feet above the capitol campus. The impressive white dome is visible when arriving in town, and ranks as the tallest masonry dome in North America. Visitors can stroll the grounds, but a tour is worthwhile to see the lavish interior that includes a five-ton Tiffany chandelier. The free, guided public tours run daily.
Address: 416 Sid Snyder Ave SW, Olympia
2 Mount Rainier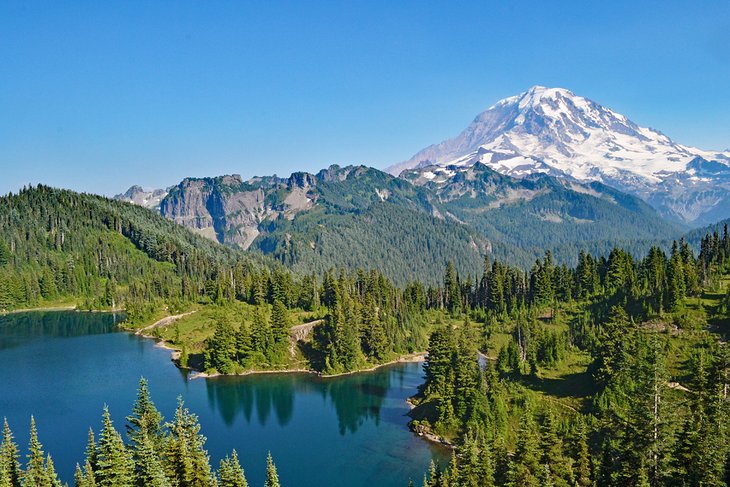 About 65 miles southeast of Olympia, Mount Rainier National Park is centered around its namesake - a volcano in the Cascades chain. Many people come to the national park to climb and hike, especially in the old-growth Grove of the Patriarchs. Scenic drives take visitors to the mountaintop lodge at Paradise, via the Road to Paradise, or to welcome the first rays of morning sun from Sunrise. And there are many sightseeing opportunities at lookouts, waterfalls, and historic buildings along the routes.
3 Olympia Farmers Market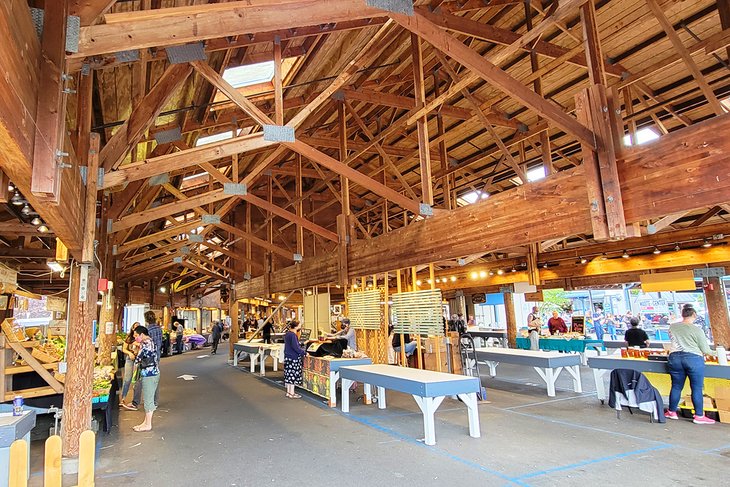 Stroll along Olympia's Percival Landing boardwalk with this eclectic farmers market as your destination. Local berries, baked pastries, and handcrafted cheeses stock the varied stalls. You can also find clams and oysters from nearby Shelton. Note that market hours can change with the season.
Address: 700 Capitol Way N, Olympia
4 Hands on Children's Museum
The Hands On Children's Museum features eight galleries with numerous interactive displays. Children are encouraged to play creatively while learning in the stimulating range of settings. Unlike some children's museums, this facility is designed for a variety of age groups - including parents with infants.
Address: 414 Jefferson Street NE, Olympia
5 Washington State Capital Museum
Housed in the ornate Lord Mansion, the Washington State Capital Museum and Outreach Center features permanent and temporary displays about the city as well as Native American history. The building is also used to house a number of societies, primarily those with a focus on heritage and history.
Address: 211 21st Ave SW, Olympia
6 Nisqually National Wildlife Refuge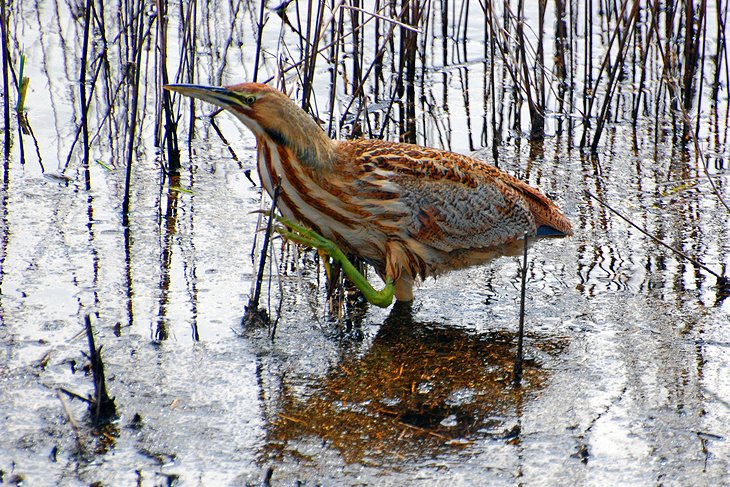 The Nisqually National Wildlife Refuge protects migratory birds using the area for nesting and habitat. Freshwater and saltwater marshes, grasslands, and forest make up the wildlife refuge. Common species, among the 200 that visit annually, include great the blue heron, American bittern, and Peregrine Falcon. For the best spotting opportunities, the refuge recommends arriving within two hours of high tide.
Address: 100 Brown Farm Rd, Olympia
7 Mima Mounds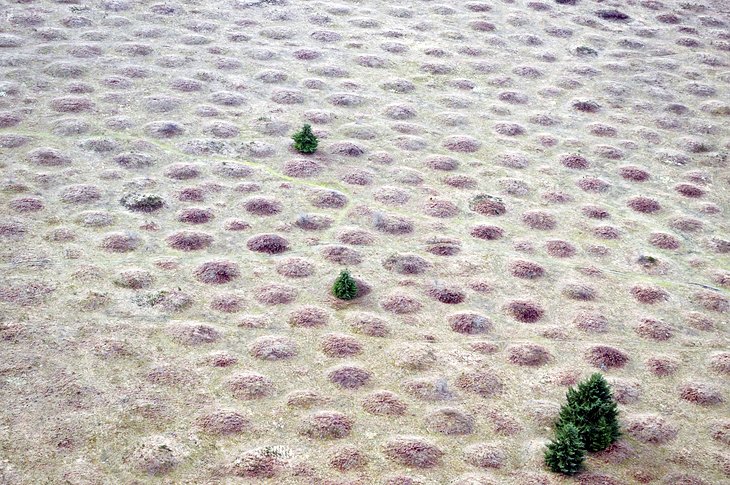 Just what created these odd, bubble-like mounds southwest of Olympia is a mystery. And this puzzle is one with proposed answers ranging from giant gophers to earthquakes and glaciation. Whatever the answer, the Mima Mounds Natural Area Preserve is a great place for walking or hiking, particularly in the spring when the wildflowers are in bloom on the rolling hills.
8 Olympic Flight Museum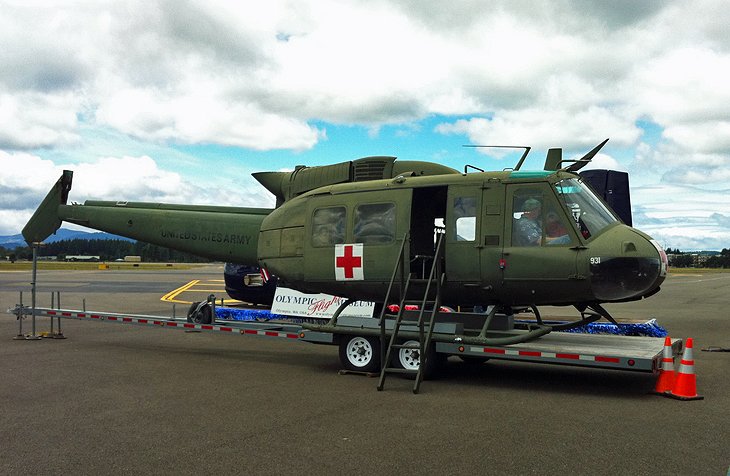 Established in 1998, this aviation museum is a tourist attraction at the Olympia Regional Airport. The wide hangar shelters heritage planes and helicopters, as well as memorabilia. The museum also hosts the annual Olympic Air Show in August, when some of its own heritage planes take to the sky.
Address: Building A, 7637 Old Hwy 99 SE, Tumwater
9 Bigelow House Museum
Bigelow House Museum is noted for being Olympia's oldest home, built in the mid to late 1850s (although the exact year of completion is the source of some debate). The house contains a large collection of original furnishings offering insight into local life during the 1800s.
Address: 918 Glass Ave, Olympia
10 WET Science Center
WET stands for water education and technology, and this water-focused science center presents a series of galleries with interactive exhibits about one of the earth's most essential resources. It is located downtown, and often hosts school groups.
Address: 500 Adams Street NE, Olympia
Destinations
popular right now