Netanya Tourist Attractions
Situation and characteristicsNetanya (Nethanya, Nathanya), situated on the Mediterranean coast 32km/20mi north of Tel Aviv and 63km/39mi south of Haifa, is a popular seaside and holiday resort with an agreeable climate and a beautiful sandy beach more than 10km/6mi long. It has over 30 hotels, mostly in the middle and lower categories, and restaurants of corresponding quality.HistoryNetanya was founded in 1928 amid the sand-dunes of the plain of Sharon by members of the organization named Bene Binyamin in honor of Baron Edmond (Binyamin) de Rothschild. Its name commemorates the American-Jewish philanthropist Nathan Strauss. Until the draining of the Hefer plain from 1930 onwards and the building of roads the settlement, at first no more than a village, could be reached only on foot or on horseback from the Tulkarm railway station, 17km/10.5mi east.During the Second World War immigrants from Antwerp established a diamond-cutting workshop which made a contribution to the war effort and after 1945 worked mainly for the jewelry industry. Since then Netanya has developed into a flourishing town with a sound infrastructure, an economically important industrial zone and excellent tourist facilities.
The Town
Netanya's principal street, named after Theodor Herzl, is lined with shops, restaurants and cafes. Herzl Street runs west from the main Tel Aviv-Haifa road, passing the Head Post Office (at the corner of David Raziel Street), the principal synagogue, the bus station (on Benyamin Boulevard), the central taxi rank (in Zion Square) and the Town Hall, to Ha'atzmaut Square (Kikar Ha'atzmaut) with its gardens and fountains. On the seaward side is the tourist information office, and along the north side is a small park with a modern amphitheater facing the sea. There are numerous restaurants round the square, but the town's hotels are to be found in the streets running north-south, almost all of them with a view of the sea.The town's main north-south artery is a wide street known to the south of Herzl Street as Benyamin Boulevard and to the north as Weizmann Boulevard. In a parallel street to the east is the Market Hall, offering a wide range of fruit and vegetables, meat and fish. To the west of Weizmann Boulevard is a rehabilitation center for the blind, established after the Second World War, with a library of books in braille and a museum (art exhibitions).Also of interest are the diamond-cutting workshops, with showrooms, in the south of the town (Yahalom Street).
Avihayil - Jewish Legion Museum
In the moshav of Avihayil, 4km/2.5mi north of the town center of Netanya, is the Jewish Legion Museum, which illustrates the achievements of Jewish units in the British army during the First World War.
Map of Netanya Attractions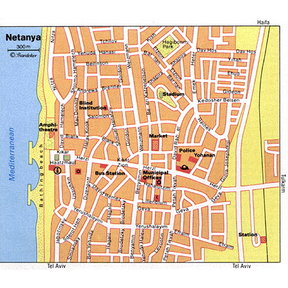 Map - Netanya