Nakhon Ratchasima Tourist Attractions
The town of Nakhon Ratchasima, once also called Khorat, lies 220 km (137 mi.) north of Bangkok on the south-west edge of the Khorat Plateau.
Wat Sutthachinda
Beautiful gardens surround Wat Sutthachinda. The small wiharn guarded by two bronze lions and the dainty bell tower are particularly charming. Of note are the wiharn's richly decorated gable and the elaborately carved windows on either side of the shrine. The well-proportioned wiharn contains three statues of Buddha, crowned with five-storied canopies. The largest of the statues shows the gestures of forgiveness, one of Buddha's five classical positions.Next to the temple is a crematorium, where cremations are carried out according to Buddhist rites.
Wat Phra Narai Mahathat
The extensive Wat Phra Narai Mahathat in Prajak Road lies near a large market (Mukkhamontri Road), which is worth seeing. Several sculptured sandstone slabs from Khmer temples stand here, as does a highly revered Vishnu figure in a small Hindu temple.
Silver Lake Park
Silver Lake Park, a leisure park with a swimming pool and large water slides, is located on the edge of the town.
Fortifications
The wide moats and the reconstructed Pratu Chumphon gate give an impression of the extent of the fortification. The bronze memorial to Thao Suranari, who is revered as a national heroine (Khunying Mo), stands on a terrace in front of the gate. When King Amu's Khmer troops invaded the town in 1826, the wife of the commander of the fort and other women staged a session outside the town for the occupying forces and attacked the soldiers. After a month they had finally driven the Khmer away.
Dan Kwian
Dan Kwian is noted as the "land of ceramics", the pottery is known for the rough texture and rust colouring. The potters have expanded from bowls and dishes to include jewelry, vases, figurines and tools.
Map of Nakhon Ratchasima Attractions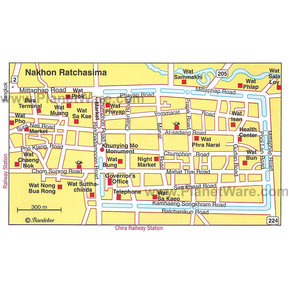 Map - Nakhon Ratchasima