10 Top Tourist Attractions in Milwaukee & Easy Day Trips
The city of Milwaukee lies some 90 miles north of Chicago, on the west side of Lake Michigan, at the inflow of the Milwaukee River, which is joined within the city area by two tributaries: the Menomonee and the Kinnickinnic. Milwaukee has had its fair share of ethnic influences: the area was once home to the Indian village of Melleoki. It was also visited by French missionaries, settled by Canadian fur traders, and finally welcomed numerous immigrants from Germany. Indeed, much of the city's population is of German origin, and it's often referred to as the "German Athens" of America. Perhaps the city's greatest claim to fame, however, is that it's the home of Harley-Davidson, the legendary motorcycle.
1 Milwaukee's Lovely Lakefront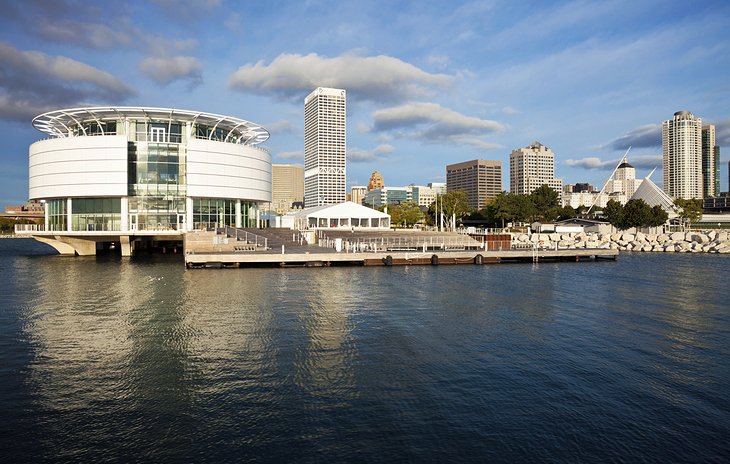 Milwaukee's Lakefront area is one of the prettiest downtown areas of any US city. Whether your interest is shopping in boutique stores and galleries; dining al fresco on the shores of Lake Michigan; or simply exploring the city's many pleasant walking trails, parks, and attractions, visiting here is time well spent. One of the most prominent landmarks is the War Memorial Center commemorating the dead of WWII and the Korean War. A newer landmark (the War Memorial was built in the 50s) is the Milwaukee Art Museum, a striking building with collections that include American and European works from the 19th and 20th centuries. And as you walk around the shoreline to Discovery World, you'll also see the Denis Sullivan, a 137-foot replica of the tall ships once so common here. Also of note are the Municipal Pier and the Henry Maier Festival Grounds, where the famous Summerfest is held.
2 Editor's Pick The Harley-Davidson Museum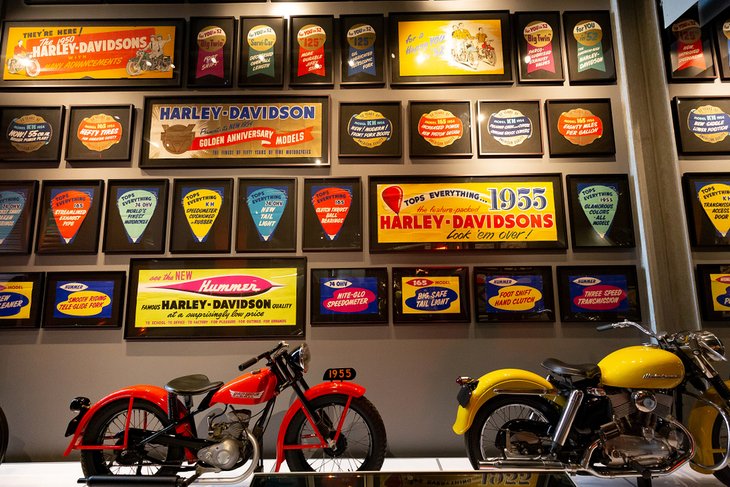 One of Milwaukee's oldest industries is also the city's newest attraction, the Harley-Davidson Museum. The iconic motorcycles came into being here in 1901 when William S. Harley, Arthur and Walter Davidson, and a German engineer produced their very first motorbike. Mass production followed in 1903, and the rest, as they say, is the kind of history now on display at the excellent Harley-Davidson Museum. All told, this superb family attraction boasts more than 450 motorcycles and artifacts, including "Serial Number One," the oldest Harley. Other highlights include interesting displays relating to the people behind the machines, a store, and a restaurant.
Address: 400 W. Canal Street, Milwaukee
3 The Milwaukee Art Museum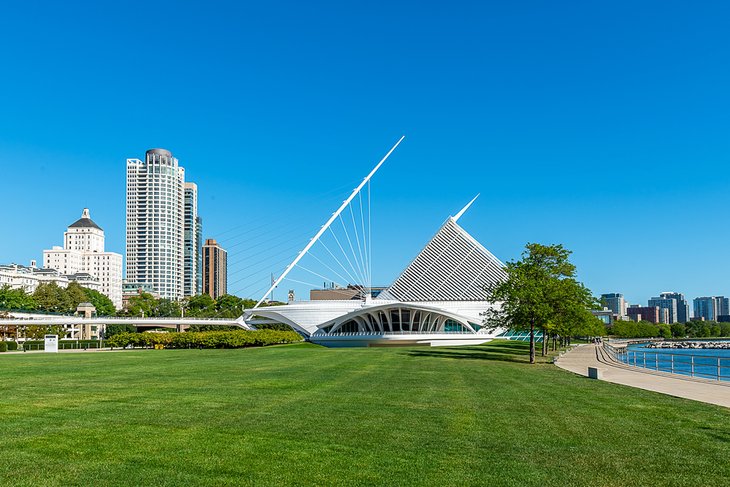 Founded in 1888, the excellent Milwaukee Art Museum is home to more than 20,000 works of art from antiquity to the present day. The lakeside building itself is a work of art and resembles a cross between a sleek ship and an aircraft, with a tall, retractable structure resembling wings perched atop its roof. Highlights are its many European, American, modern, and contemporary works including fine prints, drawings, and photographs, as well as Asian and African collections. Other city galleries of note are the Charles Allis Art Museum, with American and European art from the 19th and 20th centuries, housed in a lavish Tudor-style villa built in 1911; the Villa Terrace Decorative Arts Museum, built in 1923 in the style of an Italian Renaissance villa with decorative arts from the 15th through the 18th centuries; and the Haggerty Museum of Art with a collection of more than 2,000 pieces, including many Old Masters.
Address: 750 North Lincoln Memorial Drive, Milwaukee
4 City Hall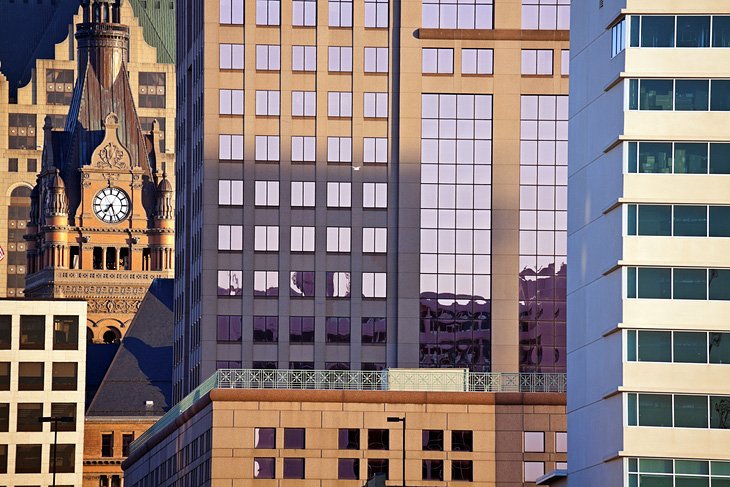 Despite being surrounded by numerous taller and more modern buildings, Milwaukee's City Hall continues to be an important part of the city's skyline. Built over a number of years and finished in 1895, the building, at 393 feet, remains one of the tallest 19th-century skyscrapers of its kind. Designed in a mix of Flemish and German Renaissance Revival styles, it was, when completed, the tallest habitable building in the country.
5 Pabst Theater and Pabst Mansion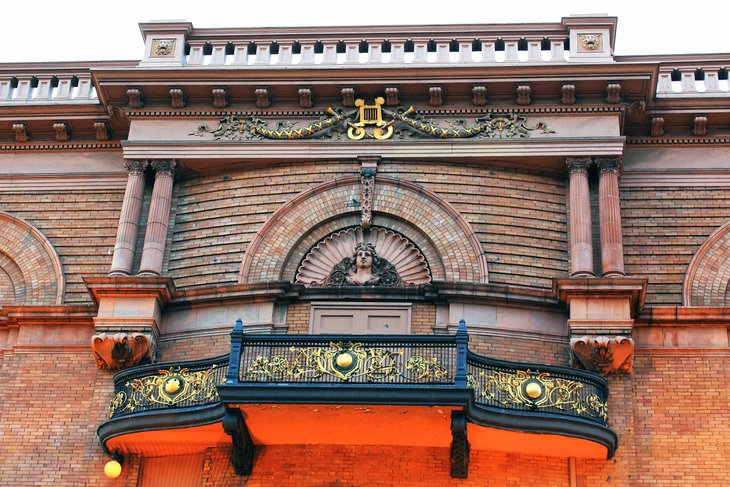 The Pabst Theater is one of Milwaukee's architectural gems. Built at the turn of the 20th century, the theater is built in a style reminiscent of Europe's best opera houses with a charming Baroque interior, including a spectacular chandelier and an Italian Carrara marble staircase. Included on the National Register of Historic Places, the theater is still used for stage and musical productions. A popular related attraction is the Pabst Mansion near the University of Wisconsin's Milwaukee campus. Built in 1893 for the wealthy Pabst family, it's notable for its Flemish Renaissance Revival style with period furnishings and décor.
Address: 144 East Wells, Milwaukee
6 The Greek Orthodox Church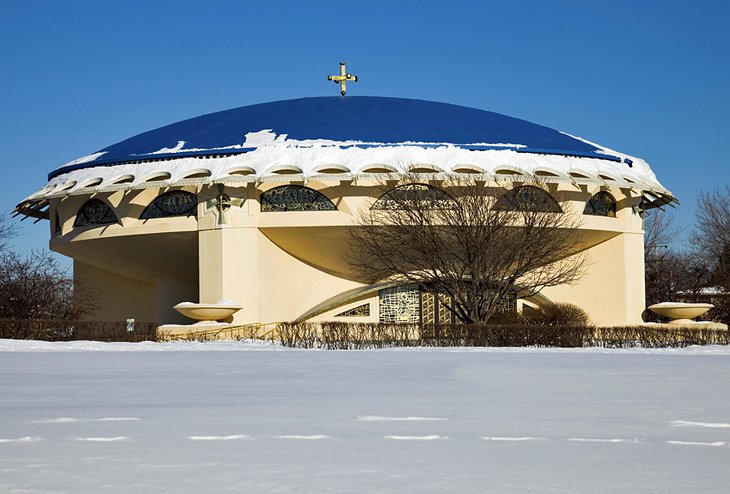 Milwaukee's Greek Orthodox Church is famous for two reasons: first, it was built and designed by renowned architect Frank Lloyd Wright; and second, it resembles either a spaceship or an alien with a very toothy grin, depending upon the angle from which it's viewed. None of this should stop you from visiting this unique circular structure with its large blue dome and gold cross on top. While visitors are welcome to attend regular church services, group tours are available outside these times with advance notice.
Address: 9400 West Congress Street, Milwaukee
7 The Domes: Mitchell Park Conservatory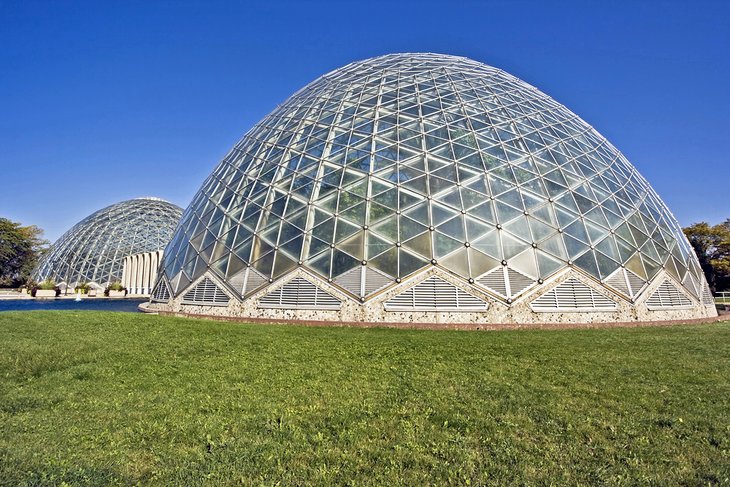 The Mitchell Park Conservatory in the western part of town has three very distinct gigantic glass domes containing plants from the tropics and from desert areas. They're impressive architecturally as well, each dome spanning 140 feet in diameter and standing 85 feet tall, and were the first of their kind when they were built in 1959. Numerous shows and festivals are held throughout the year in the Show Dome, including a well-attended Christmas event with an extensive garden railway.
Address: 524 South Layton Blvd, Milwaukee
8 Milwaukee County Zoo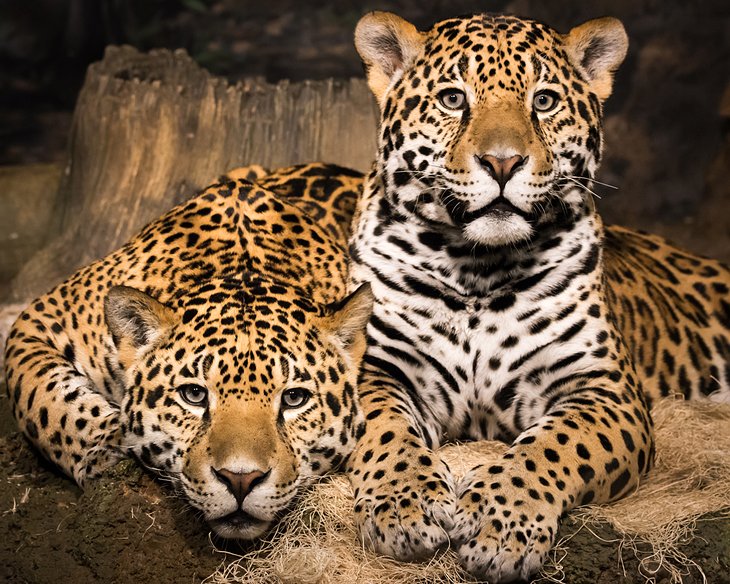 The Milwaukee County Zoo is one of the largest in the US and has a variety of unique and rare animals among its 2,000 permanent residents (some of them even born here), including polar bears, gorillas, and cheetahs. Covering an impressive 200-acre site, the zoo offers an active educational program with numerous fun seasonal events. For youngsters, highlights include an animal petting area, a raptor show, a sea lion show, camel rides, and a train that runs throughout the complex.
Address: 10001 West Bluemound Road, Milwaukee
9 The Milwaukee Public Museum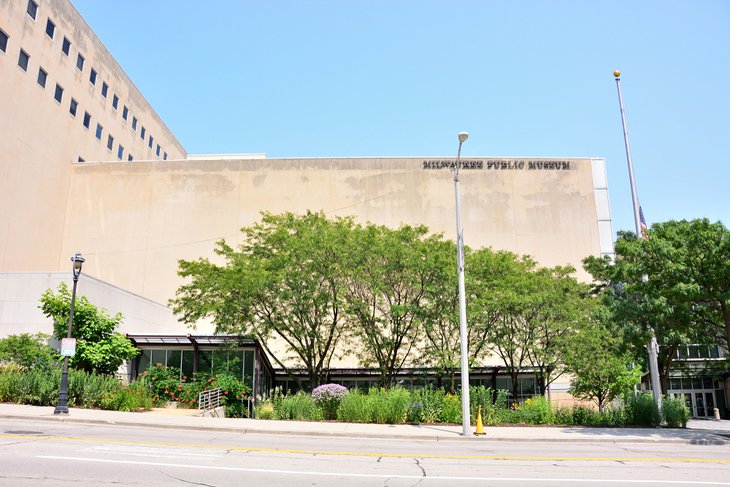 Don't be fooled by the rather simple name. The Milwaukee Public Museum is an excellent place to pass a few hours exploring its many collections and displays. Highlights include fascinating natural history displays of life-size dinosaurs and a reconstruction of a tropical rainforest, as well as a presentation of Milwaukee's past in the Streets of Old Milwaukee exhibit. An on-site six-story dome theater presents planetarium-type shows and is worth the additional admission cost.
Address: 800 West Wells Street, Milwaukee
10 Discovery World
Milwaukee's Discovery World Museum, also known as the James Lovell Museum of Science, Economics, and Technology, has a variety of interactive exhibits sure to fascinate young and old alike. The museum also presents a changing roster of traveling exhibits related to the disciplines highlighted in its name. Also of interest to families with youngsters (under 10 years) is the Betty Brinn Children's Museum with its fun interactive displays.
Address: 815 North James Lovell Street, Milwaukee
Day Trips from Milwaukee
The Milwaukee Mile
At the Wisconsin State Fairgrounds in West Allis, the Milwaukee Mile - also known as "America's Legendary Oval" - is the world's oldest active motor speedway. Dating back to 1903, the track has a rich history of hosting world-class IndyCar Series and NASCAR events and is one of only a handful of independently owned major league speedways left in the US. Widely regarded as a driver's track, this unique one-mile "flat oval" creates some of the best racing in the country.
Address: 640 South 84th Street, West Allis
Old World Wisconsin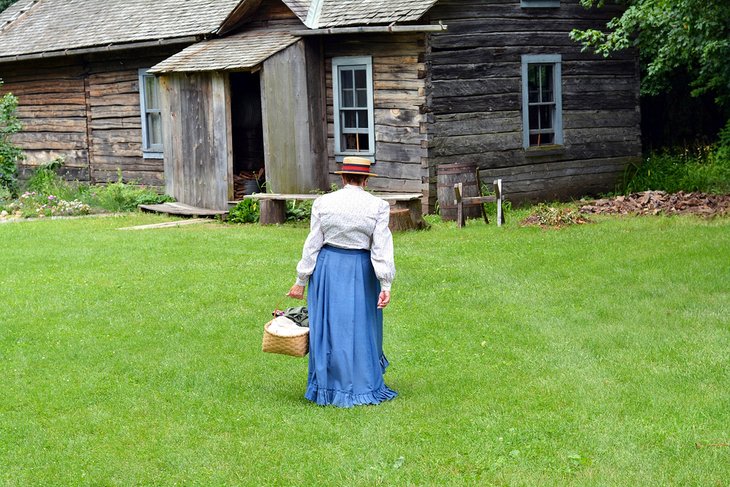 In Eagle, to the southeast of Milwaukee, is the Old World Wisconsin open-air museum. This fascinating tourist attraction includes a collection of 65 historic pioneer-era buildings constructed in styles reminiscent of the homelands of the area's first settlers, including Germany, Denmark, Norway, and Finland. It's a fun and very realistic recreation of pioneer life, complete with costumed staff and re-enactments. Other highlights include summer camps and workshops, as well as a chance to play vintage baseball using the original rules and equipment associated with the sport.
Address: W372 S9727 Wisconsin 67, Eagle
Racine and Kenosha: Great Art and Museums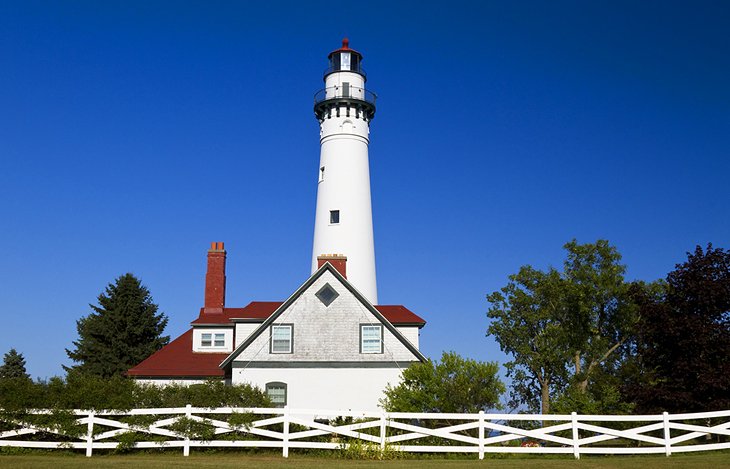 The city of Racine has several key attractions. Two of the most popular are Wind Point Lighthouse with its fantastic views and the Racine Heritage Museum where the history of the area is laid out in detail. For art lovers, the key reason to visit is the Charles A. Wustum Museum of Fine Arts with its collection of contemporary art. The museum also hosts a variety of traveling exhibits and shows throughout the year. Another art facility worth visiting is the Anderson Arts Center in Kenosha. Housed in a restored 9,000-square-foot mansion, the center is divided into various sections according to art style. Another Kenosha attraction of note is the Kenosha Public Museum with its diverse exhibits, the best of which are The Wisconsin Story, The Ice Age, and the Native American Village. The museum also has a collection of art in its Fine and Decorative Arts Gallery including pieces by Picasso and Renoir.
Sponsored Links

Milwaukee Deals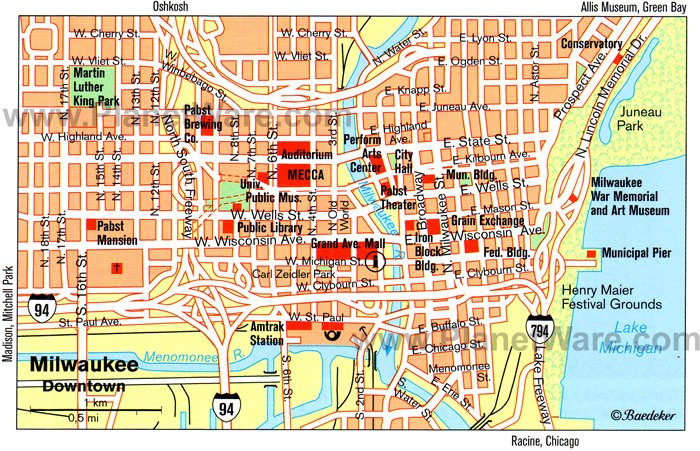 Milwaukee Map - Attractions
Want to use this map on your web site?
Copy and Paste the code below:
More on Wisconsin