Miami Beach Tourist Attractions
Top Tourist Attractions in Miami Beach
Miami Beach is a separate municipality located on a thin strip of island across the Biscayne Bay from the city of Miami. It can be reached by driving the MacArthur, Julia Tuttle, or one of three other bridges and causeways. Miami Beach is perhaps best known for its white sandy beaches, clear water, art deco architecture and nightlife.HistoryIn 1912 this was merely a small sandy island in Biscayne Bay; then John Collins, founder of the settlement, and Carl Fisher, a millionaire who had already built the Indianapolis motor-racing track, set about developing it. In the twenties, thirties and forties there was a great flowering of Art Deco here. After the Second World War Miami Beach enjoyed a further boom; but regrettably it also attracted many criminals, including drug bosses and arms salesmen.The small beach settlement that grew up here developed within a few decades into the largest holiday, entertainment and bathing resort in the United States.
South Beach is more than just a beach. Behind the beautiful stretch of sand lies an upper end area of Art Deco buildings and neon signs, with restaurants and all kinds of entertainment.
Fontainebleau Hilton Resort and Towers
Consisting of three buildings that rest on 20 acres of tropical land and beach, the Fontainebleau Hilton Resort and Towers is a landmark of North Miami Beach. Some of the entertainers who have stayed or performed at the resort are Frank Sinatra, Elvis Presley, Bob Hope, Sammy Davis, Jr., and Lucille Ball.It was built in the sixties, with over 1200 rooms and suites. Among its amenities are a spa pavilion, an artificial grotto complete with waterfall, a tropical lagoon and a swimming pool (which features in the James Bond film "Goldfinger"). On a high wall at the south entrance to the hotel complex is a large mural by Richard Haas depicting what is behind the wall.
Carl Fisher Monument
The monument consists of bust of Carl Fisher mounted on a large keystone. This is a tribute to the man who helped establish Miami Beach by deeding many parks and public beaches to the city.
North Miami Beach
North Miami Beach is the northern part of the 10 mi/16km long island. High-rise condos, luxury hotels and residential neighborhoods characterize this area. It is bordered by 43rd street in the south and 96th street in the north.
Ancient Spanish Monastery of St Bernard De Clairvaux Cloisters
St Bernard De Clairvaux Episcopal Church is a small piece of Europe in Miami Beach. This 12th century Spanish church was originally built in Sacramenia, Spain, where it operated for seven centuries at the Monastery of St. Bernard de Clairvaux. It was eventually turned into a granary.In the 1920s the cloisters and several other buildings belonging to the monastery, were bought by newspaper baron William Hearst. He had the building dismantled, shipped it to the U.S., and tried to have it re-assembled. Due do to a number of problems this plan never came to pass. In 1954, the pieces found a home in Miami, where the building currently operates as an Episcopalian church.Visitors can tour the church and the grounds for a fee.
Museum of Contemporary Art
The Museum of Contemporary Art opened in 1996 and has seen much success since that time. It has gained international attention while still managing to focus largely on emerging talent. The museum has grown its collection through ongoing acquisitions, made either through purchases or donations and is in the process of expanding its facility.The new building will be an eye catching LEED Certified structure which will be more than twice the size of the current facility. Completion is planned for 2014.The museum offers a strong permanent collection and features exhibits showcasing the latest trends and talents in contemporary art. A wide range of media are presented.
Aventura - Fineartgasm - Andy Warhol Brokerage & Fine Art Gallery
Fineartgasm is a chic fine art gallery that features contemporary art from around the world.
Map of Miami Beach Attractions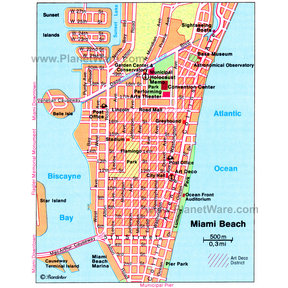 Map - Miami Beach