Malibu
This community, which still belongs to Los Angeles, lies between the Santa Monica Mountains and the Pacific coast, along the CA 1, and possesses some of the most beautiful Pacific beaches in Los Angeles. Like the neighboring Pacific Palisades, Malibu, with a population of some 10,000, is one of the most well-to-do parts of the city. Scholars differ regarding the meaning of its name; although it is certain that "Malibu" can be traced back to the Umalibo ranch belonging to the native Chumash Indians, the actual meaning of the word is uncertain, although it could well be the name of a person.
Important Information:
Address:
23805 Stuart Ranch Road, #100, Malibu, CA 90265-4897, United States
Useful tips:
Warning In the interests of the residents, parking is prohibited on the streets of Malibu and Pacific Palisades.
Related Attractions
Getty Villa
The Getty Villa in Malibu features a collection of European paintings, drawings, sculpture, decorative arts, and European and American photographs.
Adamson House & Malibu Lagoon Museum
Adamson House and Malibu Lagoon Museum occupies the finest Malibu beach property. It's a Moorish-Spanish colonial-style house built in 1928, lavishly decorated with Malibu tile. The grounds are beautifully landscaped with pines, and picnic tables. There's a panoramic view of the ocean.
Arch Obler Gatehouse
The Arch Obler Gatehouse in Malibu was designed by Frank Lloyd Wright and completed in 1940. It was originally meant to be part of a much larger estate, but the main house was never built.
Frederick R Weisman Museum of Art
The Frederick R. Weisman Museum of Art features 19th and 20th C art. Other works are featured in the Gregg G. Juarez Gallery, West Gallery, and Ron Wilson-Designer Gallery.
Malibu Creek State Park
Malibu Creek State Park is a 10,000 acre reserve. Part of the park may seem familiar to visitors as it was used in filming many famous movies. Some popular activities include hiking, fishing, bird watching and horseback riding.
Malibu Lagoon Museum
The Malibu Lagoon Museum is located in a 1929 Moorish-Spanish Colonial-style mansion built for Rhoda Adamson and features a collection of local historic artifacts. Colorful tile, handcrafted woodwork and ironwork are found throughout the house.
Zuma Beach County Park
The Zuma Beach County Park in Malibu is an excellent place for swimming and surfing. Miles of sand and volleyball pits make it a family friendly destination. During winter months, it is perfect for whale watching.
Corral Beach
Corral Beach is located just west of Malibu. The beach is 1mi/1.5km long and is inaccessible at high tide.
Las Tunas State Beach
Las Tunas State Beach is located on the Pacific Coast Highway to the east of Malibu. It is quite narrow even at low tide.
Leo Carrillo State Park
Leo Carrillo State Park is located just west of Malibu on the Pacific Coast Highway. There are biking, hiking and swimming opportunities here.
Malibu Colony
Malibu Colony is a private gated community on the beach favored by Hollywood stars.
Malibu Lagoon State Beach
The Malibu Lagoon State Beach has 22 acres of coastline and is a popular spot for swimming and water sports. Bird watching and fishing are also popular.
Nicholas Canyon County Beach
Nicholas Canyon County Beach is located one mile east of Leo Carrillo State Beach to the west of Malibu. There are swimming and diving activities here.
Surfrider Beach
Surfrider Beach in Malibu is mainly used by surfriders but there are other activities to be enjoyed such as swimming, fishing and volleyball.
More Malibu Pictures

Map of Los Angeles Attractions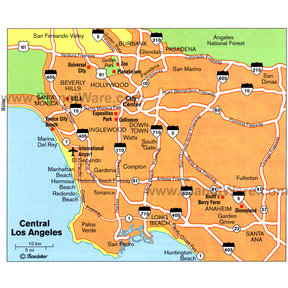 Los Angeles Map
More Los Angeles Attractions