Les Eyzies de Tayac Tourist Attractions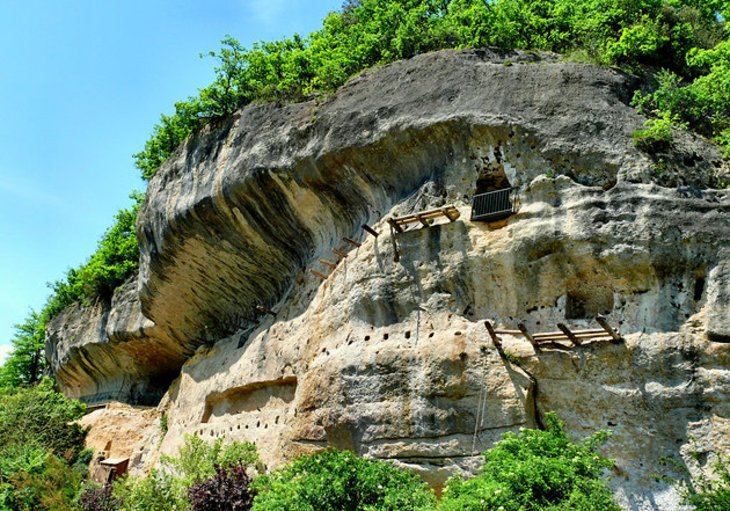 Prehistoric dwelling caves, Les Eyzies de Tayac dynamosquito
Les Eyzies, situated at the junction of the Beune with the Vézère, is a good base from which to visit the prehistoric sites of Périgord. In this area were found the first drawing of a mammoth and the 30,000-year-old skeleton of Cro-Magnon Man, named after the find-spot.
Within easy reach of Les Eyzies are the Grotte du Grand Roc, Cro-Magnon and several other caves and prehistoric sites.
Wonderfully preserved prehistoric drawings of animals (painted and engraved) can be seen in the Grottes des Eyzies, the Grotte des Combarelles, the Grotte de la Mouthe and above all in the Grotte de Font-de-Gaume.
Les Eyzies-de-Tayac National Museum of Prehistory
There are large collections of prehistoric material in the National Museum of Prehistory in Les Eyzies. As well as in the old castle of the Barons of Beynac and the Museum of Speleology in the Rocher de Tayac.The National Museum of Prehistory features one of the most important stone and bone tools collection in France, and the premier collection of paleolithic engravings and sculpture in the world.
Address: Box 7, F-24620 Les Eyzies-de-Tayac, France
Tursac Prehistoric Park
An open-air museum at Tursac, 6km/4mi from Les Eyzies, gives a vivid impression of the life of prehistoric man and his hunting activities.
Address: La Faure Reignac, F-24620 Tursac, France
Combarelles Cave
The Combarelles Cave is made up of a narrow tunnel that runs almost 300 meters long. It was used, along with the rest of the valley, by Cro-Magnon man, between 14,000 and 12,000 years ago. The inner part of the cave includes over 500 engravings, although some were damaged by humidity and wetness in the cave.Precautions are made to preserve the engravings, including restrictions on the number of daily visitors.
Address: Route de Sarlat, F-24620 Les Eyzies-de-Tayac, France
Grand Roc Cave
Grotte du Grand Roc is a magnificent cave located at the edge of a 600 meter-long cliff overlooking the Vézère River, in the heart of the Perigord region. The cave is known internationally, for the thousands of formations it contains, including numerous helicites, stalactites, stalagmites, hollow crystal pyramids and unique enigmatic triangles.The cave also shelters a prehistoric site known as the Laugerie Basse Rock Shelter.
Sarlat - Abri du Cap Blanc
Abri du Cap Blanc is located seven kilometers outside Les Eyzies, overlooking the Grande Beune Valley. The site dates back at least 14,000 years to the mid-Magdelenian period. The cave includes an exhibition of various archeological artifacts found on site during excavations in 1909. There is also a 14-meter-long sculpted frieze along the wall and an ancient human burial site.
Address: 3 rue Marcel Pagnol, F-24200 Sarlat-la-Canéda, France
St Christophe Rock Shelter
La Roque Saint-Christophe consists of hundreds of rock shelters, which housed numerous civilizations, including prehistoric. Several examples of early tools were found at the site.The natural cavities, along the limestone wall, were occupied by cave dwellers as far back as 55,000 years ago and later they became part of a fortress during the Middle Ages.
Address: Peyzac-le-Moustier, F-24260 Les Eyzies-de-Tayac, France
Font de Gaume Cave
Font de Gaume Cave has some of the best Magdalenian period cave paintings in the region. There are polychrome paintings as well as engravings, which show animals such as bison, horses and mammoths.The cave was used extensively during the 19th century, but its prehistoric significance was not recognized until 1901.
Address: Route de Sarlat, F-24620 Les Eyzies-de-Tayac, France
Montignac - Regourdou Cave
This interesting cave, Grotte de Regourdou, was used in prehistoric times for bear worship. Brown bear bones as well as human skeletal remains of Regourdou man were found in a tomb in the cave. Numerous tools were also found throughout the cave.The site is located only 500 meters from Lascaux II.
Rouffignac Cave
Grotte de Rouffignac looks more like an underground maze filled with over 250 prehistoric cave drawings. An electric train has been installed to make visiting the 10km long cave easier. Also worth noting are the various indecipherable signs and several hand prints on the cave walls.
Shelter of Le Moustier
Within the Le Moustier Shelter is a Neanderthal skeleton, thus ending the skepticism that the Neanderthal was little more than a deformed human rather than a link in the evolutionary chain of humans. The skull, discovered in 1909, is estimated to be less than 45,000 years old.
La Madeleine
La Madeleine is the site of a troglodyte village where prehistoric people settled 10,000 years ago. A number of tools dated to the Magdalenian period were found here and are now housed in the National Museum of Prehistory.
Les Eyzies-de-Tayac - Gisement de La Micoque
Gisement de La Micoque is significant for what is suggests about the beginning of the Paleolithic. The Micoque provies one of the oldest sites of human occupation in the region.
Address: Route de Sarlat, F-24620 Les Eyzies-de-Tayac, France
Shelter of Cro-Magnon
This is the site where rail workers first uncovered the five skeletons of Cro-Magnon man in 1868. The rock shelter in which they were found was named after a local hermit who went by the name Magnon.
Les Eyzies-de-Tayac - Abri de Laugerie-Haute
Flint tools were discovered in this shelter, Abri de Laugerie-Haute, which is believed to have been occupied between of 24,000 to 14,000 years ago.
Address: Route de Sarlat, F-24620 Les Eyzies-de-Tayac, France
Les Eyzies-de-Tayac - Gisement De La Ferrassie
This cave, Gisement De La Ferrassie, is thought to have been occupied between 25,000 and 14,000 years ago and is famous for displays of prehistoric art.
Address: Route de Sarlat, F-24620 Les Eyzies-de-Tayac, France
Les Eyzies-de-Tayac - Gisement du Moustier
This shelter, discovered in 1863, showed features consistent with the "mousterienne" culture, corresponding to the time of Neanderthal.
Address: Route de Sarlat, F-24620 Les Eyzies-de-Tayac, France
Popular Pages
Destinations
popular right now