Klosterneuburg Tourist Attractions
At the northern foot of the Wienerwald, 12km/7.5mi north of Vienna, lies Klosterneuburg, separated from the Danube by a broad belt of meadowland and famous for its Augustinian abbey. The extensive abbey complex on a hill above the Danube owes its existence to a gift made by the Babenberg Margrave Leopold III, the Saint, in the 12th century. In 1730 the Emperor Charles VI started to build a new abbey, but work came to a standstill in 1755, and it was not until 1842 that it was completed, albeit on a reduced scale.
Rathausplatz
To the southwest of the Klosterneuburg Abbey lies Rathausplatz, with the Rathaus on its southern side, and adjoining this the Babenberger-Halle (1969), a multi-purpose hall catering for congresses, dramatic performances, sporting events, etc. Nearby is the Rostockvilla (museums) and there is also an archaeological museum in St Martin's Church.
Kafka Memorial
In the Kierling part of Klosterneuburg, in what used to be the Hofmann Sanatorium, the room in which the poet Franz Kafka spent the last days of his life has been made into a memorial in his name.
Tulln, Austria
West of Klosterneuburg, on the right bank of the Danube (bridge), lies the little town of Tulln (177m/581ft; pop. 11,000), one of the oldest towns in Austria. It was the Roman naval base of Comagena and the Tulne of the "Nibelungenlied", where King Etzel (Attila) received Kriemhild. The twin-towered Gothic parish church of St Stephen has preserved a beautiful Romanesque west door with figures of the Apostles. Adjoining the church stands the 11-sided Chapel of the Three Kings (1160); the charnel-house has a magnificent doorway.Beyond Zwentendorf, on the right bank, with Austria's only nuclear power station (not in operation) lies Tulln, to which King Etzel (Attila) in the "Nibelungenlied" traveled to meet his bride Kriemhild; many years earlier it had been the Roman settlement of Comegena.
Zwentendorf
About 12km/7.5mi west of Tulln, the little town of Zwentendorf (182m/597ft; pop. 3,000) has a parish church remodeled in the Baroque style and a castle of 1750. Near the town is the first Austrian nuclear power station which was built in 1978 but has never been put into use following a national referendum.
Piro Torto Fort
1km/0.75mi beyond Zwentendorf is the site of the Roman fort of Piro Torto (first C. A.D.), excavated from 1952 onwards.
Egon Schiele Museum
The Egon-Schiele Museum is worth a visit (closed on Mondays).
Fire Brigade Museum
Tulln is the location of a fire brigade museum.
Fire Brigade Museum
The Fire Brigade Museum in Klosterneuburg is of interest to firebugs and pyromaniacs.
Eichenhain Nature Park
The Eichenhain Nature Park is located in the vicinity of Klosterneuburg.
Map of Klosterneuburg Attractions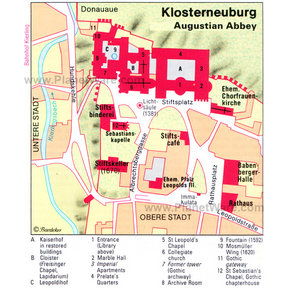 Map - Klosterneuburg Augustian Abbey