Iznik Tourist Attractions
North-west AnatoliaSituationIznik lies on the intensively cultivated east side of Iznik Gölü, a lake (80m/260ft; 303sq.km/117sq.miles; max.
The ancient town walls of Iznik are one the areas most prominent tourist attractions. The walls contain 108 towers and are quite well preserved.
City Gates
On the northern side of the circuit of the walls of Iznik stands the Istanbul Gate, which is like the Lefke Gate in structure. On the inner wall, which is of later construction, are two interesting human masks. The Lefke Gate on the east side was built about A.D. 70 and resembles a Roman triumphal arch. Outside the gate stands an aqueduct which probably dates from the time of Justinian and was later renovated by Sultan Orhan. On the south side of the town is Yenisehir Gate, the oldest parts of which date from the A.D. third century.
Green Mosque
Iznik's finest mosque, the Green Mosque, stands a little northwest of the Lefke Gate. Built between 1384-89, the porch is now glazed and opens on to three arches born on two granite columns. Only a few fragments remain of the original marble screens. The doorway and windows framed in calligraphic inscriptions are particularly notable features.
Imaret
Facing the Green Mosque in Iznik, to the west, stands the Imaret or Public Kitchen of Nilüfer Hatun, which was built in 1388 by Sultan Orhan's wife. It now houses the municipal museum with Greek and Roman artefacts, tombstones, Iznik tiles and inscriptions.
Hagia Sophia
The ruined Church of Hagia Sophia stands in the center of Iznik at the intersection of the two main streets which lead to the four old town gates. This was probably the meeting-place of the Seventh Ecumenical Council (787). Built in 1065 to replace an earlier church from the time of Justinian, it comprises a three-aisled basilica with small vaulted chambers on either side of the apse. In the reign of Sultan Orhan it was converted into a mosque and decorated with beautiful tiles.
Roman Theater
In the southwest of the old town of Iznik stands the Roman theater, said to have been built in 112 by Pliny the Younger when he was governor of Bithynia. As there was no natural slope for the theater's auditorium, the tiers were borne on massive and finely constructed vaulting.
Barber's Rock
1km/0.75mi east of Lefke Gate rises the Barber's Rock (Berber Kayasi) with the remains of a sarcophagus 4m/13ft long. A magnificent panoramic view of Iznik can be enjoyed from the top of the rock.
Obelisk of Cassius
On a hillside 5km/3mi northwest of Iznik stands the Obelisk of Cassius (Bestas), a 12m/40ft high funerary monument to C. Cassius Philiscus (second century A.D.).
Map of Iznik Attractions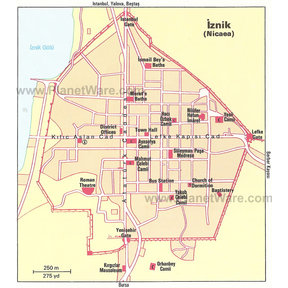 Map - Iznik