Huy Tourist Attractions
The town of Huy (Flemish Hoei) is pleasantly set in an undulating landscape at the confluence of the Meuse and the Hoyoux, approximately half-way between Namur and Liège.
Trips on the Meuse
The tourist office in Huy organizes boat trips on the Meuse.
Dating from the early 14th C, the Collégiale Notre-Dame is one of Belgium's most prominent High Gothic churches.
Grand-Place
Not far to the east of the Notre-Dame is the Grand-Place with the copper fountain "Li Bassinia" from 1406, the only surviving Gothic bronze fountain in Belgium.
Town Hall
The town hall (hôtel de ville) is here, a splendid Louis XV building from 1766. Inside is a small collection of paintings.
District Museum
From the Place Verte behind the town hall a narrow street passes St Mengold church, founded 1244, in its present form the 17th C. Couvent des Frères Mineurs (Franciscan monastery). It accommodates the Musée communal (district museum) which has 12 rooms displaying pewter, glass, porcelain, coins and medals, faiences, guild signs, archaeological finds, paintings and religious art.Particularly interesting are three rooms completely furnished with old Walloon furniture and household objects, the moving figure of Christ "Beau Dieu de Huy" in oak (13th C.) and a cast of the font from St Barthélemy in Liège by Renier de Huy.
Tour d'Oultremont
Diagonally opposite the district museum is the 16th C. Tour d'Oultremont.
Left Bank of the Meuse
On the left bank of the Meuse approximately at the same height as the Collégiale Notre-Dame is the Maison de Batta from 1575, former refugium of the Abbey Val-Saint-Lambert. To the north is the church of St-Pierre with a 12th C. Meuse font.
Citadel
A cableway from the left bank and a lift on the Chaussée Napoléon at the base of the fortress on the right bank ascends to the citadel which was built by the Dutch in 1818 and later captured by the Belgians. During the Second World War it was used by the German occupying forces as a prison, with many of the 7,000 prisoners being dragged off to concentration camps. On the tour of the fortress old guns, weapons and casemates can be seen and also the interrogation and torture rooms used by the Gestapo.
La Sarte
The cableway, built in 1957, with wonderful views continues up to La Sarte where there are playgrounds, sport areas and a cafeteria.
Delvaux Exhibition
Delvaux exhibition, April 4 through September 28, is an exhibition about the life and work of the great contemporary painter.
Mont Mosan
Featured in this recreation park are a sea lion show, seals, a playground and mini-golf.
Wallonia Festival
Wallonia Festivals (cultural and folklore events including processions and markets; fireworks and Chinese lantern balls in the evening).
Jazz Festival
Jazz bands play in front of the Grand Palace in Huy in late July and early August.
Map of Huy Attractions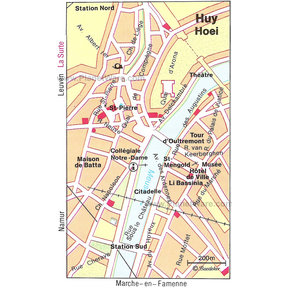 Map - Huy / Hoei