Hilo Tourist Attractions
Hilo lies on the east coast of the Island of Hawaii in the heart of Hilo Bay, whose crescent shape has earned it the name "Crescent moon Bay".The settlement of Hilo was founded in the same year that Captain Cook arrived at the Hawaiian islands (1778). Hilo is the second largest town in the State of Hawaii.
Hilo - Coconut Island
This islet can be reached via a footbridge from the Hilo Hawaiian Hotel. Clear weather permits a particularly fine view of the Pacific or - if the weather conditions are right - the snow-covered summit of Mauna Kea.
Banyan Drive
Banyan Drive circles the Waiakea Peninsula which protrudes into Hilo Bay. This wide coastal road is planted on either side with many overhanging banyan trees which form an archway above it. Most of Hilo's hotels are here and it is well worth a stroll along this unique street, even for those visitors who are not staying here.Banyan Drive borders, on one side, the fine, green Banyan Golf Course and, on the other, Liliuokalani Garden.
Liliuokalani Gardens
Bearing the name of the last Queen of Hawaii, this park lies at the end of Banyan Drive and is laid out in the style of a Japanese garden. A Japanese tea house stands in the middle in which the Japanese tea ceremony regularly takes place. Pagodas and stone lanterns lining the paths, and delicate half-moon bridges crossing small ponds, give the park a truly oriental flavor.
Suisan Fish Market
Fishermen sell mahimahi, okakapa, tuna and other seafood to wholesalers. The dealing can prove difficult to follow as English, Japanese and Hawaiian are used - and sometimes a mixture of all three! It resembles pidgin English, a language which originated in China to aid dialogue with the people of the Pacific (it is said that the word "pidgin" comes from the way the Chinese pronounced "business").
Rainbow Falls
A short walk from Waianeuneu Avenue the waterfall forms part of Wailuku River State Park in the west of Hilo. The approximately 98ft/30m high waterfall can be viewed from various vantage points. It looks particularly lovely when the sun shines on the water and creates a rainbow - hence the name, Rainbow Falls. Pee-Pee Waterfall is 2 miles/3km further along Waianueneu Avenue.A little further up the river valley a small circular pond called Boiling Points is reached. (Warning: dangerous currents!)
Naniloa Volcanoes Resort
The Naniloa Volcanoes Resort is located near Hilo, and offers views of Mauna Kea and Hilo Bay.
Hilo Bay Beach
On the shores of Hilo Bay is the black sands Hilo Bay Beach.
Pana`ewa Rainforest Zoo & Gardens
Pana`ewa Rainforest Zoo & Gardens is the only zoo in the United States located in a tropical rainforest featuring exotic birds and animals, including a white Bengal tiger. The grounds include over 100 varieties of Palms, and an extensive collection of Orchids, Clumping Bamboos and Tropical Rhododendrons.
Map of Hilo Attractions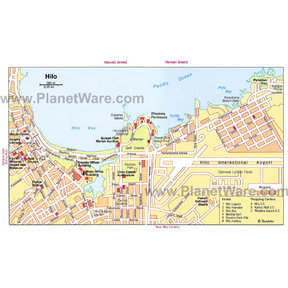 Map - Hilo