Herzliya Tourist Attractions
Situation and characteristicsHerzliya, 15km/9mi north of Tel Aviv, was founded in 1924 and named after Theodor Herzl. Its population, only 500 in 1948, has increased more than a hundredfold since then. Its beautiful long sandy beach, now lined by hotels and bathing stations, has made it a popular seaside resort, frequented, particularly on the Sabbath, by large numbers of Israelis.The townThe town consists of two parts. The older part lies to the east of one of the large sandstone ridges which lie between the plain of Sharon and the coast. In ancient times a tunnel was cut through this ridge to allow water to drain away more easily into the sea and thus prevent the formation of marshes. After the foundation of Herzliya this was cleared of the detritus which had accumulated over the centuries; the mouth of the tunnel can be seen on the east side of the coast road, at the junction for Herzliya. To the east of this junction is the old town center; to the west are the new districts above the beach.
Sidna Ali
On a hill on the northwest side of Herzliya, beyond the little suburban districts of Nof Yam and Reshef, is the minaret of the shrine of Sidna Ali (Our Lord Ali), a Muslim holy man who was killed fighting the Crusaders.
Surroundings
Tel Arshaf
Immediately north of the shrine of Sidna Ali in Herzliya is Tel Arshaf, site of the ancient port of Rishpon which is mentioned in Assyrian texts. The town was dedicated to Reshef, the Canaanite god of fire and fertility. The Greeks who settled here in the later fourth century B.C. equated Reshef with Apollo and named the town Apollonia. In 95 B.C. the town was captured by the Hasmonean king Alexander Jannaeus, but in 63 B.C. it was retaken by Pompey and again came under Hellenistic influence. In the seventh century the port was occupied by the Arabs, who called it Arsuf. In the 12th century it became known to the Crusaders as the castle of Arsur. Richard Coeur de Lion defeated Saladin here in 1191. In 1265 the town was destroyed by the Mamelukes. Excavations from 1950 onwards brought to light various Roman buildings, including a theater.
Map of Herzliya Attractions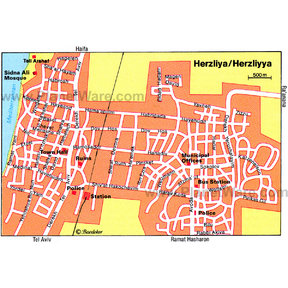 Map - Herzliya