Hebron Tourist Attractions
West BankSituation and characteristicsThe town of Hebron (Hebrew Hevron, Arabic El-Khalil), situated in the Judaean Hills between Jerusalem (37km/23mi) and Beersheba (48km/30mi), is the religious center of Islam in the southern part of the Israeli-occupied west bank of the Jordan, as Nablus is in the north.
ENLARGE MAP
PRINT MAP
EMBED < >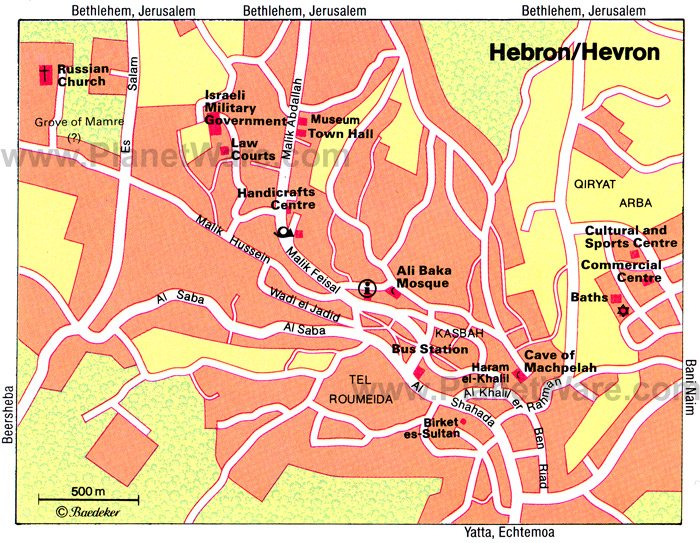 Hebron Map - Attractions
Shrine of the Friend
The Shrine of the Friend (Haram el- Khalil) contains outer walls built by Herod the Great. In the forecourt are four shrines standing over the tombs of patriarchs.
Mamre & Abraham's Oak
Before acquiring the cave of Machpelah Abraham had settled in the plain of Mamre. There he erected an altar (Genesis 13,18), and "the Lord appeared unto him" and he entertained the three angels unawares (Genesis 18,1-2). There too his wife Sarah died, and he buried her in the cave "before Mamre" (Genesis 23,17 and 49,30). This indicates that Mamre lay west of Hebron, and the likeliest site seems to be the Russian Orthodox community of Moskabia 1km/0.75mi west of the new bypass road, with a church of 1871 and the "Oak of Rest" (Balut es-Sebat), also known as Abraham's Oak.
Beit Ilanim
4km/2.5mi north of Hebron is another site linked by tradition with Mamre. This is Beit Ilanim, which lies 500m/550yds east of the road to Jerusalem at an altitude of 1,024m/3,360ft. Here there are remains of structures built of large blocks of dressed stone of the Herodian period. Excavations in 1926 established that the Herodian building was destroyed by Titus in A.D. 70 and rebuilt by Hadrian in 135, with a temple which Constantine replaced by a church in the fourth century. Until its destruction in the seventh century by Persians or Arabs this was regarded by Christian pilgrims as the dwelling-place of Abraham.
Surroundings
Bani Naim, Israel
5km/3mi east of Hebron, at an altitude of 951m/3120ft, is the Arab village of Bani Naim, with a mosque built over a Byzantine church which according to a local tradition contains the tomb of Lot. From here there is a fine view of the Dead Sea.
Yatta, Israel
A side road which turns off the Beersheba road 6km/4mi south of Hebron leads in 6 kilometers to the large Arab village of Yatta, the Juttah of the Old Testament. Many of the houses are built of re-used ashlar blocks, and there are remains of a sixth century synagogue.
Karmel & Maon
5km/3mi southeast of Yatta is the large and as yet unexcavated ancient site of Karmel. The Biblical Carmel, along with Maon (2km/1.25mi south), where there are also extensive unexcavated remains, belonged to a rich man named Nabal, whose wife Abigail left Carmel after his death and married David (1 Samuel 25,2-42).
Sammu, Israel
A road runs south from Yatta to Sammu, the Biblical Eshtemoa (Joshua 21,14). Near the village mosque the remains of a third century synagogue, which seems to have continued in existence in the early Islamic period until the eighth century, were excavated in 1935.
Horvat Suseya, Israel
A country track runs east from Sammu to Horvat Suseya (Sussia; 5km/3mi), where a large synagogue with a marble doorway, a women's gallery, a mosaic of a menorah (seven-branched candlestick) and a number of inscriptions was excavated some years ago. With their traditional farming methods, their flocks and herds and their whole way of life the people of this remote hill village seem still to be living in the world of the patriarchs.