14 Top-Rated Tourist Attractions in Funchal
Funchal is the vibrant capital of Madeira, a sub-tropical island in the Atlantic Ocean around 960 kilometers southwest of Lisbon. Framed by a dramatic backdrop of towering cloud-tipped mountains on the island's south coast, the city unfolds over a series of steep hills and flattened terraces, a landscape that helps define the character of this extraordinary destination. Funchal has much to offer the visitor. Its wealth of historic monuments range from cherished convents and sturdy sea forts to venerable museums and a cathedral that dates back to the early days of the island's colonization.
Madeira's abundance of colorful and exotic flora is apparent in the parks and gardens that enliven the city's urban fabric. The daily market tempts with ripe, succulent fruit and vegetables and the freshest of fish and seafood. Wander the Old Town for an authentic glimpse into the past before taking a cable car for a stunning overview of the city - a truly uplifting sightseeing excursion. Later, head for the harborside promenade and marvel as twilight Funchal begins to sparkle as if sprinkled with diamonds.
1 Jardim Botânico (Botanical Garden)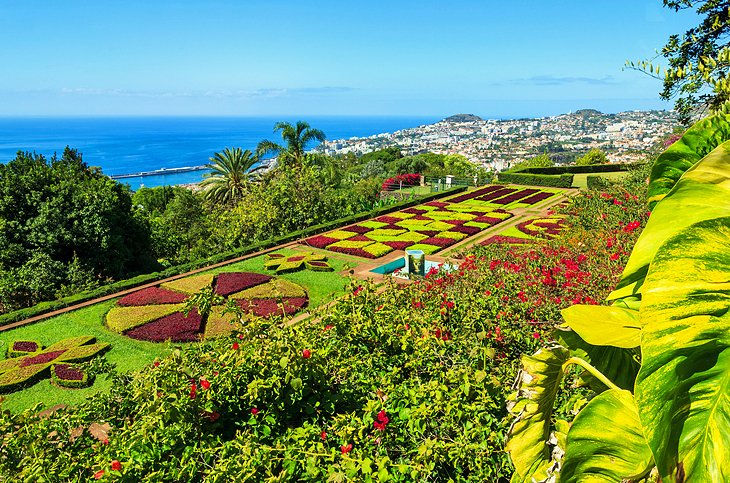 About four kilometers northeast of Funchal city center is one of Madeira Island's greatest tourist attractions, the Botanical Garden. Draped over the slopes of the Quinta do Bom Sucesso estate, the garden dazzles with its rich and diverse sub-tropical flora. Thousands of Indigenous plants, trees and flowers share the grounds with other exotic species from around the world. A manor house that used to belong to the estate's original owners is now the Natural History Museum, which is situated near the entrance. The western edge of the garden affords spectacular views across Funchal bay, and a novel way of reaching the estate is by the Teleférico do Funchal cable car.
2 Madeira Story Centre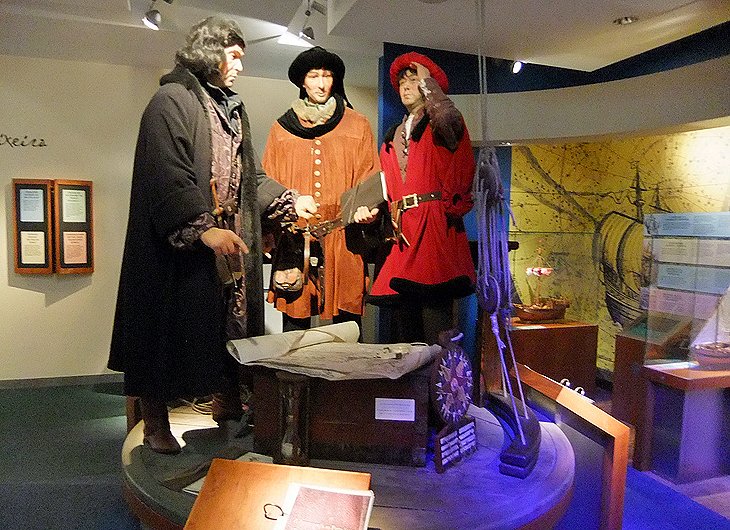 One of the first things to do in Funchal is visit this excellent museum near the Teleférico do Funchal, which charts the history and culture of the Madeira archipelago in an engaging and highly entertaining manner. Themed exhibitions are arranged according to periods in the islands' history and visitors are able to interact with each subject through sound, vision, and other state-of-the-art multimedia technology. There are even special smell boxes that recreate the fragrance of a particular environment. An onsite shop stocks a quirky array of gifts and locally made artifacts.
Address: Rua Dom Carlos I, Funchal, Madeira
3 Teleférico do Funchal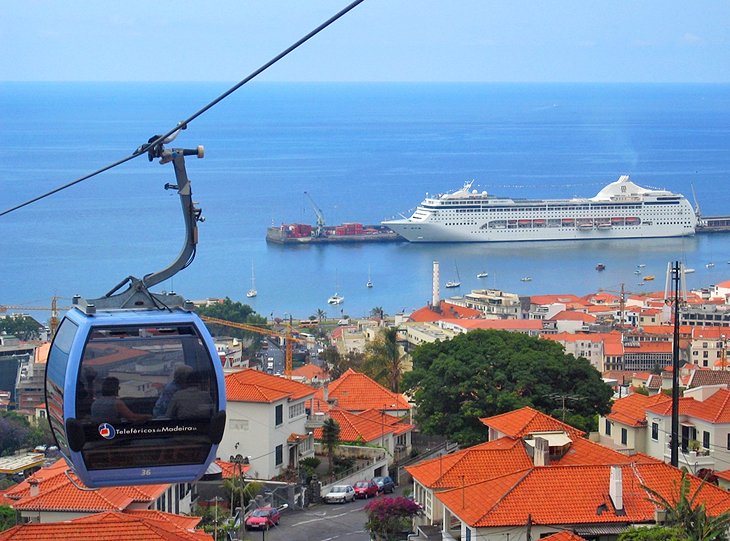 The Madeira Cable Car is one of Funchal's most popular sightseeing attractions. Passengers are taken on a 15-minute "flight" over the Madeiran capital and up into the surrounding hills. Specially designed cabins afford outstanding 360-degree views of the town below, the dramatic mountain landscape, and a shimmering blue Atlantic Ocean. At its highest point, the cable car glides 560 meters above sea level. Departing from the esplanade near the Zona Velha, passengers can alight at Jardim Botânico or continue towards Jardim Tropical Monte Palace, the final destination. From here, a novel way of returning to the city center is by the Monte Toboggan.
Address: Caminho das Babosas, Funchal, Madeira
4 Museu da Quinta das Cruzes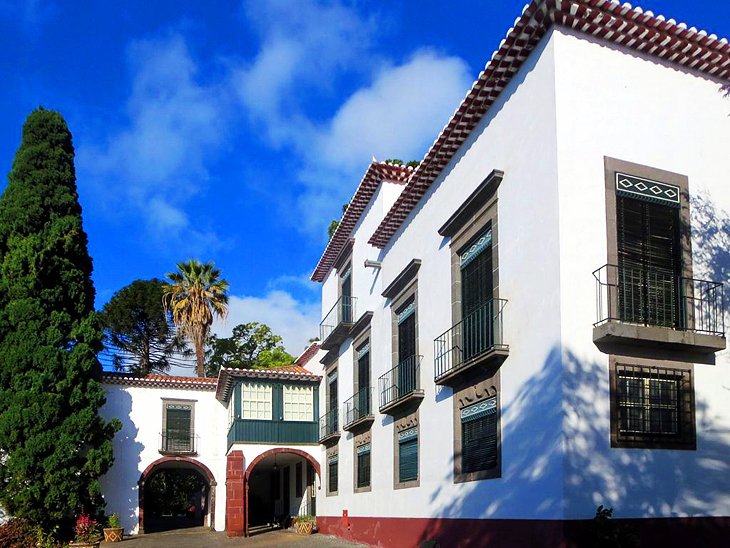 The Quinta das Cruzes estate crowns a steep rise behind Funchal town center. The lush, verdant grounds encompass an excellent museum housed in a mansion that used to be the family residence of Portuguese navigator João Gonçalves Zarco who, together with Tristão Vaz Teixeira, discovered Madeira in 1419. The museum displays decorative artworks that poignantly evoke the period in which Zarco lived and provides a suitable introduction to the history behind the island's early pioneers. A tea house set in the landscaped gardens offers tourists light refreshments. Visitors can combine an excursion to the Quinta with a visit to the nearby Convento de Santa Clara.
Address: Calcada do Pico 1, Funchal, Madeira
5 Convento de Santa Clara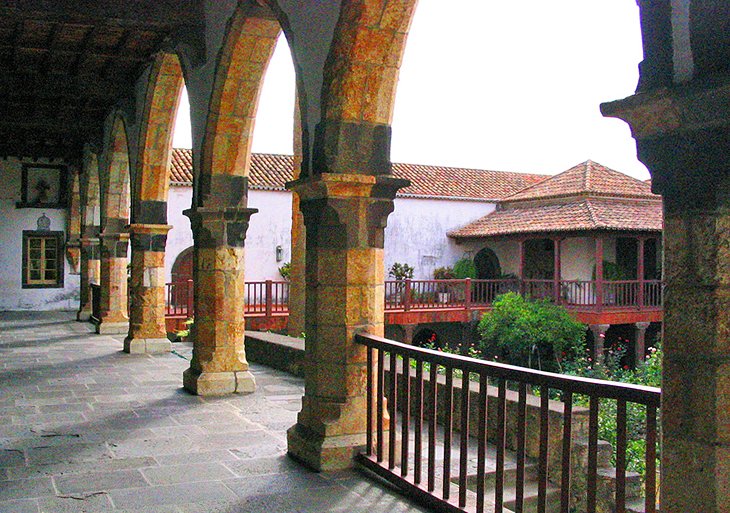 A short walk from the Museu da Quinta das Cruzes is the serene Santa Clara Convent. Founded in 1476, the convent was last occupied by nuns in 1890. Today, visitors can meander through the simply furnished Upper and Lower Choir rooms before wandering the elegant cloisters, which provided access to chapels and oratories. The convent's bell tower is noted for its Moorish-style cupola, decorated with a chessboard of blue, white, and gold ceramic tiles. Neighboring the convent is Santa Clara Church, completed in 1493 and equally celebrated for its beautiful and intricate tile work.
Address: Calçada de Santa Clara 15, Funchal, Madeira
6 Mercado dos Lavradores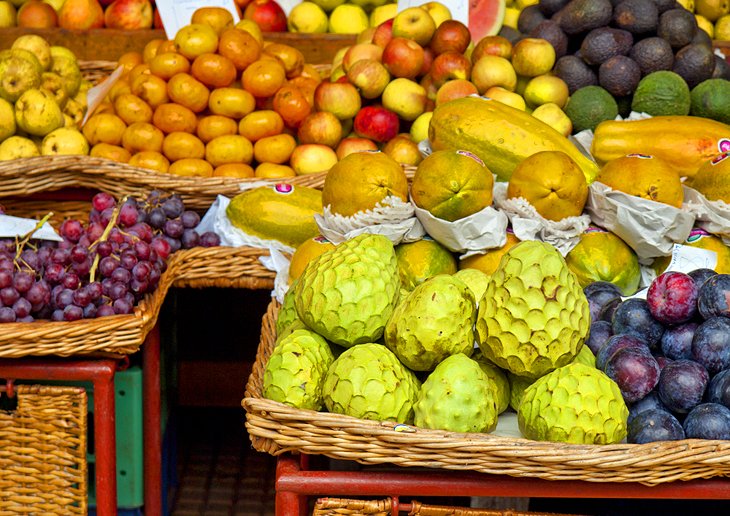 One of the most memorable things to do in Funchal is to spend a morning at the colorful and animated farmers market. Located east of the Se, this is the island's largest market where stallholders sell huge bunches of flowers and a vast array of fresh fruit and vegetables in a handsome Art Deco hall. An assortment of fish and seafood landed the same day lures shoppers to the basement - tuna and espada (scabbardfish) are favorite purchases. The first-floor is a warren of independent retail outlets specializing in local handicraft, wicker, and leatherwork. The market is at its busiest on Friday and Saturday mornings when farmers bring in their produce from surrounding villages.
Address: Rua Profetas, Funchal, Madeira
7 Quinta do Palheiro (Palheiro Gardens)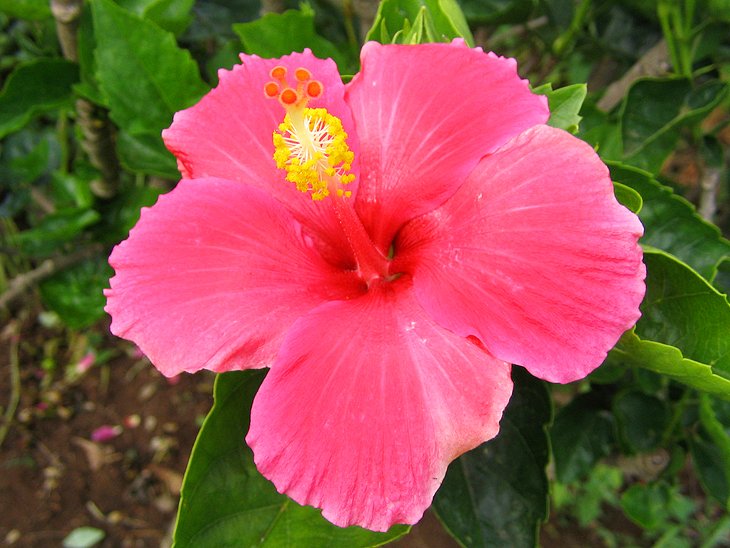 Rich in color and scent, the carefully nurtured Palheiro Gardens are divided into several distinct habitats: The Stream Garden, Sunken Garden, Rose Garden, Lady's Garden, and the wild and deliberately overgrown Hell's Valley. Tourists from around the world are drawn to Palheiro's astonishing collection of flowers, displays that include rare and delicate orchids and camellias. The gardens, created by a wealthy nobleman in 1801, are also renowned for their tropical trees, abundance of plant life, and fauna - more than 290 different species of birds have been observed around the estate.
Address: Caminho da Quinta do Palheiro 32, São Gonçalo, Funchal, Madeira
8 Sé (Cathedral)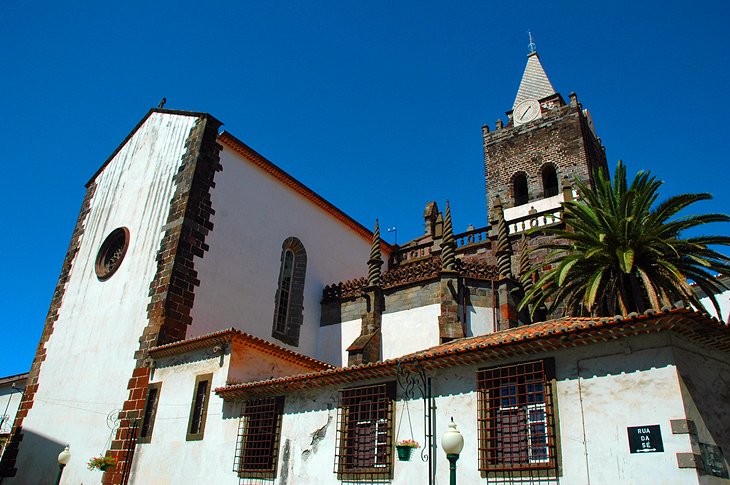 Funchal's cathedral was consecrated in 1514 and is a functioning religious building. Its rather austere façade belies a rich interior that features an early 16th-century gilded altarpiece and richly carved sanctuary. A fabulous ceiling of white cedar with ivory inlay further heightens the ornate Gothic woodwork. Its knotwork style blends Moorish and European architectural elements, and is one of the finest examples of its kind in Portugal.
The cathedral remains a focus of Funchal society, and while it's free to enter, sightseeing should be timed between church services.
Address: Largo da Sé, Funchal, Madeira
9 Museu Photographia Vicentes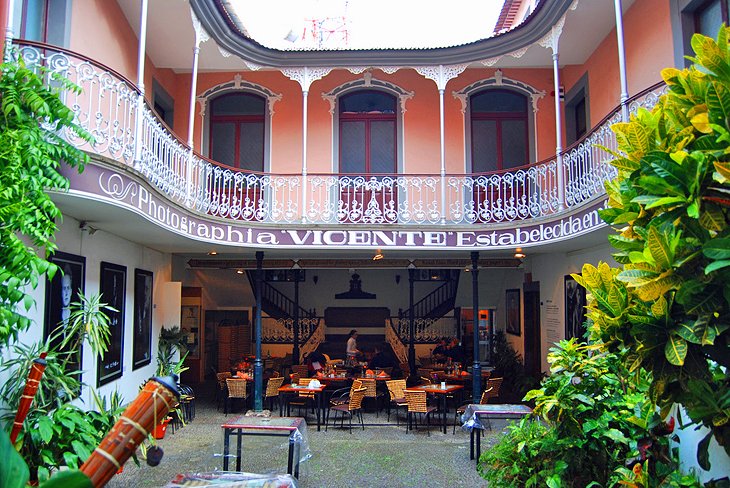 The studio founded by photographer Vicente Gomes da Silva in 1865 is now a fascinating museum that chronicles the work undertaken by four generations of the same family. The Vicentes name is synonymous with photography in Madeira, and the studio has been lovingly restored to its former glory, replete with vintage photographic and darkroom paraphernalia. Indeed, the museum offers tourists a wonderfully nostalgic glimpse into yesteryear Funchal, with many historic images showcased. The interactive archive, however, is very 21st century.
Address: Rua da Carreira 43, Funchal, Madeira
10 Museu de Arte Sacra (Sacred Art Museum)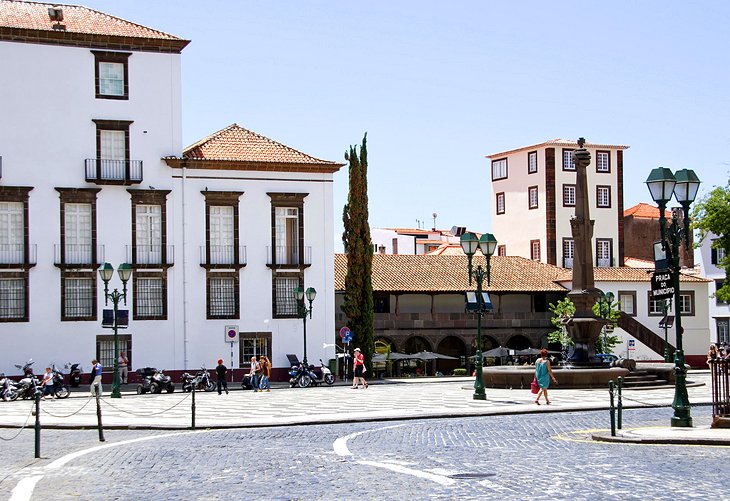 Funchal's Sacred Art Museum enjoys a stately presence in the former bishop's palace, a building dating from 1600. The rich cache of rare paintings and statues, illuminated books, and gold-embroidered vestments are arranged chronologically between the 15th and 19th centuries over two floors. The exhibits reflect the propensity by Madeiran merchants to spend profits generated from the island's lucrative sugar trade on commissioning works of religious art to secure their salvation in the afterlife. The palace itself is of considerable architectural merit and the museum makes for a quiet and contemplative diversion.
Address: Rua do Bispo, Funchal, Madeira
11 Zona Velha (Old Town)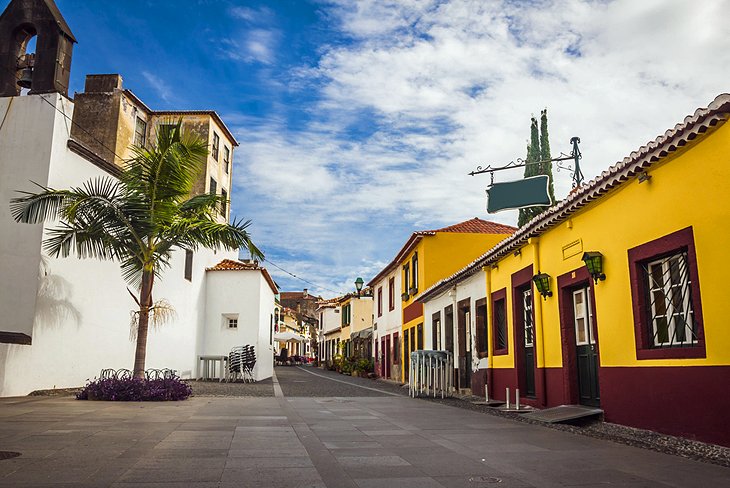 As the name indicates, Funchal's "Old Town" is the city's oldest neighborhood and is where some of the earliest streets and buildings are located. An imaginative urban regeneration initiative has seen the doors in Rua Santa Marta and other nearby roads painted by Portuguese and international artists as part of the Arte Portas Abertas (Art Open Doors) project. The many different and striking designs have effectively created an open-air gallery, where tourists can wander the area at leisure and admire this extraordinary urban canvas.
Location: Rua Santa Marta and environs
12 Monte Toboggan Run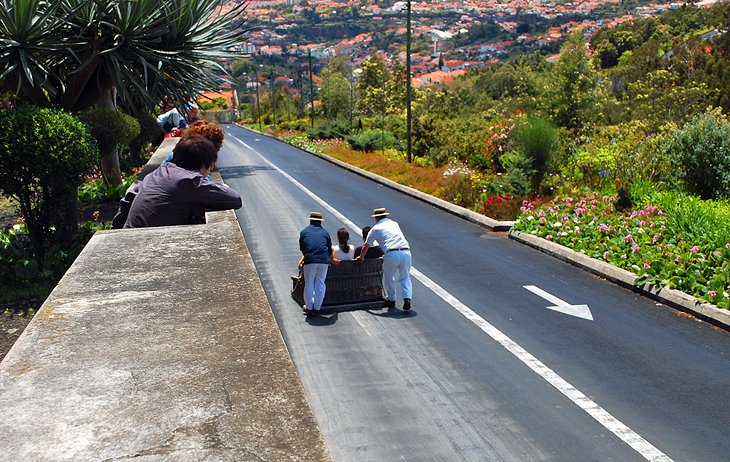 Ernest Hemingway once described the Monte Toboggan run as "exhilarating" such was the great writer's sense of amazement after being whisked down a steep hill in a wicker basket. Originating in the 19th century as a rudimentary form of public transport, the tradition continues whereby passengers seated in a wooden sled mounted on wooden runners are steered downhill by carreiros - two men dressed in white and wearing straw boaters - who use their rubber-soled boots as brakes to negotiate the four-kilometer descent from Monte to Funchal in 20 minutes.
Address: Caminho de Ferro, Monte, Madeira
13 Jardim Tropical Monte Palace (Monte Palace Tropical Gardens)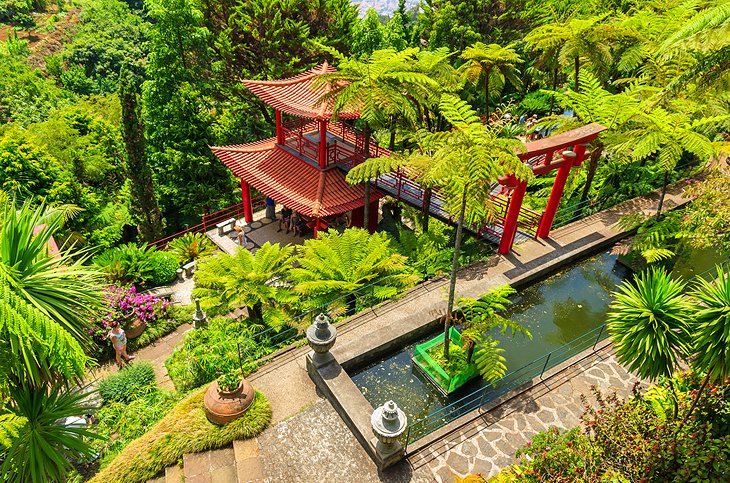 Easily reached by cable car from Funchal, the luxuriant oriental-styled Monte Palace Tropical Gardens offer tranquil respite from the hustle and bustle of Funchal. Set 600 meters above the city, the landscaped gardens are frequented by free-roaming heron, peacock, and black swan, among other wildlife. Plump koi patrol the estate's crystal-clear lakes, the borders of which are decorated with Art Deco scenic panels. Within the grounds is the Monte Palace Museum, which houses one of the most comprehensive collections of Zimbabwean sculpture found in Europe. Another wing is devoted to an astonishing display of minerals and gems.
Address: Caminho do Monte, Monte, Madeira
14 Museu de Arte Contemporânea Fortaleza de São Tiago (Museum of Contemporary Art)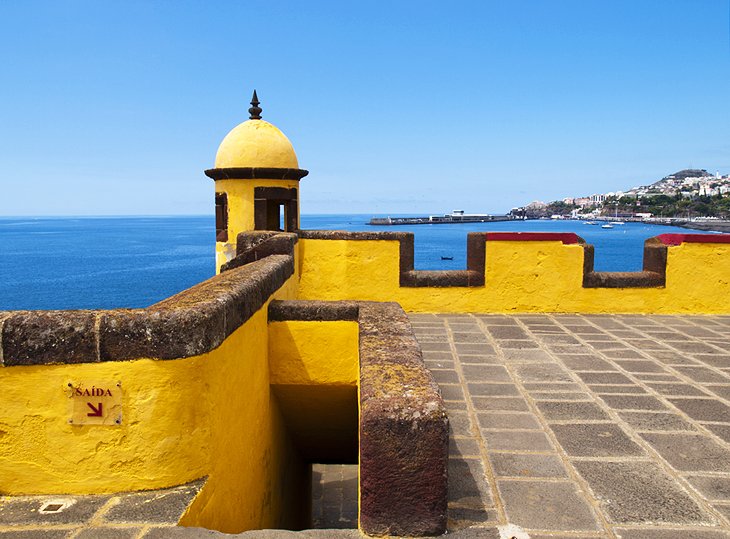 Built in 1614 as a sea defence against marauding pirates, and then rebuilt and enlarged in 1767, the fortress, with its heavy-set mustard-hued walls and toy town turrets, is a familiar Funchal landmark. Classified as a "Monument of Regional Interest," the stronghold, with its warren of galleries and staircases, is a delight to explore and commands sweeping views over the approach to Funchal harbor. Somewhat incongruously, the ancient battlements enclose the city's Museum of Contemporary Art, where the permanent display is complemented by temporary exhibitions.
Address: Rua Portão de São Tiago 21, Funchal, Madeira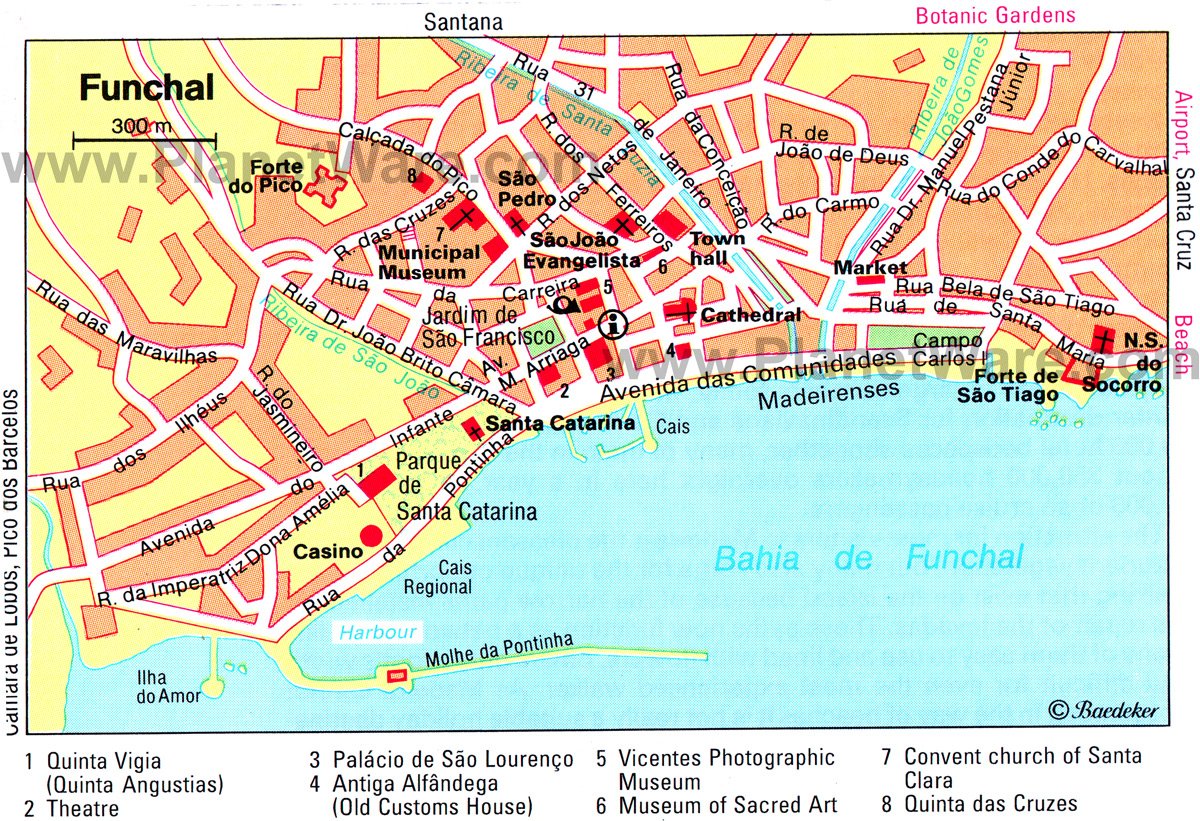 Funchal Map - Attractions
Want to use this map on your web site?
Copy and Paste the code below:
More on Portugal