Florianopolis Tourist Attractions
FlorianópolisSituation and CharacteristicsFlorianópolis, capital of Santa Catarina state, lies on the Ilha de Santa Catarina and is linked with the mainland by an 821m/898yd long suspension bridge, the Ponte Hercílio Luz (1906; now out of use) and the 905m/990yd long Colombo Sales Bridge (1975). In the summer thousands of visitors flock to Florianópolis, mainly from Argentina, Uruguay and Paraguay.
Museum of Anthropology
Museum of AnthropologyThe Museum of Anthropology, on the University campus, displays finds from shell-mounds (sambaquis) - accumulations of shells, remains of cooking utensils and skeletons left by the native Indians on the Atlantic coast and dating from long before the arrival of Europeans - together with domestic equipment and tools of the original Azorean settlers.
Cathedral
CathedralOn Praça 15 de Novembro (near Palácio Cruz e Sousa), in the city center, is the Cathedral, which dates from 1750. It contains a wood sculpture of the Flight into Egypt by the 19th century Tirolean sculptor Ferdinand Demetz.
Festa da Tainha
Festa da TainhaFrom July 25th to 28th the Festa da Tainha, a festival of Azorean origin, is celebrated in Barra da Lagoa. The main dish during the festival is the tainha (grey mullet), which is caught during the cold months of the year in large trawl nets. The great attraction of the festival lies in the music and dancing from different parts of Portugal - particularly, of course, from the Azores.
Fort Santana
The best known fort is Fort Santana (1750), at the foot of the Hercílio Luz Bridge, which now houses the Museum of Weapons of the Military Police. Others are Nossa Senhora da Conceição; Santo Antonio dos Ratos (1641), on the island of Ratão Grande (in course of restoration since the late eighties); and Santa Cruz do Anhatomirim (1744), on a small island.
Meireles Birthplace
Meireles BirthplaceIn Rua Victor Meireles, near Praça 15 de Novembro, is the birthplace of Victor Meireles, which contains documents, drawings and studies by this local artist. There are some of his pictures in the church of São Francisco da Ordem Terceira (1803), which also has several Baroque altars.
Museum of the Sambaqui People
Museum of theSambaqui PeopleThe Museum of the Sambaqui People, in the Colégio Catarinense, displays skeletons, urns and utensils of the indigenous inhabitants.
Ribeirão da Ilha Museum
Ribeirão da Ilha MuseumThe Ribeirão da Ilha Museum illustrates the life of the Azorean settlers with everyday objects and utensils.
Map of Florianopolis Attractions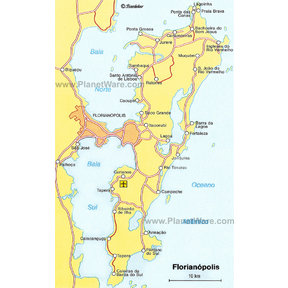 Map - Florianópolis