Flensburg Tourist Attractions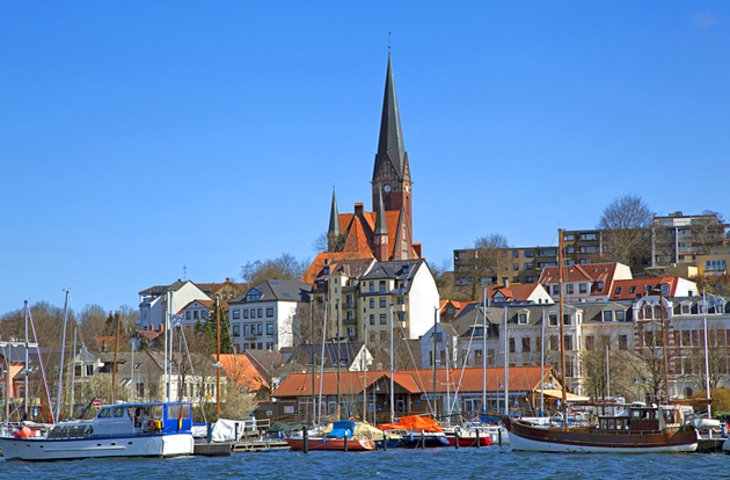 Flensburg
Flensburg, Germany's most northerly port and the most important town in Schleswig, is attractively situated between wooded ranges of hills at the head of the fjord-like Flensburger Förde, the northern shore of which is in Denmark.The string of resorts along the Baltic coast begins with Glücksburg on the Flensburger Förde, which also has a picturesque moated castle.
Flenburger Südermarkt
The main shopping street in Flensburg's old town runs from south to north under the names of the Holm, Grosse Strasse and Norderstrasse, in which there are a number of well restored patrician and merchants' houses (18th and 19th C.). At the south end is the beautiful Südermarkt, surrounded by gabled houses, with the large Stadtkirche (Town Church) of St Nicholas (14th and 16th C.; Roccoco high altar, Renaissance organ).
Natural and Local Museum
To the east of St Nicholas's Church in Flensburg, on the Süderhofenden, is the Natural History Museum (native flora and fauna, geological history). The same building houses the Municipal Library.
St John's Church
East of the Heimatmuseum, near Angelburger Strasse, is St John's Church, the oldest in Flenburg (12th C.; wall paintings, etc.).
Nordermarkt
In the Flensburg Nordermarkt, the old marketplace, are the Neptune Fountain (1758) and the Schrangen (1595), in which the bakers and butchers once sold their wares.
Church of the Holy Ghost
Southwest of the Nordermarkt in Flensburg can be found the little Gothic church of the Holy Ghost (1386; from 1588 a Danish church).
Municipal Museum
In Lutherplatz is the Flensburg Municipal Museum (culture, art, folk art; Emil Nolde Collection; changing exhibitions).
St Mary Church
To the north of the Nordermarkt in Flensburg is the little brick-built church of St Mary (13th and 15th C.; Renaissance altar).
Kompagnietor
To the east of St Mary's, on Flensburg's harbor, is the Kompagnietor (1583).
Alt-Flensburger Haus
The Alt-Flensburger Haus (1780) is the family home of the airship pioneer Hugo Eckener (1868-1954).
Shipping Museum
On the Schiffsbrücke in Flensburg is the interesting Shipping Museum (pictures and models of ships, nautical apparatus and equipment); museum harbor (Museumshafen).
Address: Schiffbrücke 39, D-24939 Flensburg, Germany
Nordertor
At the north end of Flensburg's old town rises the massive Nordertor (1595).
Surroundings
Glucksburg Castle
Schloss, Glucksburg, Germany
Glücksburg, 9km/6mi northeast of Flensburg, has a Schloss built in 1582-87, with a museum displaying pictures, tapestries and leather wall coverings.The Schloss is one of the main Renaissance buildings in Schleswig-Holstein. It consists of a block of three adjacent gabled houses and four substantial octagonal corner towers. The furnishings are typical of royal lifestyle and ostentation.
Popular Pages
Destinations
popular right now