Dead Sea Attractions
Yam Hamelach
Southern District and West BankSituation and characteristicsThe Dead Sea (Hebrew Yam Hamelach, "Salt Sea"; Arabic Bahr Lut, "Sea of Lot") lies between Israel and Jordan, 398m/1,306ft below sea level, making it the lowest point on the surface of the earth.
Sights
Places of interest on the west side of the Dead Sea are Masada, En Gedi and Qumran. There are also a number of ruined castles in the hills near its western shore. The most southerly of these, Mezad Zohar, which dates from Byzantine times, stands on a small rocky cone on the old valley road, in wild mountain country. The road which runs up from Newe Zohar, near the south end of the Dead Sea, in the direction of Arad comes - before reaching the sign marking sea level - to two fine viewpoints. From the lower one there is a breathtaking view, particularly at sunset, of the Dead Sea and the hills of Jordan; from the upper one there is a prospect of Mezad Zohar far below.
Arad, Israel
Situation and characteristicsArad is a rising modern town a few kilometers northwest of the Dead Sea. Founded only in 1961, it has attractive residential districts and in its barren surroundings has something of the aspect of a green oasis. Its altitude and desert climate, with dry and pollen-free air, make it an ideal resort for sufferers from asthma. The existing spa facilities are to be developed to make Arad an international medical center. The town is best known, however, for the important archeological site on Tel Arad.
A Canaanite town from the second millennium B.C. and a Roman acropolis have been found at Tel Arad.
Map of Dead Sea Attractions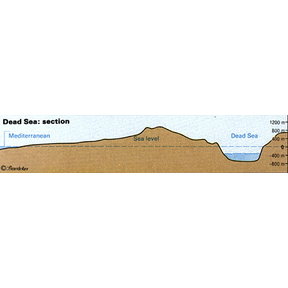 Map - Dead Sea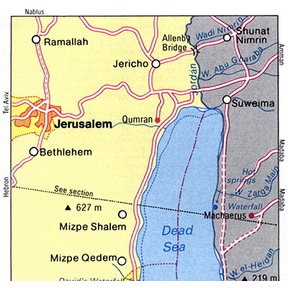 Map - Dead Sea North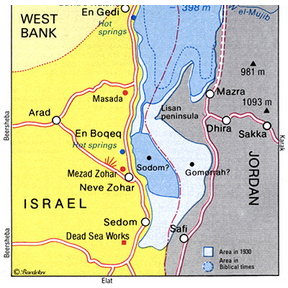 Map - Dead Sea South