Curaçao
Curaçao is the largest of the Netherlands Antilles, and its capitol, Willemstad, is the seat of government. Besides its beaches, there are many significant historical sites on the island. The island and surrounding reefs are particularly popular with divers.The high season on Curaçao falls during the dry season which begins in Janaury and runs through until September.
Related Attractions
East
The east end of Curaçao is lower than the west, and is the location of good water-based activities in its underwater park or at its aquarium.
Spaanse Water
Spaanse Water's natural harbor has an operating marina. This is a scenic bay with sailboats moored off shore and rises of land in the background.
Tafelberg
This large hill (150m/490ft), Tafelberg, is the site of calcium phosphate extraction. Mining of this element used in chalk has gone on here for over a century.
Curaçao Seaquarium
At this site visitors learn about aquatic life not just through exhibitions but interactively as well. Visitors may dive or snorkel to see the feeding of flamingos, stingrays, sea turtles and sharks. The Seaquarium also has an underground observatory and a beach for those who do not wish to get wet. There is also a museum of sea shells and a theater.
Fort Beekenburg
Fort Beekenburg is a well-preserved fort that was originally built in 1703 to protect the inner bay.
Ostrich and Game Farm
At the Ostrich and Game Farm visitors learn all they can about ostriches, from egg to adult. There are hundreds of ostriches on the farm.
Map - Curacao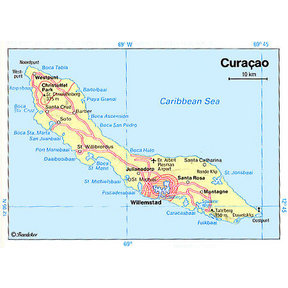 Map - Curaçao
More Netherlands Antilles Resources