Chiang Rai Tourist Attractions
Chiang Rai, known as the "Crown of the North" on account of its being founded by King Mengrai - a somewhat unbejeweled crown, it has to be said, compared with Chiang Mai - is another gateway to the Golden Triangle from where approximately a third of all the world's illegally traded (raw) opium originates (about 300 tons a year). Standing on the right bank of the Menam Kok, the town is well worth visiting for its extraordinarily beautiful scenery and makes a convenient center from which to explore the country close by and further afield.
Wat Phra Kaeo Don Tao
It was at Chiang Rai that the famous Emerald Buddha (now in Wat Phra Kaeo in the Grand Palace in Bangkok) first came to light, having remained hidden away for many years in Wat Phra Kaeo Don Tao. In 1434 lightning struck a chedi in the wat, investigation of which uncovered a small, rather undistinguished stucco figure. Concealed beneath the plaster was the 75 cm (30 in) green jade or nephrite Buddha. The discovery quickly drew the attention of the king of Lan Na, who resolved that the Emerald Buddha should grace his capital Chiang Mai. But on the way there, at a fork in the road, the elephant carrying it refused to continue towards Chiang Mai, turning aside instead for neighboring Lampang. The king interpreted this as a sign and, until 1468, the Buddha remained, albeit temporarily, in Wat Phra That Lampang Luang. Eventually it was taken to Chiang Mai from where, after long and circuitous travels, it found its way to Bangkok.Wat Phra Kaeo Don Tao is of interest for its carvings and painted wooden façade. The wat dates back to the 15th c., as does nearby Wat Phra Singh. Both have been restored a number of times, thus altering their appearance.
King Mengrai Statue
On the way into the town from the north-east there is a monument to its founder Mengrai (or Meng Rai; 1239-1317).
Wat Ming Muang
Wat Ming Muang has an elaborately carved gable and several Chiang Saen-style (11th-16th c.) Buddha figures.
Wat Chet Yot
Wat Chet Yot is worth visiting for its beautifully proportioned wiharn and a chedi with seven little towers on a square base.
Doi Mae Salong Mountain
Doi Mae Salong Mountain is noted for its spectacular scenery, panoramic views and several small villages. It is one of the highest peaks, almost 1800 m, and is noted for cool temperatures year round.The mountain is unique to Thailand due to the alpine landscape.
Map of Chiang Rai Attractions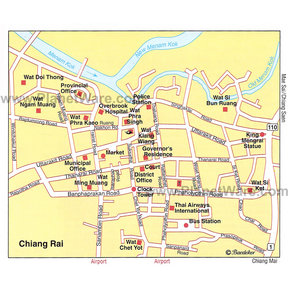 Map - Chiang Rai