9 Top-Rated Tourist Attractions in Charlotte
Charlotte, North Carolina's largest city, lies in the southwest portion of the state. Once called Charlottetowne, the city is named in honor of the wife of King George II, Charlotte of Mecklenburg.
Visitors arriving in Charlotte via air will touch down at Charlotte-Douglas International Airport, one of the most important inland airports in the eastern United States. The city's primary attractions are the family friendly Paramount's Carowinds amusement park, NASCAR motor sports history, and an impressive array of art museums
1 Charlotte Museum of History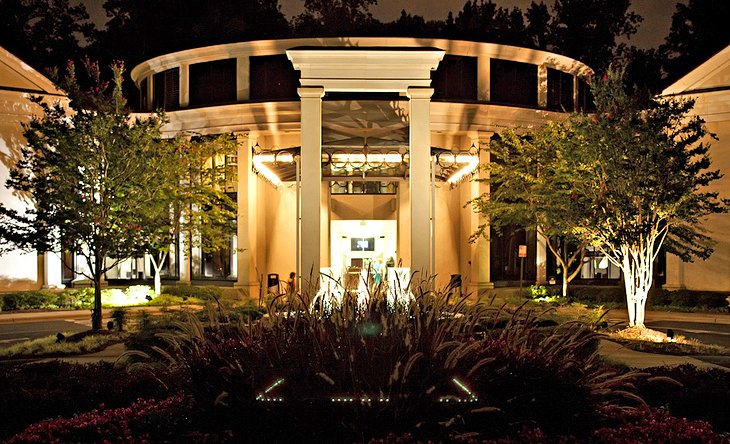 Inside the Charlotte Museum of History, visitors find a plethora of information on Charlotte and the surrounding areas. The museum has five permanent exhibits and frequently hosts national as well as international traveling exhibits. Costumed interpreters lead entertaining and informative tours of each of the wonderfully restored buildings, including the Hezekiah Alexander House, the Kitchen, and the Springhouse.
Guide-by-cell tours are also available daily. All visitors have to do is dial the tour phone number, follow the designated markers, and listen to information about four historical structures.
2 Levine Museum of the New South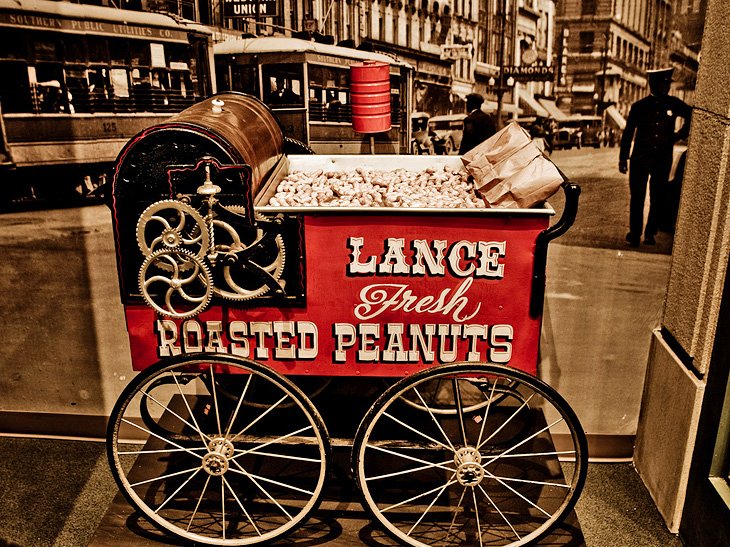 The Levine Museum of the New South provides an excellent collection of exhibits encompassing post-Civil War southern history, from 1865 to the present day. Interactive exhibits allow visitors to run their hand through a pile of cottonseed, play old-fashioned checkers, or step inside a one-room farmhouse. In addition, the museum showcases information on prominent citizens who helped shaped the south since the Civil War.
Address: 200 E 7 St, Charlotte
3 Discovery Place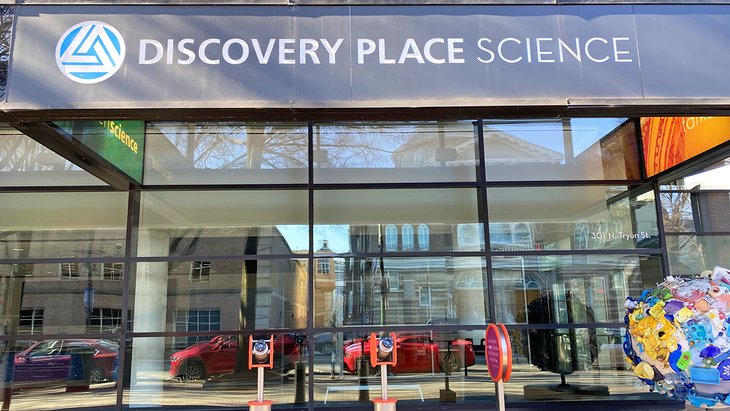 One of the leading hands-on science centers in the country, Discovery Place actually encompasses three museums: Discovery Place, Discovery Place KIDS and the Charlotte Nature Museum. The ever-changing museum allows visitors to see, feel, and hear science, and exhibits give a better understanding of various technology, engineering, and mathematics topics in a fun, casual setting. At the nature museum, live animals and the free-flying butterfly pavilion let visitors observe the natural world in a new way.
Address: 301 N Tryon St, Charlotte
4 Hendrick Motorsports Museum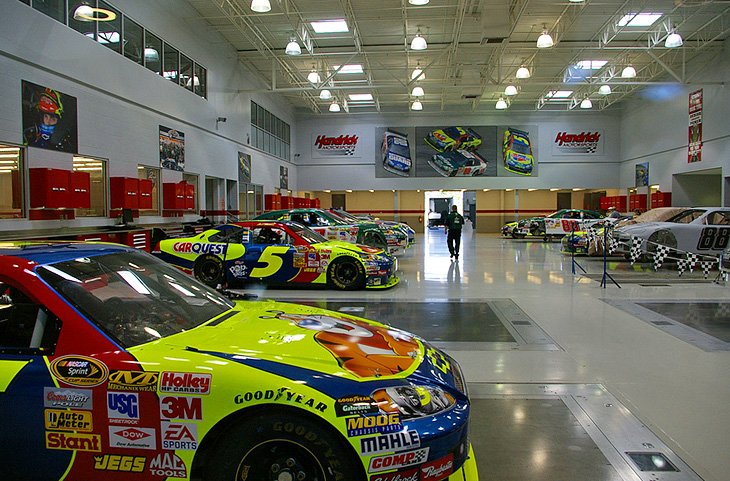 Conveniently located one mile from the Charlotte Motor Speedway, this museum treats race fans to a history of Hendrick Motorsports. Displays exhibit the different components of a race car including the roll cage, front and rear sections, and an oil pan. Fans can see Hendrick's most famous stock cars, the company's championship trophies, and significant automobiles like Jeff Gordon's winning Daytona 500 car. Other vehicles on show include the Days of Thunder Chevy Lumina and Terry Labonte's Iron Man machine.
Address: 4400 Papa Joe Hendrick Blvd, Charlotte
5 Paramount's Carowinds
Looking for some thrills and chills? Head no further than the all-ages Paramount's Carowinds amusement park. The "Thrill Capital of the Southeast" provides plenty of things to do with family diversions, roller-coasters, water rides, and fun stage shows. A dinosaur exhibit allows you to walk through an immersing Mesozoic setting, brought to life with detailed animatronics. Paramount's Carowinds also has a water park called Boomerang Bay, so be sure to bring your bathing suit if the weather is fine!
Address: 14523 Carowinds Blvd, Charlotte
6 NASCAR Hall of Fame
Charlotte is definitely the stop of choice for NASCAR enthusiasts and tourists, with its banked ramp that simulates a racetrack (Glory Road) and showcases historic cars. The High Octane Theater features a 64-foot wide projection screen with surround sound. Exhibits give fans a behind-the-scenes look at how NASCAR and individual teams prepare for race day, while the Hall of Honor pays tribute to all NASCAR Hall of Fame inductees.
Address: 400 E Martin Luther King Jr Blvd, Charlotte
7 Billy Graham Library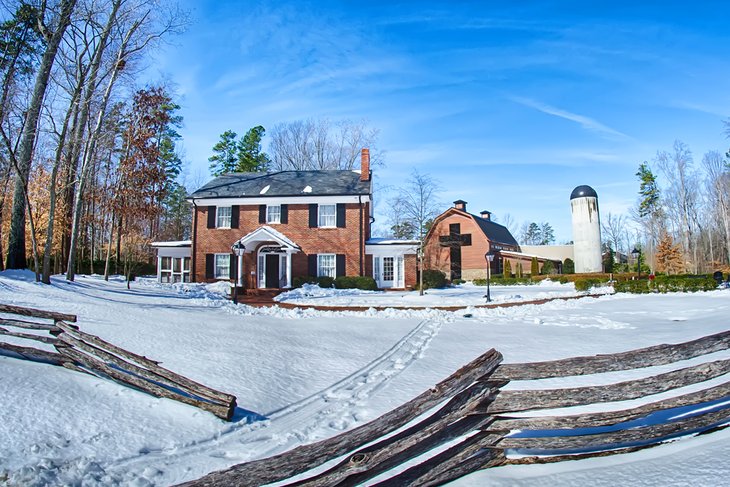 Reminiscent of an old dairy barn, the Billy Graham Library features a large cross-shaped entrance. Inside, guests hear the Gospel through tours and multimedia presentations. Billy Graham himself insisted the library not be a memorial or museum to him, but rather a simple ministry for the hundreds of thousands of annual visitors. In 2010, renovations added Billy Graham's personal library and a custom mural by Thomas Kinkade.
Address: 4330 Westmont Dr, Charlotte
8 Bechtler Museum of Modern Art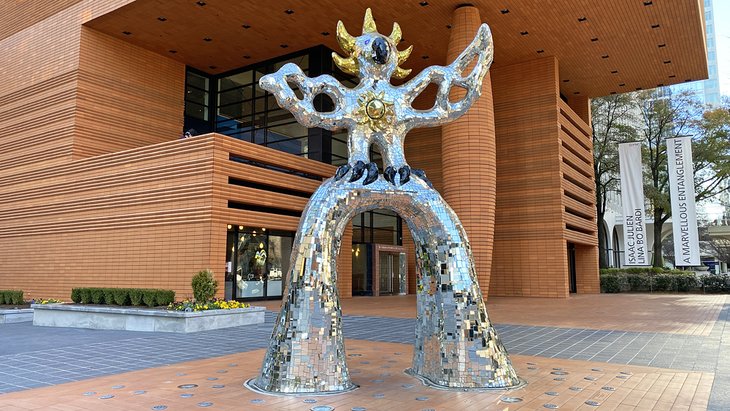 This collection includes works by the most influential artists of the mid-20th century, with pieces from Miró, Giacometti, Picasso, Calder, Hepworth, Nicholson, Warhol, Tinguely, Ernst, Le Corbusier, and Chillida. The Bechtler Museum of Art is only the second museum in the country to be designed by Swiss architect Mario Botta.
Address: 420 S Tryon St, Charlotte
9 Mint Museum of Art
Since its 1936 opening as the first art museum in North Carolina, the Mint Museum of Art has grown into an internationally-renowned institution that regularly features new exhibits. Paintings, textiles, decorative arts, and even fashion comprise the permanent collections, drawing from the ancient Americas to modern times.
Address: 2730 Randolph Rd, Charlotte
Sponsored Links

Charlotte Deals
More on North Carolina