Castelo Branco Tourist Attractions
Castelo Branco (Altitude: 375m/1230ft), in central Portugal near the Spanish frontier, is the former capital of the old province of Beira Baixa and now chief town of the district which bears its name.
Jardim Episcopal
Castelo Branco's principal attraction is the Jardim Episcopal, formerly the Bishop's gardens and certainly one of the loveliest Baroque gardens in Portugal. The terraced gardens, laid out in the early 18th century for Dom Joao de Mendoça, are a showpiece of Baroque extravagance and fantasy, with carefully clipped trees and shrubs, elaborately patterned flowerbeds and a profusion of basins and fountains. There is also a lavish display of Baroque sculpture - archangels, evangelists, apostles, allegorical figures, animals and, flanking a flight of steps, the complete series of Portuguese kings with the Spanish Hapsburg kings (1580-1640) rather pointedly represented by much smaler figures.
Antigo Paço Episcopal (Palácio Episcopal)
The old Bishop's Palace, on the northern edge of the Jardim Episcopal, which was originally Gothic and remodeled as Baroque in 1726, houses the Museu de Francisco Tavares Proença Júnior, with prehistoric and Roman material from the Castelo Branco area, pictures by Portuguese artists of the 16th, 18th and 19th C., tapestries, coins, furniture, armor, etc. The museum's chief treasures are the colchas mentioned above.
Misericórdia
The church of the Misericórdia (1519), opposite the Bishop's Palace, has a Manueline doorway.
Nossa Senhora da Piedade
The main attractions of the church of Nossa Senhora da Piedade are the azulejos.
Santa Isabel
The main attraction of the church of Santa Isabel is the paintings.
Santa Maria do Castelo
Above the town are the ruins of the 12th C. Templar castle and the little church of Santa Maria do Castelo.
Miradouro de Sao Gens
From the Santa Maria do Castelo a flight of steps leads up to the Miradouro de Sao Gens, a viewpoint from which there is a far ranging prospect of the town and surrounding area.
Map of Castelo Branco Attractions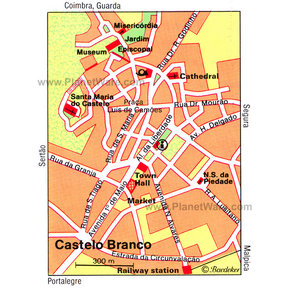 Map - Castelo Branco