Bologna Tourist Attractions
SituationBologna, capital of the region Emilia-Romagna and the province Bologna, lies in the fertile Upper Italian plain under the northern end of the Apennines.
Surroundings
The surroundings of Bologna include the Museum of Modern Art and San Michele in Bosco.
Museum of Modern Art
Outside Bologna to the north lie the exhibition grounds with the Museum of Modern Art.The focus is on contemporary Italian art.
San Michele in Bosco
From the south town gate Porta San Mamolo a road leads to Via Cadivilla, at the end of which stands the former monastery of San Michele in Bosco (124m/409ft). Note the organ of 1524 and the frescoes in the sacristy. From the monastery there are fine views.
Basilica Madonna di San Luca
500m/550yd west of the Porta Saragozza, the southwest town gate, begins a colonnade (built 1674-1739) of 666 arches, 3.5km/2 mi long, which extends by way of Meloncello (where a branch goes off to the Certosa) to the Monte della Guardia (reached also by a motor road), with the pilgrimage church of Madonna di San Luca. From here there are beautiful views as far as the Adriatic Sea and the Apennines, and in clear weather the Alps.
Map of Bologna Attractions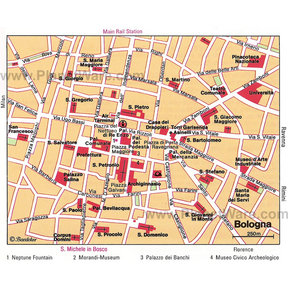 Map - Bologna