Top-Rated Tourist Attractions in Altenburg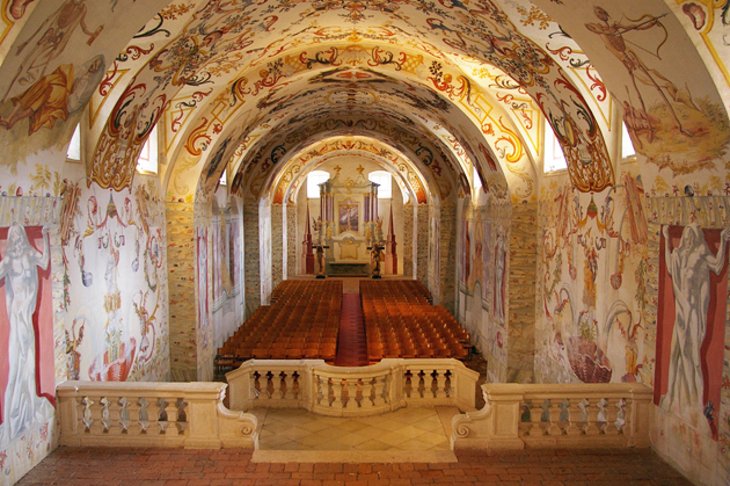 Interior, Altenburg Abbey captain.orange
In the Waldviertel, some 30km/19mi north of Krems an der Donau lies the village of Altenburg, known for its Benedictine abbey.
Altenburg Benedictine Abbey
The Altenburg Benedictine Abbey with its 200m/660ft long east facade makes a lasting impression on the visitor. Founded in 1144, it was reduced to ruins in the Middle Ages as the result of wars and plundering. A Romanesque window and part of a Gothic cloister remain. In the 17th C. it was rebuilt in its present form. Notable features are the magnificent stucco decoration in Baroque and Roccoco styles. A Library, Imperial Apartments and a Marble Hall adjoin the main building.
ENLARGE MAP
PRINT MAP
EMBED < >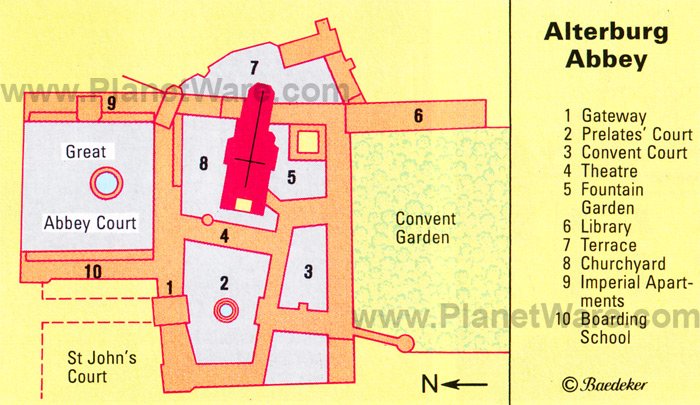 Altenburg Abbey Map
Library
The gloriously colorful library, one of most impressive monastic libraries in Austria, is well worth a visit. The ceiling frescos (the Judgment of Solomon, the Wisdom of God, the Light of Faith, etc.) are by Paul Troger. Beneath the library lies an unusual crypt decorated with some interesting frescos (scenes from danses macabres).
Church
The Altenburg Benedictine abbey church was rebuilt by Josek Munggenast between 1730-33. It has an oval dome with niches, and the frescos represent some of Paul Troger's masterpieces. The Ascension of the Virgin Mary is portrayed on the high altar, surmounted by the Holy Trinity.
Music Academy
This annual two-week festival runs from late July to early August and includes concerts by various forms of keyboards, including pianos, harpsichords, and organs. The performances take place in the 12th century Benedictine abbey.
Schloss Greillenstein
Schloss Greillenstein (16th and 17th C.) is a building with four wings and a massive tower. The interior features a fine library and a museum of criminal law.
Horn, Austria
To the northeast of Altenburg lies the little town of Horn (309m/1,014ft; pop. 8,000), with a Schloss of the 16th and 18th C. (now in private occupation), the Höbarth Museum (Wiener Strasse 4: prehistoric and local material, folk-art) and the Mader Museum (also at Wiener Strasse 4: collection of agricultural machinery and farmhouse furniture), as well as a number of Renaissance and Baroque buildings.
Schloss Breiteneich
Some 3km/2mi northeast of Horn will be found the Renaissance Schloss Breiteneich (restored). It contains a hunting-hall; chiefly pheasants, partridge and small game which used to be hunted in the Waldviertel.
Maria-Dreieichen Church
5km/3mi southeast of Horn stands the pilgrimage church of Maria-Dreieichen, a fine Late Baroque building of 1750.
Eggenburg, Austria
In the upper Schmida valley lies the pretty little town of Eggenburg (325m/1,066ft; pop. 4,000), with the Gothic parish church of St Stephan (1482-1537; Romanesque towers) and the Krahuletz Museum of Prehistory.
Pulkau
8km/5mi north of Eggenburg lies Pulkau (280m/919ft; pop. 1,500), with the Gothic Heiligenblutkirche which contains a large winged altarpiece of C. 1520. There is also a 14th C. charnel house.
Austrian Motorcycle and Technical Museum
The Austrian Motorcycle and Technical Museum in Eggenburg has a display of vintage motorcycles.
International Chamber Music Festival
This annual festival runs from mid-August to early September. The events take place in various venues, including the Breiteneich Palace, as well as local abbeys and mansions.
Sightseeing Nearby: