Alkmaar Tourist Attractions
Alkmaar lies on the North Holland Canal, 8km/5mi from the coast of the North Sea. The charming old town center, with many fine architectural monuments and old guild-houses and burghers' houses of the 16th to 18th centuries, has been preserved unspoiled.
Fish Hall
From the Grote Kerk, Alkmaar's main street, the Langestraat, runs east to the Mient (Fish Hall). On the right (No. 46) is the Town Hall and in Doelenstraat, on the left, is the Municipal Museum.
Excise Tower
At the end of the Verdronkenoord, in Alkmaar's Bierkade, on the North Holland Canal, is the elegant Accijnstoren (Excise Tower), which dates from 1622. From here Bierkade leads to the Victoriepark, in which stands a monument commemorating the defense of the town against the Spaniards in 1573.
Gabled Houses
In the picturesque old part of Alkmaar around the Mient, on the grachten of Luttik Oudorp and Verdronkenoord and in the adjoining streets there are many old gabled houses of the early 16th century.
Waagplein
From the end of the Langestraat in Alkmaar a street on the left leads through the Mient area to the Waagplein, in which the cheese market is held.
Cheese Market
Alkmaar's chief tourist attraction is its cheese market, which is held, strictly in accordance with tradition, every Friday in front of the Weigh-House in the Waagplein. The square is almost completely covered with large round cheeses (over 23 tons of Edam and Gouda cheese). The cheese-porters, dressed in white and wearing hats in the colors of their guild, carry the cheese (sometimes as many as 80 Edam cheeses at a time) on cradle-like racks to be weighed in the weigh-house and loaded into trucks. All the different kinds of cheese are sampled and checked for quality; but this is only for show, the real cheese market being held in the Stock Exchange. Cheese described as jong (young) must be at least four weeks old; jong belegen must be at least two months old, belegen kaas four months old and extra belegen seven months old; and "old" cheese must be over 10 months old.
Schermer - Windmill
Near Alkmaar in Schermerhorn, at Noordervaart 2, is a windmill dating from 1634, now a museum.
Map of Alkmaar Attractions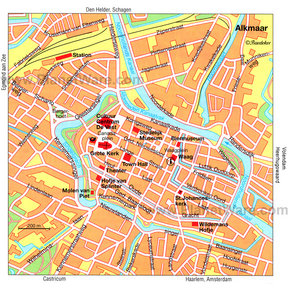 Map - Alkmaar