Stodertal
The charming Stodertal is a high mountain valley in the east of the Totes Gebirge through which flows the upper course of the River Steyr. It branches off to the west from the main road leading southward via Windischgarsten to the Pyhrn pass, and should not be missed by visitors passing through the Pyhrn-Eisenwurzen region of Austria.
Related Attractions
Traveling up the Stodertal
Traveling up the Stodertal driving tour.
Stodertal Road
From the bridge over the Steyr the road ascends the left bank of the river through the narrow wooded valley. 8km/5mi up the valley, below the road on the right (steps leading down), are the Stromboding Falls, 24m/80ft high. Beyond this lies Mitterstoder, from which a road runs eastward to Windischgarsten.
Hinterstoder
On the side of the River Steyr opposite Mitterstoder the Stodertal Road comes to Hinterstoder (585m/1,919ft; pop. 1,200), the chief place in the valley and a popular summer and winter sports resort. The village is beautifully situated between the Warscheneck group (2,387m/7,832ft) to the southeast and the wooded slopes of the Totes Gebirge to the northwest. A chairlift ascends to the south by way of the Hutterer Böden (1,387m/4,551ft; several ski lifts) to the Hutterer Höss (1,831m/6,008ft; good walking country with fine views). From Hinterstoder the Grosser Priel (2,523m/8,278ft), in the Totes Gebirge, can be climbed in about seven hours. A waymarked "Wild Herb Path" begins near Hinterstoder.The town also has a natural history instructional path.
Baumschlagerreith
From Hinterstoder the Stodertal Road continues to the Dietlgut (650m/2,133ft) and ends at the hamlet of Baumschlagerreith, near the source of the Steyr. There is a chairlift from Hochhauser (660m/2,165ft) up the Schafferreith (upper station 1,153m/3,783ft; skilifts).
Mitterstoder to Windischgarsten Driving Tour Through Stodertal
The side road from Mitterstoder to Windischgarsten (16km/10mi) traverses wooded country to Vorderstoder (808m/2,650ft), on the watershed between the Steyr and Teichl valleys. Beyond this lies the little summer resort of Rossleithen (690m/2,264ft), and 20 minutes' walk to the south the picturesque grotto of Piessling-Ursprung (500m/1,640ft).
Windischgarsten
Windischgarsten (603m/1,978ft; pop. 1,800), a winter sports and health resort, is beautifully located south of the Sengsen-Gebirge in the valley basin of the Teichlbach. Note the parish church (12th C.; rebuilt in the 15th C.) with wrought iron grave crosses on the external wall, the Baroque Calvary chapel, fountain in the marketplace and Roman finds. A chairlift runs eastward up the Wurbauerkogel (859m/2,818ft; summer toboggan run). A narrow mountain road (6km/4mi) climbs southeastward to the Gleinker See (807m/2,648ft), below the north face of the Seestein (1,570m/5,151ft), from where it is a five and a half hours' climb to the summit of the Warscheneck (2,387m/7,834ft; views), which can also be reached from Vorderstoder along a waymarked path.
Map of Salzburg Attractions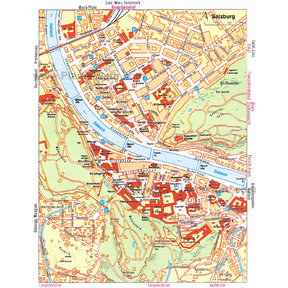 Salzburg Map
More Salzburg Attractions