Yorkville, Toronto
The tastefully redeveloped district of Yorkville with its many high-class boutiques, galleries and elegant restaurants extends northwards from Bloor St. Hazelton Lanes and the nearby Cumberland Court represent luxury shopping at its most stylish.
Important Information:
Address:
55 Bloor Street West Suite 220, Toronto, ON M4W1A5, Canada
Related Attractions
Heliconian Club (formerly Olivet Congregational Church)
Heliconian Club in Toronto was started in 1909 as a place for women in fine arts to get together. In the 1920s the club purchased a new building which has since become a historic site.This former church was originally built in 1890. The tower was meant to be 90 feet high, but was never completed and thus stands 40 feet high. Members include women of all ages in visual arts, music, writing, acting, dancing and related fields in the humanities
Yorkville Fire Hall
Originally built in 1876, the Yorkville Fire Hall was involved in a fire which destroyed much of the building. The tower survived and was maintained when the hall was rebuilt. Today this very distinctive looking building displays the Yorkville coast of arms above the main door, which originally graced the town hall before a fire destroyed the building.
Guild Shop
Owned and operated by the Ontario Crafts Council, the Guild Shop sells a wide variety of handcrafted objects including ceramics and jewelry. The Guild Shop also presents exhibits throughout the year.
Hazelton Lanes
Hazelton Lanes is a shopping complex which was built in 1978 and features offices and condos above the shopping area. In winter a skating rink is set up which becomes a cafe during the summer.
Sudi's the Spa
Sudi's The Spa is located in Yorkville and is a full service spa. A variety of packages are available to suit varying needs and budgets. They also offer a variety of courses in aesthetics.
Yorkville Branch, Toronto Public Library
The Yorkville Branch of the Toronto Public Library was originally built in 1903 with an endowment from Andrew Carnegie, a philanthropist from New York. Three other libraries were also built thanks to Carnegie's generosity.
Yorkville Avenue and Cumberland Street
The center of Yorkville is formed by Yorkville Avenue and Cumberland Street. These streets are home to a number of shops, restaurants, and cafes.
Map of Toronto Attractions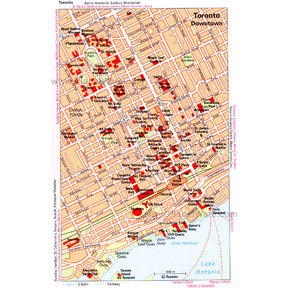 Toronto Map