Entertainment District, Toronto
The Toronto Entertainment District features the largest concentration of bars, nightclubs, and restaurants in the city. Also in the district is a wide variety of entertainment venues including theatres, concert halls, and stadiums.
Entertainment District Map
Important Information:
Address:
157 Adelaide Street West, Suite 414, Toronto, ON M5H4E7, Canada
Related Attractions
This landmark structure on the skyline of Toronto stands high above the surrounding skyscrapers. A trip to the top offers incredible views of the city, Lake Ontario, and on a clear day visitors can even see the mist rising up from Niagara Falls.
Rogers Centre (formerly Skydome)
Immediately adjacent to the CN Tower is Rogers Centre, a massive domed sports arena the roof of which slides back allowing it to be opened in favorable weather. This mega-structure, completed in 1989, is Toronto's answer to the ambitious Olympic Stadium built by its arch rival, Montréal. Rogers Centre can accommodate many thousands of spectators and is a venue for every kind of sport - baseball and football in particular - as well as for rock and pop concerts.
Corporate Suite Rentals
Corporate Suite Rentals offers luxury boxes for rent. The boxes are available for any event.
Royal Alexandra Theatre
The 93 year old Royal Alexandra Theatre in Toronto was originally built by Cawthra Mulock and is the only North American theatre to be truly 'royal' as permission to name the theatre was granted by King Edward VII and his Queen Alexandra. The theatre was bought by Ed Mirvish in 1962, closed for a period of one year for thorough renovation and then re-opened. In 1987, on it's 80th birthday, the theatre was named a National Historic Monument.
Roy Thomson Hall
Beyond the Opera House the circular Roy Thomson Hall in Toronto was designed by the famous architect Arthur Erickson. The concert hall is known throughout Canada for the excellence of its acoustics.Roy Thomson Hall underwent some major renovations in the early 2000s which greatly enhanced structure.
Massey Hall
Toronto's Massey Hall is internationally recognized and is one of Canada's most famous venues. Massey Hall is a concert hall which plays host to a wide variety of music and other shows. In the past, Massey Hall has hosted a variety of events including boxing matches, weddings, and tournaments.
Metro Toronto Convention Centre
The Metro Toronto Convention Centre features over 600,000 square feet of space and includes, among other things - a 1,330-seat theatre, two carpeted ballrooms, exhibition areas, and 64 meeting rooms. Located in the heart of downtown Toronto, most of the large scale international shows are held here.
Air Canada Centre
The Air Canada Centre is Toronto's newest sports stadium and is home of the Toronto Maple Leafs and the Toronto Raptors.The Air Canada Centre also houses a wide variety of shows, concerts, and special events throughout the year.
Canadian Broadcasting Corporation Museum
Through interactive displays the Canadian Broadcasting Corporation Museum, operating since 1936, in Toronto traces the history of the CBC. Rotating special exhibitions are also featured.
Princess of Wales Theatre
The Princess of Wales Theatre in Toronto was built by father and son David and Ed Mirvish in 1993. The theatre is privately funded and is the first to be so in Canada in almost 100 years. The theatre was opened with the production of Miss Saigon.
Map of Toronto Attractions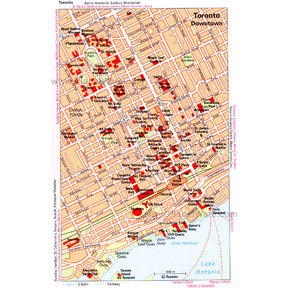 Toronto Map