Hospital de Santa Cruz & Museo de Santa Cruz, Toledo
To the east of the Plaza de Zocodover in Toledo, through the Moorish Arco de la Sangre, is the old Hospital de Santa Cruz (15th-16th century), a Renaissance building designed by Enrique de Egas for Cardinal Mendoza, Isabella the Catholic's confessor, with an early Plateresque doorway showing the Cardinal kneeling at the Cross, surrounded by SS Peter, Paul and Helen.
Hospital de Santa Cruz & Museo de Santa Cruz Map
Related Attractions
Museo de Santa Cruz
The old Hospital houses the Museo de Santa Cruz. The Archeological section, in the rooms around the patio, contains prehistoric, Roman and Visigothic antiquities. The museum's collection of pictures begins in the three rooms on the ground floor. Particularly notable items are Flemish tapestries of the 15th and 16th centuries and a tapestry with the signs of the Zodiac which was woven for the Cathedral. Among the old masters displayed here are a Flemish portrait of Philibert II of Savoy and a picture by Morales, ''Christ in Chains''. Here too is the standard flown by Don John of Austria in the battle of Lepanto (1571). On the first floor are the museum's most valuable works, including a retablo dedicated to the Virgin with figures by Alonso Berruguete, works by Luis Tristán, a pupil of El Greco's, Ribera and the Master of Sigena, a ''Crucifixion'' by Goya and above all a superb collection of pictures by El Greco, among them his ''Assumption of the Virgin'', a late work. On the first floor there is also the section of applied and decorative art.
Puente de Alcántara
Below the Hospital de Santa Cruz, to the east, the deep gorge of the Tagus is spanned by the Puente de Alcántara. Originally a Roman structure, the bridge was completely rebuilt by the Moors in 866, and in its present form dates mainly from the 13th and 14th centuries. At the west end is a gate tower, the Puerta de Alcántara (1484), at the east end a Baroque gateway of 1721. From the bridge there is a magnificent view of the town, rising steeply up from the river, and of the Alcázar.
Castillo de San Servando
Downstream from Puente de Alcántara can be seen the Puente Nuevo (New Bridge; 1933) and the remains of a Roman aqueduct. High above the left bank of the river is the 11th century Castillo de San Servando.
Map of Toledo Attractions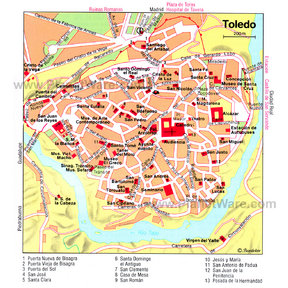 Toledo Map
More Toledo Attractions
Popular Destinations Nearby