Phitsanulok Tourist Attractions
Phitsanulok is situated in the north of the central plain on Menam Nan, one of the main tributaries of Menam Chao Phraya, and is surrounded by rice fields.After fire destroyed most of the old town of Phitsanulok a new business and trading town was developed, where little trace can now be found of the former importance of the neighboring town of Sukhothai. From the bridge across the Nan and the alleys leading alongside it a good impression can be gained of the lively atmosphere prevalent around the houses built on stilts and on the river.It is worthwhile combining a visit to Phitsanulok with a "historical" tour of Sukhothai, Si Satchanalai and Kamphaeng Phet.By car: from Bangkok highways 1/32/117, alternatively 11 (about 380 km (236 mi.)). From Sukhothai Highway 12 (58 km (36 mi.)).By bus: from Bangkok Northern Bus Terminal.By rail: on the Bangkok-Chiang Mai line.By air: daily from Bangkok and Chiang Mai.Around 1362 the Ayutthaya king Rama Thibodi (U Thong) conquered Phitsanulok, which was already at that time an important town in the Sukhothai kingdom. However, King Liu Thai soon regained it by peaceful means and made it his residence for the next seven years. From 1438 Phitsanulok was ruled by the crown prince of Ayutthaya as a viceroy and belonged, like the entire Sukhothai kingdom, to the Ayutthaya kingdom. The Burmese took the town in 1563. After the destruction of the Ayutthaya kingdom Phitsanulok became, for a short while, the main town of a small principality until, in 1770, King Taksin also annexed this to the developing kingdom of Siam. In 1955 Phitsanulok was almost completely destroyed by a devastating fire; a number of religious buildings have been reconstructed in a faceless modern style.
Identified by its conspicuous Khmer-style prang, Wat Phra Ratana Mahathat is located on the periphery of the old town.
Wat Ratchaburana
The new Wat Ratchaburana has been built on the ruins of an old temple opposite Wat Mahathat, on the other side of the street. Only an impressive chedi remains of the old wat.An attractive bell tower and a shrine, whose carved wooden portal is inlaid with colored stones and whose interior features interesting frescos (scenes from the Ramayana) completes the site.
Phitsanulok Pictures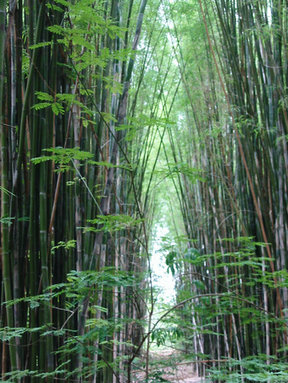 Map of Phitsanulok Attractions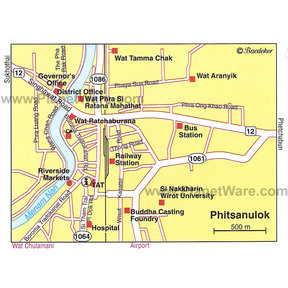 Map - Phitsanulok