Surroundings, Phitsanulok
There are a number of attractions within a short distance of Phitsanulok.
Related Attractions
Wat chulamani
The ruins of Wat Chulamani lie 5 km (3 mi.) south of Phitsanulok. This shrine, clearly influenced by the Khmer style, stands on a triple-stepped, richly articulated brick plinth. The main portal, reached by a flight of steps, and the side portals, partly decorated with stucco, have been retained, together with a beautiful statue of Buddha. The recently built small hall has little in common with the original building. The wat probably dates from the Lopburi period and was restored in the early Ayutthaya period under King Boroma Trailokanat (1448-88).
Wang Thong, Thailand
Highway 12 leaves Phitsanulok in an easterly direction. After approximately 15 km (9 mi.) the ruins of a chedi become visible on the summit of a hill: a marvelous view can be enjoyed from here. Behind the village of Wang Thong (20 km (13 mi.) east of Phitsanulok) the forestry commission has laid out a small park at the Menam Kok rapids.
Nam Tok Kaeng So Pa
Of the waterfalls by the wayside of Highway 12 or away from the road, Nam Tok Kaeng So Pa is particularly worth seeing. Follow the signpost about 52 km (32 mi.) from Phitsanulok.
Nakhon Thai, Thailand
A number of Burmese-style temple sites can be found in the small village of Nakhon Thai (once called Ban Yang), 31 km (19 mi.) north of Highway 12 (turn off approximately 60 km (37 mi.) from Phitsanulok).
Thung Saleng National Park
Thung Saleng Luang National Park, 1280 sq. km (494 sq. mi.) in size, lies about 65 km (40 mi.) east of Phitsanulok. Highway 12 passes through a hilly landscape of mixed forest into the densely overgrown jungle of the mountain heights, which separate the Menam Nan plain from that of the Menam Pasak. The national park is home to many species of animals, such as elephant, buffalo, wild boar, deer and the occasional tiger or panther, and rises to a height of 1500 m (4923 ft). Overnight accommodation is available in the guest house at the entrance to the park and in the selection of very comfortable bungalows. To the north of Highway 12 is a development center for the inhabitants of the surrounding Meo villages.
Map of Phitsanulok Attractions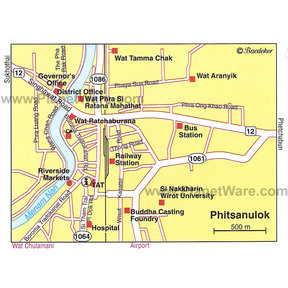 Phitsanulok Map
More Phitsanulok Attractions
Popular Destinations Nearby