Surroundings, Pattaya
Pattaya itself has two more recent temple sites located to the south of the town on the summits of two hills. In one the small garden with Chinese figures is of note, while the other contains a huge statue of Buddha; neither is particularly attractive. Those not entirely satisfied by the dolce vita of a beach holiday can escape to the surroundings of Pattaya. Some offshore coral islands, such as Koh Lam, Koh Lin and Koh Khrok, have beautiful beaches, although no accommodation that can as yet be recommended. They can be reached by boat from the main beach in Pattaya. Many boat owners offer day trips to the islands.
Related Attractions
Nong Nooch Village
Nong Nooch (pronounced "nung nut") Village, approximately 15 km (9 mi.) south-east of Pattaya, can be compared to the Rose Garden at Nakhon Pathom. The life of the agricultural population is portrayed in this 400-ha (988-acre) park, with Thai boxing, cockfights and an elephant show. The magnificent orchid garden is not just for flower lovers to savor, and the zoo, housing animals typically found in the region, is not aimed solely at children. Outings to Nong Nooch depart from the office in Pattaya (opposite Nipa Lodge Hotel). Guests can also be collected from their hotels.
Pattaya Orphanage
Pattaya Orphanage is situated near the motorway to Bangkok. Run by a Redemptorist priest of Irish descent, it cares for children of varying ages. Visitors wishing to gain an impression of life behind the façade of a pleasure resort are heartily welcomed here at any time, provided that they have made an appointment.The U.S. military assisted in building the orphange when it was discovered that many orphans were born of American servicemen in the days of their presence at the U.S. base during the Vietnam War.
Wat Yansanwararam
Shortly before the entrance to Nong Nooch a road turns off from Highway 3 to the recently built Wat Yansangwararam. This temple was dedicated to King Bhumibol in 1988 to commemorate the 42nd year of his reign. To the right-hand side of the path leading to the temple there is a lake with attractive Chinese pavilions and other buildings. Wat Yansangwararam's shrine stands on a hill, reached by a flight of 299 steps lined with naga snakes. On the plain several buildings, including a round wiharn and monastic dwellings, are situated in a well-tended area of parkland.
Elephant Kraal
An elephant kraal is located 6 km (4 mi.) from Pattaya. The pachyderms demonstrate their skills every day at 2.30pm accompanied by an English commentary. After the performances there is an opportunity to ride the elephants. Another elephant kraal can be found 5 km (3 mi.) from Sukhumvit Road at Rodeo Ranch.
Naklua, Thailand
The little town of Naklua, about 12 km (71/2 mi.) from Pattaya, should be visited either in the morning for its busy fish market or in the evening for its night market. A number of good restaurants can be found around the market. It is best to use a group taxi from Pattaya to travel there.
Pattaya Park
Pattaya Park, with spacious pools and four giant water-slides, was opened several years ago and lies 8 km (5 mi.) from Pattaya (take Cliff Road in a southerly direction and follow the signs). Pattaya Park contains several restaurants, as well as a complex of bungalows and a hotel.
Mini Siam
As in Ancient City the Mini Siam park displays Thailand's most important attractions in miniature (scale 1:25). An evening visit should prove delightful as the 80 exhibits are then illuminated.
Map of Pattaya Attractions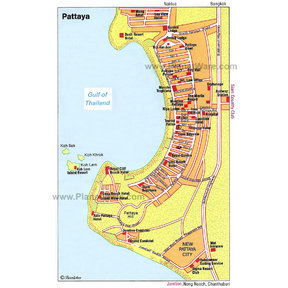 Pattaya Map
Popular Destinations Nearby