Surroundings, Chiang Rai
There are numerous towns and attractions to visit within a short distance of Chiang Rai.
Related Attractions
Wat Phra That Doi Thung
Wat Phra That Doi Thung, a major place of pilgrimage, is situated just below the 1330 m (4365 ft) summit of Doi Thung. At the beginning of March tens of thousands converge on the wat by car, bus, motorbike or on foot, making their way up the steep 17 km (11 mi.) road which branches off Highway 110 near the village of Ban Huai Krai. The summit offers a superb panorama over the north Thai countryside and it is well worth the trouble of driving there just to see the view. The temple buildings are less interesting, being mainly of recent origin.
Ko Saen Chai, Thailand
The unsurfaced track continuing beyond the Chiang Rai bus station leads to an Akha village called Ko Saen Chai, at the entry to which stand swings used in age-old fertility rites. The huts, built on piles and with low-hanging roofs, are each the home of an extended family. Men and women live segregated.Most hill tribes have their own language and believe in some form of animism which invests every common object with spirits, good or evil. Water, for example, is held to be the abode of evil spirits - a reason therefore for washing as little as possible.Since 1976 the Thai government has encouraged the assimilation of the hill tribes, but with only partial success. The Akha, dwelling in the mountains around Chiang Rai, have preserved their cultural identity more perhaps than most. They still adhere to their old traditions, including those embodied in skilled craftsmanship practiced over many centuries. The government-run Thai Hillcraft Foundation, responsible for marketing the products (mainly silverware, embroidery and woven fabrics), has offices in Chiang Rai.Generally speaking, any visit to the hill tribes should be in the company of a local guide with a knowledge of the language. Communication difficulties can lead to misunderstanding and the possibility of an unpleasant incident. It goes without saying that, here more than anywhere, tourists should exercise restraint (especially in regards to photography).
Mae Chan, Thailand
Near to the Burmese border at the village of Mae Chan, agriculturalists from the Mae Chan Community Station assist the hill tribes, helping them switch to crops other than opium.
Mae Sai, Thailand
Highway 110 heads north to Mae Sai (25 km (16 mi.)), the most northerly point in Thailand. This little frontier post with its busy markets once lay on a major trade route leading to China.
Mae Lo Dam
Lovely surroundings make the Mae Lo dam (south on Highway 1, then Highway 109 towards Fang) a favorite spot among local people.
Map of Chiang Rai Attractions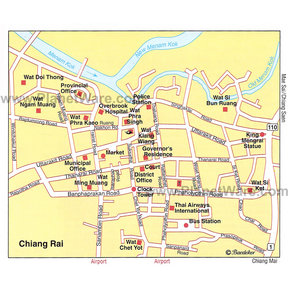 Chiang Rai Map
Popular Destinations Nearby