Surroundings, Chiang Mai
There are a number of small towns and attractions within a short distance of Chaing Mai.
Related Attractions
Set atop a series of 306 steps is the Wat Doi Suthep which is dedicated to a devout monk by the name of Vasuthep. The temple features a striking, 66 feet high Gold chedi.
Chiang Dao, Thailand
Chiang DaoThe tiny market town of Chiang Dao lies above the Menam Ping gorge on the green slopes of Doi Chiang Dao mountain. Limestone peaks reaching a height of 2186 m (7174 ft) make an impressive backdrop.By car: from Chaing Mai via Highway 107 (72 km (45 mi.)); magnificent, densely wooded mountain scenery.By bus: from Chaing Mai (several buses a day).Although the scenery around Chiang Dao is one of northern Thailand's greatest attractions, Chiang Dao itself, hardly more than a village, has little in the way of sights. Its principal feature is the nearby agricultural development center run by the Thai government. As well as researching into tea and coffee cultivation, the center provides an advisory service for local communities. One of the aims is to enable the mountain folk to switch to crops other than opium, grown here for centuries. Agricultural advisers go out into the Meo, Lisu and Karen villages, lending support to rice growing, arable farming and cattle rearing.
Chiang Dao Cave
The sacred Chiang Dao Cave, part of a network extending 14k m (81/2 mi.) underground, lies about 6 km (4 mi.) along the track leading north from the village. Inside the cave, shafts of sunlight filtering through crevices in the rock bathe the statues of Buddha - the largest being carved from white marble - in a mysterious light. Near the entrance are a large white chedi surmounted by numerous little towers, and a spring-fed pond, home to the temple fish.
Trinity Village, Thailand
The road winding its way north to the village of Fang passes, at the 78 kilometer mark, the entrance to Trinity Village, a leper colony.
Doi Pui National Park
The superb panorama over jungle-clad hillsides and gorges is a splendid reward for a three hour hike through impressive scenery to the summit of Doi Pui. The path leads past a Meo village which, being popular with tourists, has become very commercialized (for example the villagers insist on payment for allowing themselves to be photographed). Nothing, though, can detract from their wonderfully colorful tribal dress and highly decorative silver jewelry, all of which is captivating.
Doi Inthanon National Park
Adding to its appeal, the countryside around the city of Chiang Mai is a nature lover's dream. About 60 km (37 mi.) south-west lies the Doi Inthanon National Park, one of Thailand's finest conservation areas, its rugged gorges, picturesque waterfalls and impenetrable jungle being much more than simply tourist attractions.
Doi Inthanon
A trip to Doi Inthanon, 55 km (34 mi.) from Chom Thong and Thailand's highest peak (2595 m (9711 ft)), is one of the most scenic excursions in this supremely scenic part of the country. The mountain lies at the heart of the Doi Inthanon National Park, part of the granite massif which forms the southern foothills of Myanmar's Shan Mountains.Travel agents offer three to five day treks on foot or by pony, staying overnight in Wildlife Association camping areas. It is also possible to hire local minibuses, and there are some bungalows by the National Park headquarters (just past the Hmong village Khun Klang).
Mae Rim
Working elephants can be seen being trained at the elephant camp near Mae Rim (20 km (13 mi.)) north of Chiang Mai; the camp itself is another 7 km (4 mi.) beyond the village). Demonstrations take place daily and all Chiang Mai travel agencies arrange excursions.With the Thai government having introduced, for reasons of conservation, a total ban on the felling of tropical hardwoods, the supply of trained working elephants now far exceeds demand. Several hundred "unemployed" elephants consequently rely for their subsistence on an allowance from the State. This is supplemented by income from tourists eager to learn more about training and caring for these endearing pachyderms, animals which have always had such an important part to play in Thailand's history. Visiting VIPs are sometimes treated to an "elephant spectacular" arranged by King Bhumibol, as many as 40 to 50 of the creatures being gathered together from the surrounding area.Tours of the Doi Inthanon National Park leave from Mae Rim. They last from one to several days and use elephants for transport.
San Kamphaeng
In the 15th c. San Kamphaeng (east of Chiang Mai; leave by Charoen Muang Road) was famous for its ceramics - the ruins of the old potters' village can still be seen to the east of the present town. As far as pottery is concerned Chiang Mai has now taken over, without yet equaling, it should be said, the skill and artistry of those early craftsmen. San Kamphaeng remains well known but its reputation today is for hand-woven silks and cotton fabrics (some producers having displays illustrating the processes of silk manufacture).San Kamphaeng also boasts an interesting old temple, Wat Sai Mon, several features of which are Burmese in style. The interior of the three-aisled wiharn is embellished with gold-on-red ornamented teak columns and elaborately worked furnishings.
Bo Sang, Thailand
Almost the entire population of Bo Sang, the "Umbrella Village", about 8 km (5 mi.) east of Chiang Mai, occupy themselves in making parasols and umbrellas. The bamboo frames are covered either with varnished paper manufactured from the rind of the tonsa tree or with silk. This is then lacquered and afterwards painted with patterns, flowers or landscapes. Even the children try their hand at complicated designs.
Nong Wua Park
Nong Wua Park, situated 17 km (11 mi.) east of Chiang Mai, is a popular place for weekend outings. Reclaimed from previously swampy ground the park has a small lake covered in lotus blooms. There are restaurants and refreshment stalls.
Huai Theung Thao Dam
A favorite outing among local people is to the Huai Thueng Thao dam (40 km (25 mi.) from Chiang Mai). It offers windsurfing and boat rental.
More Surroundings Pictures
Map of Chiang Mai Attractions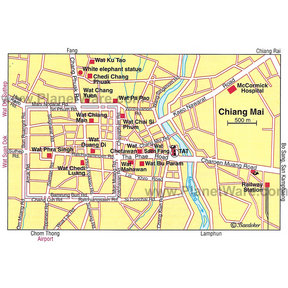 Chiang Mai Map
More Chiang Mai Attractions
Popular Destinations Nearby