Surroundings, Chanthaburi
There are a number of sights and natural attractions within a short distance of Chanthaburi.
Related Attractions
Khai Nern Wong
Near Khai Nern Wong ("Camp on a Small Hill"), some 5 km (3 mi.) south of Chanthaburi, lie the remnants of a fort constructed in about 1834 by King Rama III. Apart from one or two shattered cannon of British and French origin, there is little of a military nature to be seen. Within the partly overgrown walls stands Wat Yottanimit, also built by Rama III, incorporating a well-preserved 11th c. Khmer prang, the walls around which are topped by four (crumbling) chedis. The shrine is modern, erected in 1977 on the foundations of its predecessor.
Chanthaburi's Harbour
Chanthaburi's harbor, some 11 km (7 mi.) distant, no longer really contributes to the town's economy. The fishing village, built on piles and in a truly delightful setting, makes a pleasant excursion however, with boat trips to the islands offshore.
Nam Tok Drating (Waterfall of the Bull)
About 28 km (17 mi.) south-east of Chanthaburi, Nam Tok Krating ("Waterfall of the Bull") cascades 400 m (1313 ft) over rather curious rock formations. Another waterfall, Nam Tok Soi Dao, with a thermal spring close by, can be reached via Highway 317, passing through some superb tropical scenery on the way. The big favorite with local people however is the Nam Tok Praew waterfall (about 13 km (8mi.) south of Chanthaburi) where there is a pool suitable for swimming. This whole area is now a National Park (Khao Sor Bab National Park). Minibuses make regular runs from Chanthaburi town center.
Wat Tong Tua
En route to Nam Tok Praew, the Khmer ruins at Wat Tong Tua can be visited. The phaniat, a solid structure surrounded by a 4 m (13 ft) wall may have been an elephant house. Also of interest are the 17th c. stone sculptures on display in the monastery and, near the access to the waterfall, the plain white chedi containing the ashes of Queen Sumantha, drowned when her boat capsized near Bang Pa In.
Ban Kacha Mine
The nearest gem mine to Chanthaburi (visitors welcome) is located 4 km (21/2 mi.) away, near the small village of Ban Kacha. The temple on the nearby Phu Khao Phloi Waen ("Hill of Precious Stones") is another which boasts a footprint of the Buddha.
Laem Singh, Thailand
Along Highway 3, a turn-off to the right at the 348 kilometer mark leads to Laem Singh, another small fishing village - with dried shrimps as a specialty! The village presumably took its name from Koh Singh Island (from the Old Indian for "lion"), shaped something like a lion and facing it off shore.
Map of Chanthaburi Attractions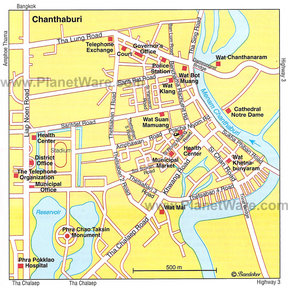 Chanthaburi Map
Popular Destinations Nearby