Passeig Arqueològic, Tarragona
The Paseo Arqueológico, which is pleasantly shaded by cypresses and affords extensive views from each end, passes a bronze statue of Augustus gifted by Italy in 1934, the Torre del Arzobispo and a seminary for the training of priests at the east end of the hill.
Related Attractions
Cyclopean Walls
From the north end of the Rambla Vella the Vía del Imperio runs east to the Puerta del Rosario (Catalan Portal de Roser), which dates from the sixth or fifth century B.C. This is the starting-point of the Paseo Arqueológico round the massive ancient cyclopean walls enclosing the highest part of the town, which are preserved almost without interruption for a length of 1,000m/1,100yd, standing to heights of between 3m/10ft and 10m/35ft. The lower part of the walls - the remains of the Iberian town walls of the sixth century B.C. - is built of huge irregularly shaped blocks up to 4m/13ft long. Above this lie the Roman walls, built by the Scipios from 218 B.C. onwards; native workmen were employed in the construction, and many of the stones bear Iberian masons' marks. Higher still are the remains of the Augustan walls. The six surviving gates all date from the earliest period.West of the Puerta del Rosario is a section of Moorish wall, built with blocks of rammed earth.
Archeological Museum
From the Paseo Arqueológico the Paseo de Torroja (Catalan Passeig de Torroja) and Paseo de San Antonio (Passeig de Sant Antoni) go past the Puerta de San Antonio (Portal i Creu de Sant Antoni) to the Archeological Museum, which has one of Spain's finest collections of Roman art. Particularly notable are a number of mosaics, including a fine Medusa's head and a Bacchic scene. Other items include architectural elements from Tarragona, Roman sculpture and pottery, and an ivory doll 23cm/9in. long (fourth C. A.D.) found in a child's tomb. In the basement of the museum are the excavated foundations of Roman walls.From the Archeological Museum it is a short distance west to the south end of the Rambla Vella.
Pretorio Romano
Adjoining the modern Archeology Museum building rises the massive Roman Praetorium, also known as the Torreón de Pilatos because Pilate is supposed to have been born in it. It is not in fact a palace but one of the towers bounding the Forum, which lay to its rear. The tower now houses a museum on the history of the town.
Museum of Modern Art
Northeast of the Archeological Museum, in Calle Santa Ana, is the Museum of Modern Art. To the south of this extends the former Jewish quarter of Tarragona.
Passeig Arqueologic Pictures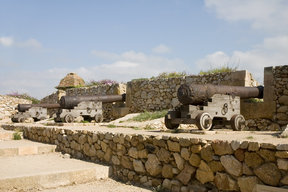 Map of Tarragona Attractions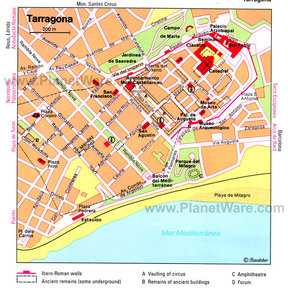 Tarragona Map
More Tarragona Attractions
Popular Destinations Nearby