Szombathely Cathedral
Berzsenyi Daniel tér is the center of Szombathely as it was in Roman times. The forum of Savaria probably stood where the cathedral now stands. The cathedral, bishop's palace, former priests' seminary and Eölbey House - all works by Melchior Hefele - together with the square form an ensemble where the influence of Bishop Szily is still apparent (his monument stands in front of the cathedral). The rather uninspiring façade of the cathedral, which Hefele worked on from 1791 until his death in 1797 dominates the square; the building was completed in 1814. The tower roofs were later additions. Unlike the façade, a cross between Late Baroque and Classicism, the interior (including frescos by Maulbertsch), which was destroyed in the last war, was ornate Baroque. The altars were either reconstructed or restored; a picture by István Takács (1951) replaces the Maulbertsch painting in the high altar. The statues at the main altar and those of the façade (Moses, John the Baptist; the apostles Peter and Paul and allegorical figures) are by Philipp Prokop. The pulpit, still intact, was completed by Martin Rumpelmayer to a design by Hefele.
Related Attractions
Járdányi Paulovits István Romkert
The " Járdányi Paulovits István Romkert " ruins behind the cathedral (entrance between the cathedral and priests' seminary), discovered during building work in 1938, are the heart of old Savaria. A semi-circular apse and a 25m (82ft) long mosaic (acanthus ornaments, Christian symbols) by a master from Aquileia have been preserved from the St Quirinus basilica (4th C) which was rebuilt from parts of the former governor's palace. Quirinus, bishop of Siscia (Sisak in Croatia) is said to have been drowned in 303 in Savaria. On the west part of the site a section of the Roman road paved with rough basalt blocks can be seen as can the foundations of houses in the herringbone stonework, and near the apse of the cathedral are remains of the medieval round castle which belonged to the bishops of Gyor, which is said to have once measured 40m (131ft) in diameter.
Priests' Seminary
The former priests' seminary to the right (north) of the cathedral, built in 1777-79, houses a girls' school and the cathedral library with 60,000 volumes, valuable incunabula and manuscripts. The ceiling paintings in the library are by Stephan Dorffmeister (1791).
Map of Szombathely Attractions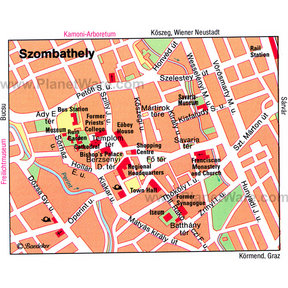 Szombathely Map
Popular Destinations Nearby