Fo tér, Szentendre
Lined with attractive merchants' houses in Baroque and 18th C plait style, the triangular Fo tér, the main square in Szentendre, is under historical protection. In the middle of the square stands the "Merchants' Cross", a wrought-iron cross on a stone pedestal decorated with icons, erected by the "Privileged Serbian Business Community" in 1763 following a plague epidemic.
Related Attractions
Kmetty Museum
On the opposite side of the square a permanent exhibition in the Baroque house shows the work of the Cubist painter János Kmetty (1889-1975). Notable is the so-called Dalmatian shop window, where during business hours the wooden shutters were taken down and used as a counter.
Merchants' House
These six narrow houses and shops all under one roof, which originally were the homes of six merchants' families, make an interesting architectural ensemble. The shops were on the ground floor of each building with the living accommodation above; the roof was used as a warehouse. Nowadays the ground floor of the complex is a gallery which shows paintings by local artists.
Charles Ferenczy Museum
The 18th C plait style building from 1797, situated to the left of the Blagovesécéenska church contains the art treasures of the Ferenczy family, particularly the works of Károly Ferenczy (1862-1917), the famous Impressionist painter, born in Szentendre. Other artists represented include his wife Olga Fialka and their children, the painter and designer Valér Ferenczy (1885-1954), the renowned tapestry weaver Noémi Ferenczy (1890-1957) and her twin brother Béni Ferenczy (1890-1967), famous representative of modern Hungarian sculpture.
Görög utca
The picturesque Görög utca, where predominantly Greek families built their homes and trading houses in the 18th C (görög 5 Greek), leads down from the Fo tér to the banks of the Danube.
Margit Kovács Museum
The Baroque house (Margit Kovács Museum) was used as a salt house in the 18th C. Its small front windows with grilles and its magnificently ornate arched gateway make it one of the finest Baroque buildings in the town. In ten rooms of the building are works by the renowned sculptress and ceramics artist Margit Kovács (1902-77), who combined modern and traditional elements in her work. The ceramics collection is one of the most popular in the country. In the basement and in a wing opened later her religious inspired works are on show.
Ciprovacka Church
To the south of Fo tér, on the site of a wooden church from 1708, stands the Serbian Orthodox Ciprovacka church, known as the Peter and Paul Church since 1857. Burnt down in 1800, it was rebuilt in the second half of the century and today serves the Catholic community.
Barcsay Museum
The southern extension of Fo tér is formed by Dumtsa Jeno utca. The Barcsay Museum has several hundred works by the painter and mosaic artist Jeno Barcsay (1900-87) are exhibited.
Map of Szentendre Attractions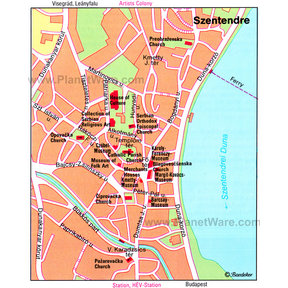 Szentendre Map
More Szentendre Attractions
Popular Destinations Nearby