Széchenyi tér, Szeged
After the flooding the old marketplace was replaced by the wide Széchenyi tér edged with plane trees. Statues of the nation's heroes and important citizens of the town line the paths of the park-like square. To the south of the square a monument commemorates the great reformist István Széchenyi. The allegorical figures around the pond in the middle of the square symbolize both the life-giving and destructive properties of the River Tisza.
Related Attractions
Klauzál tér
Klauzál tér is an intimate square by Szeged standards, with one of the best cafés (Café Virág) far and wide. Together with the Kárasz utca it is a popular pedestrian quarter and commercial center of the town. The balcony of the so-called Kárász House (Klauzál tér 5) is of particular significance to the people of Szeged. Lajos Kossuth gave his final speech in Hungary from here before going into exile.
Town Hall
The yellow painted Town Hall crowned with a central tower was built in 1883 to plans by Ödön Lechner and Gyula Pártos. The founder of Hungarian art nouveau made use of Neo-Baroque forms in which the two-dimensional rather than three-dimensional conception of the façade was suggestive of the new architectural style. A narrow thoroughfare on the first floor similar to the Bridge of Sighs in Venice links the town hall with the neighboring buildings.
Hotel Tisza
The renowned Tisza Szálló has always been the focal point of the city's social life. Szeged society attended concerts and other cultural events in the great hall of this prestigious hotel built in 1866.
Orbán Grün House
This classical house was built in 1901 by a book printer. Stone consoles support an oriel window with wrought-iron grilles and the figure of a Roman legionary in cast-iron.
Zsóter House
One of the buildings which withstood the floodwaters is the house, built in 1844 in Late Classical style for the wealthy shipping merchant and corn handler János Zsóter.
Szechenyi ter Pictures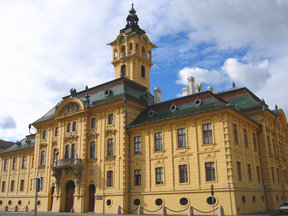 Map of Szeged Attractions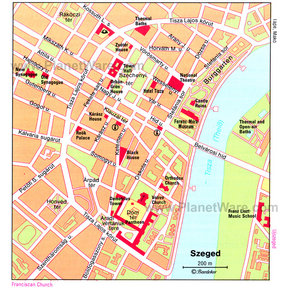 Szeged Map
More Szeged Attractions
Popular Destinations Nearby