Piazza Santa Lucia, Siracusa
The center of the thickly populated Tyche quarter of Syracuse, now known as Santa Lucia, is the large Piazza Santa Lucia, a square studded with rows of trees and lawns. Its northern end is filled by the church of the same name and - to its right - the octagonal 17th century Chiesa del Sepolchro, with the Tomb of St Lucia, the patron saint of Syracuse who, accompanied by her sick mother, went on a pilgrimage to St Agatha in Catania. The saint prayed for the mother, who was cured, and Lucia gave all she owned to the poor. She was murdered for her faith when Diocletian persecuted the Christians in 304. Her day is 13th December. The mausoleum can be visited from the church in the company of one of the Brothers. However, the Catacombs under the church and square are not accessible to the public.
Related Attractions
Santa Lucia
Santa Lucia in Syracuse is a 12th century triple-aisled columned basilica. It replaced an earlier church which was built in the sixth century on the spot where St Lucia was murdered. The portal and rose-window above it at the west end of the church are remnants of the old Gothic building. Baroque porticoes have been built on this end and on the south side. The original open roof trusses still remain, otherwise the interior has been converted to the Baroque style. The altar-piece "The Interment of St Lucia" is now in the Palazzo Bellomo. Large numbers of graves were uncovered in recent excavations made in the west portico of the church.
Piazza Vittoria
To the northwest of the Piazza Santa Lucia - which is reached by way of Via dello Stadio, Via Gorizia and Via Sofocle - lies the Piazza Vittoria with its large area of archeological excavation; among other items, an important Sanctuary to Demeter has been uncovered, and its votive gifts are now housed in the Archeological Museum.
Santuario della Madonna delle Lacrime
To the north of the the Archeological Museum stands a still incomplete round structure, the Santuario della Madonnina delle Lacrime by Enrico Castiglioni, which is intended ultimately to be 76m/250ft high. It is on the spot where in 1953 a plaster statue of the Madonna is said to have cried several times when a woman who was having a difficult birth called upon the Virgin Maria for aid. Until the building is completed a temporary room has been built where people can come to pay reverence, in the portico of which documents are displayed describing the phenomenon of the weeping Madonna.
Piazza Santa Lucia Pictures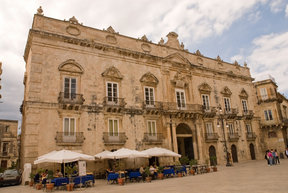 Map of Syracuse Attractions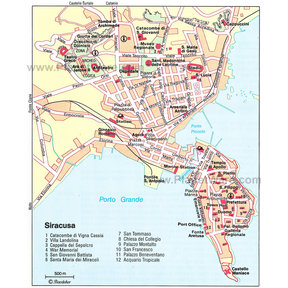 Syracuse Map
More Syracuse, Italy Attractions
Popular Destinations Nearby