Epipolai
Epipolai, almost uninhabited today, was the northernmost and also the largest district of the ancient city of Syracuse. It lies on a limestone plateau of some 15,000sq.m/3.75 acres and is in the shape of a triangle. This plateau looked down on the important supply road from the interior, and was therefore fortified by Dionysios I in about 400 B.C. by means of a wall 6km/3.75mi long.Diodor records that 60,000 laborers worked under the personal supervision of Dionysios and completed the great encircling wall in just 20 days. Its shorter eastern side runs parallel to the coast, and the long sides to the southwest and north join up near the Castello Eurialo, 8km/5mi northwest of the city center. To reach it take the road to Catania, turn left after 2km/1.25mi and follow the signs to Belvedere; bus route 11.
Related Attractions
Eurialo Castle
The Castle, with an area of 1.5ha/3.75 acres, is one of the strongest fortifications still remaining from the times of the Greeks. Like the walls, it was built in the reign of Dionysios, between 402 and 397 B.C.In subsequent years, up to the third century B.C., the castle was modified to meet changes in military requirements. It is said that it was here, when Syracuse was besieged by the Romans in 213-212 B.C., that the giant mirror constructed by Archimedes was used to reflect the sun and thereby set fire to the sails of the enemy fleet.
Castello Eurialo - Antiquarium
The entrance lies in the west, where there is also a small museum. Thus the castle is entered from the most vulnerable side and the one which was most strongly protected. There are three tombs dug into the rocks here, and behind them lies the main bastion safeguarded by five massive towers. A later, possibly Byzantine wall separates the eastern part, where there were several wells to provide water in times of siege. Underground passages through which troops could pass undetected by the enemy, some of which are still usable, form part of this well-designed complex. Of particular interest is the forcipate gateway below the castle to the north.ViewThere is also a rewarding view from here of the Old Town of Syracuse and the Porto Grande harbor area; it is especially impressive in the afternoon light.
Epipolai Pictures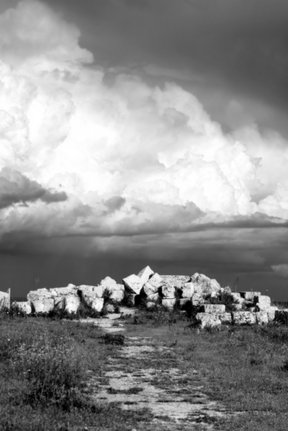 Map of Syracuse Attractions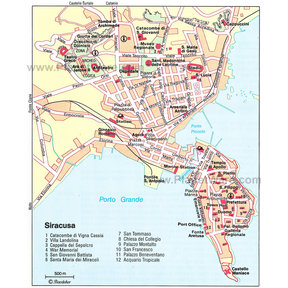 Syracuse Map
More Syracuse, Italy Attractions
Popular Destinations Nearby