Macquarie Street, Sydney
Macquarie Street, running north from Queens Square, was Sydney's most popular and most fashionable street, particularly in the second half of the 19th C, when two and three-storey houses in the Italian style, with verandas and views of the Domain and the harbor, were built here. In Macquarie Street are two relics of the early days of the colony, the Mint and Parliament House, both occupying wings of the old 'Rum Hospital'. The original track through the bush was named after Governor Macquarie in 1810, and 30 years later it was continued northward to Fort Macquarie, now Bennelong Point, the site of the Opera House. Since the building of Sydney Hospital in 1894 Macquarie Street has had strong medical associations.
Related Attractions
Rum Hospital
The long middle section of the Rum Hospital was pulled down in 1879, and the present building, in Victorian neo-classical style, was erected in 1894. Plans for its demolition and replacement by a square surrounded by high-rise buildings were under consideration in the 1960s but were not carried out. The foundation stone of the Rum Hospital (architect unknown) was laid by Macquarie in 1811 and the building was completed in 1816. It is so called because Macquarie granted the profitable rum monopoly to the builders, who then built the hospital, using convict labor, at no cost to the colony.
Parliament House
Parliament House is open to the public with seats in the visitors' gallery when the New South Wales Parliament is in session. These must be booked in advance. Parliament has occupied the north wing of the Rum Hospital since 1827, with extensions on the north and south sides in 1843 and 1856.
Sydney Mint
Sydney Mint occupies the south end of the old Rum Hospital and has preserved much of its original aspect. After the discovery of gold in 1851 the building was converted into the Mint, which continued to mint gold coins until 1927. Since 1982 it has housed a collection of jewelry, coins as well as many gold objects.
State Library of New South Wales
The new State Library is an 11-storey building (eight of them below ground) erected in 1988 and linked with the old state library by a covered walkway. The old library is an imposing two-storey building in Italian Renaissance style. The core of the library was the collection of DS Mitchell, who spent a lifetime assembling books and documents on Australia and the Pacific (61,000 volumes, now enlarged to 365,000 volumes and 35,000 manuscripts), supplemented by William Dixson's collection of Australian material. Among the Library's treasures are the journals of Captain Cook and Joseph Banks and Captain Bligh's log from the Bounty. The collection also includes early 19th C photographs.Opposite the State Library is Shakespeare Gate, leading to the Royal Botanic Gardens.
Map of Sydney Attractions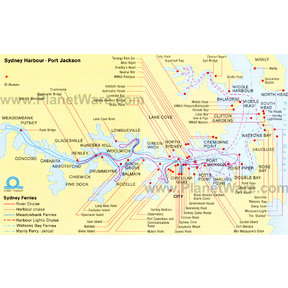 Sydney Map