Hyde Park, Sydney
Hyde Park (6.5ha), with its lawns, shady benches, flower beds, fountains, statues and the Anzac War Memorial, is Sydney's most central park, just on the edge of the central business district, and consequently draws many visitors, particularly during the lunch break. It lies between Queens Square, Elizabeth Street, Liverpool Street and College Street. Sydney's first underground railway line, the City Railway, was opened in 1926, running under the park between St James Station and Central Station.
Related Attractions
Anzac War Memorial
The Anzac War Memorial, in the southern half of the park, was erected in 1934 to commemorate the dead of the first world war. In geometric Art Deco style, it stands 30 m high on a podium with an area of 1200 sq m.
Hyde Park Barracks
The former Hyde Park Barracks is a three-storey brick building with a sandstone pediment like that of a Greek temple. Governor Macquarie was so pleased with the building that he gave Greenway his freedom. The barracks were built by convict labor in 1817-19 and housed 800 or more male convicts, who were marched in chains from here to their place of work. After the transportation of convicts to New South Wales ceased in 1848 the building was occupied by the immigration department and later (1887) by the court authorities. In 1975-84 it was restored to its original condition, and the main part of the building now houses a museum on the history of Sydney portraying the lives of the first involuntary 'settlers'.
Australian Museum
On the east side of Hyde Park is the Australian Museum, which has the largest natural history collection in the country. The exhibits range from valuable minerals and strange fossils to stuffed birds and mammals, many of them extinct. Adjoining these are interesting displays on the life of the Aborigines and the natives of Papua New Guinea.
Map of Sydney Attractions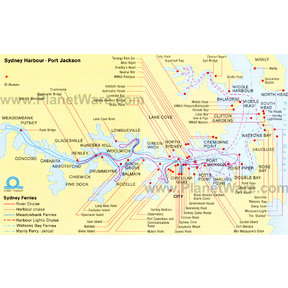 Sydney Map