Greater Sydney
The Greater Sydney region encompasses a variety of suburbs near and around Sydney.
Related Attractions
Balmain
Balmain, one of Sydney's nearer suburbs, lies on an inlet to the west of Darling Harbour. Like Paddington it has well preserved Victorian houses and is the home of many artists.
Glebe
Glebe, south of Balmain, has become a very popular residential area in recent years. In this area is Sydney University, the oldest in Australia.
Liverpool
Liverpool was founded by Governor Macquarie in 1810, but until the second world war remained a secluded rural settlement. It has since developed into an independent industrial center within the Sydney conurbation. It has preserved many historic buildings of the early 19th C, among them St Luke's Church and Liverpool Hospital, both designed by Francis Greenway.
Manly, Australia
The well-known Sydney suburb of Manly, on the north side of the harbor entrance (North Head), can be reached by ferry or hydrofoil. Its principal tourist attraction is Marineland, a large aquarium with shark feeding and other shows. The beach is well equipped with facilities for holidaymakers, including a large water slide.To the north of Manly is a string of popular beach resorts extending up to Palm Beach and Barrenjoey Head, on Broken Bay, the estuary of the Hawkesbury River.
Paddington
The best-known of Sydney's inner suburbs is Paddington, familiarly known as Paddo, only a 2 km walk along Oxford Street from the southeast end of Hyde Park. Thanks to the efforts of local people many of the old terraced houses lining the steep streets have been saved from demolition.Many young artists have made their homes in Paddington, which has interesting art galleries and craft shops as well as some very attractive restaurants.The main feature of interest in Paddington is the Victorian Barracks, on the south side of Oxford Street. Built by convict labor between 1841 and 1847, they are the best preserved large complex of colonial Georgian architecture in Australia. The main block - 225 m long, two-storied, simply and clearly articulated by columns and terraces - housed a British regiment of 800 men. The barracks have remained in use since 1848. Part of the building is now occupied by a military museum.
Port Jackson
Port Jackson (Sydney Harbour) separates Sydney from its northern districts and suburbs. In addition to the Sydney Harbour Bridge there are other bridges spanning the harbor further west (Gladesville Bridge, Ryde Bridge). It can also be crossed by ferry from Circular Quay. A cruise round the harbor by boat or ferry is a good way of seeing Sydney from its best side; there are various departure points round the harbor.
Vaucluse
In Vaucluse, between the harbor and the Pacific, is romantic Vaucluse House (open to the public), built between 1827 and 1850 by the explorer and politician William Wentworth for himself and his large family, set in beautiful gardens.
Watsons Bay
From Watsons Bay there are good views of the South Head, the harbor entrance and Sydney.
Other Suburbs
West of Sydney extends an endless succession of suburbs, for the most part consisting of detached houses with gardens, with only the occasional district (e.g. Parramatta) more densely built up with houses and apartment blocks. Even in a large city Australians like to have a house of their own with a garden, however tiny.On Saturdays there are often yacht races in the harbor.On the north side of the harbor, below the zoo (Ashton Park) and round Cremorne Point, there are pleasant paths for walkers.
Parramatta
Parramatta, the second British settlement in Australia, was founded in 1788 and was originally known as Rose Hill. It is almost completely surrounded on the west side by the city's suburbs. It was originally planned to make Parramatta the seat of government of the colony, leaving the town with Australia's oldest public building, Old Government House, a fine specimen of colonial Georgian architecture begun in 1790.Elizabeth Farm House (well restored) was built in 1793 by John MacArthur and his wife Elizabeth, making it probably the oldest surviving private house in Australia. Other interesting buildings are St Patrick's Cathedral, Roseneath House (c 1834) and some restored terraced houses in Phillip Street. Also of interest is the old cemetery of Parramatta, with the graves dating from the end of the 18th C.The Lancer Barracks (1818) are the oldest barracks in Australia.
Hawkesbury River is a scenic and historical area, with old towns surrounded by farm land.
Wonderland Sydney (closed)
Adjoining the Australian Wildlife Park is a large 200 ha theme park, Australia's Wonderland, which is somewhat reminiscent of Disneyland. Divided into seven different theme areas, it has numerous exciting rides and giant slides as well as stage shows.ATTRACTION CLOSED IN 2004.
Camden, Australia
Camden (pop. 18,700) lies near Campbelltown, and like that town has grown considerably in size as a result of its proximity to the Sydney conurbation. John Macarthur acquired great areas of grazing land here in 1805 and, with his wife Elizabeth, experimented with new breeds of sheep. Also associated with Macarthur is the Elizabeth Farm House at Parramatta.The town was founded around 1840, and many old building have survived from that period (Belgenny, Camden Park House, St John's Church, Macaria).
Campbelltown, Australia
Campbelltown (pop. 141,800), since the 1970s has been a rapidly growing satellite town of the state capital of Sydney.There are only scanty remains of the town founded by Governor Macquarie around 1820 and given his wife's maiden name.St Peter's Church (1823), a fine example of Georgian architecture; old houses of the colonial period on Queen Street (Nos. 284-98).
Penrith, Australia
Penrith (pop. 34,000) is an historic old town on the Nepean River, and the center of the Sydney-Blue Mountains-Hawkesbury River region.After the construction of the road through the Blue Mountains (1815) a courthouse and a small jail were built here. There are occasional boat races on the Nepean River.
Map of Sydney Attractions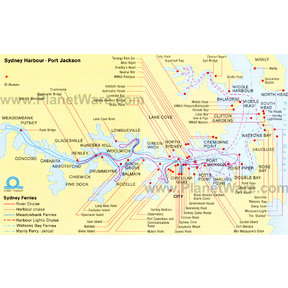 Sydney Map