George Street, Sydney
George Street, the oldest street in Australia, was originally a nameless track trodden by convicts fetching supplies of water. It was named after King George III in 1810. Among old buildings in George Street are the Russell Hotel, the Ox on the Rocks restaurant and the old police station. Around the mid-19th C a Chinese quarter grew up in this area and round Argyle Street. Later the Chinese community moved farther south to the Campbell Street/Haymarket area, now Sydney's Chinatown.
Related Attractions
Queen Victoria Building
The new high point of the shopping quarter, opposite the Hilton, is the Queen Victoria Building, now linked by underground shopping arcades with Town Hall Station. Originally built as a market hall between 1893 and 1898, the Queen Victoria Building is 200 m long 24.3 m across, with a 57.5 m high central dome surrounded by 20 smaller domes. After decades of neglect and even plans for demolition, this imposing sandstone building was restored to its original state in 1980-6 and occupied by 200 elegant shops open seven days a week - just in time for the celebrations of Sydney's 200th birthday. It is worth a visit, even if you don't want to do any shopping, as an example of successful restoration and for the sake of its beautiful stained glass windows and mosaic floors.
Sydney Town Hall
The Town Hall (1869) is a medley of different architectural styles which has been compared to a richly decorated wedding cake. The Centennial Hall (1889), a large concert hall seating an audience of 2500, has one of the largest organs in the world.Near the Town Hall are three Georgian-style buildings dating from the first half of the 19th C: the School of Arts (c 1836), a predecessor of the University of Technology (277 Pitt Street, near Park Street); the Pitt Street Uniting Church (1846; 264 Pitt Street), with two columns as in an Ionic temple; and the Judge's House (1826; 531 Kent Street), which was let to a judge in the 1830s.
St Andrew's Cathedral
Construction of the neo-Gothic St Andrew's Cathedral began in 1837, it was completed and consecrated only in 1868.These three 19th C buildings - the Town Hall, the Queen Victoria Building and St Andrew's Cathedral - formerly gave the George Street and Park Street area its distinctive character, but in recent years they have been overshadowed by high-rise office blocks.
Map of Sydney Attractions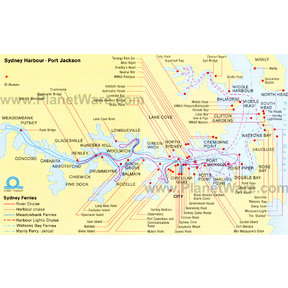 Sydney Map