Surroundings, Schaffhausen
Surrounding sights of Schaffhausen include Diessenhofen and the health resort of Gailingen.
Related Attractions
Diessenhofen, Switzerland
Diessenhofen (416 m/1,365ft; pop. 3,000) is a medieval town of 3,000 inhabitants, once a free Imperial city, with its fine Gothic burghers' houses, old fortifications (Siegelturm, 1545), parish church of St Dionysis (1200; rebuilt 15th century) and the Dominican convent of St Katharinental (1571; Baroque conventual church). On the opposite side of the river is the German village of Gailingen. Diessenhofen is about 10km/6mi to the east of Schaffhausen.
Official House Museum
The Official House Museum in Diessenhofen covers material about the town.
Gailingen, Switzerland
An old wooden covered bridge crosses from Diessenhofen to the opposite bank of the Rhine to the health resort of Gailingen (pop. 2,500; neurological rehabilitation center), with a St Nikolaus chapel (1100) and an interesting Jewish cemetery (1676); in the 19th C. there were as many Jews as Christians in Gailingen.
Schleitheim, Switzerland
Schleitheim in the canton of Schaffhausen is best known as the location where the seven articles of the "Schleitheim Confession" were written by Michael Sattler in 1527.
Hallau, Switzerland
The town of Hallau is noted for the Mountain Church of St. Moritz built in 1491. Restoration of the church between 1976 to 1978 brought valuable insights into the early history of Hallau.
Local Museum
Some early historical finds including Roman coins and bricks. Coins, weapons and everyday implements are included plus the history of the fire-brigade and power station.
Autumn Sundays Festival
This annual festival takes place on the first and second Sunday of September.
Local Museum, Neunkirch, Switzerland
Neunkirch has a Local Museum with fossils, documents on local history, furniture, household items, crafts and coins.
Reiat Museum, Thayngen, Switzerland
The Reiat Museum in Thayngen houses furniture, clothes, tools, books and local history displays.
Wilchingen, Switzerland
Wilchingen is located in the canton of Schaffhausen.
Autumn Sundays Festival
This festival takes place on the last Sunday of September and the first Sunday of October.
Map of Schaffhausen Attractions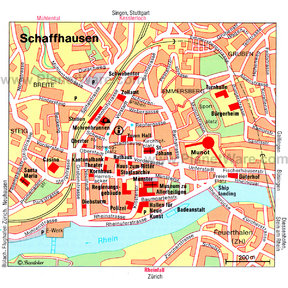 Schaffhausen Map
More Schaffhausen Attractions
Popular Destinations Nearby