Surroundings, Basel
The surroundings of Basle include the Roman colony of Augusta Raurica and the Dornach Goetheanum, a massive Expressionist structure.
Related Attractions
Tours
In Basle boats leave from the Mittlere Brücke for trips on the Rhine or around the port installations; boats to Rotterdam from St Johann, Elsässerrheinweg.
Boat excursions on Rhine River
Throughout the year the Basler Personen-Schiffahrts-Gesellschaft Kurs operates regular services and special trips. There are also day trips to Mulhouse and Breisach on the program. Particular attractions: Fondue-Ländler (dancing) and Spaghetti trips.
Rhine Shipping Exhibition
The Rhine Shipping Exhibition is located at the Rheinhafen.It shows everything about Swiss navigation on the Rhine and the high seas through models of historic and modern ships and nautical simulators.
Baselbiet - Banntag
This annual festival takes place on Ascension Day and is based on the tradition of blessing the fields in Baselbiet. In modern years the festival has become less religious and focuses instead on entertainment. Flag bearers, musicians and dancers gather in the street to entertain residents and visitors alike. The entertainment is followed by a huge feast.
Riehen, Switzerland
The village of Riehen is in the canton of Basel-City. Riehen is home to the Beyeler Foundation museum and a toy museum. Riehen also borders Germany and France.
Local Museum, Aesch, Switzerland
The Aesch Town Museum is located in a 400-year old farmhouse. Exhibitions include local history, prehistoric displays featuring Paleolithic items and Roman crockery.
Village Museum, Bennwil, Switzerland
The Bennwil village museum features exhibits highlighting the development of the village, everyday life, agriculture, geology, local flora and fauna.
Local Museum, Muttenz, Switzerland
Exhibits at the Local Museum in Muttenz highlight the history and development of the municipality Muttenz.
Local History Museum, Reigoldswil, Switzerland
The displays at the Reigoldswil Local History Museum include hunting and fishing items, linens and small agriculture implements.
Local Museum, Sissach, Switzerland
The Local Museum in Sissach has an historical collection of weapons, costumes, books, kitchen utensils, and a model of the 1356 earthquake.
Pillar House, Buus, Switzerland
The Pillar House in Buus features a display of farm implements.
Surroundings Pictures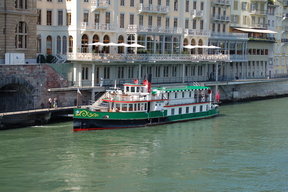 Map of Basel Attractions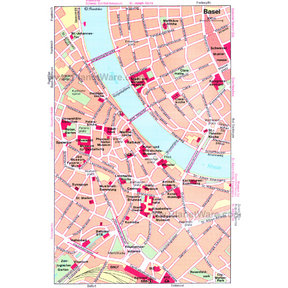 Basel Map