Surroundings, Baden
Baden is a good base for walks and climbs in the Lägern hills. 2.25 hours from Ennetbaden rises the Burghorn (863m/2,832ft), the highest point in these eastern outliers of the Jura (views of the Alps and Black Forest); 30 minutes east above the Limmat bridge, is Schartenfels (467m/1,532ft; restaurant), and 2km/1mi west Baldegg (572m/1,877ft; restaurant), with a view of the Alps.
Facilities:
Restaurant or food service
Related Attractions
Wettingen
South of Baden the largest commune in the Aargau, Wettingen (alt. 395 m/1,296ft; pop. 19,500), was once a sleepy little village, which has developed since the last war into a favorite residential town.
Cistercian Monastery
In the bend of the Limmat in Wettingen is the best preserved Cistercian monastery in the country, now a teachers' training college. The abbey (founded 1227) has superb Late Renaissance and Roccoco decoration, finely carved choir-stalls and in the cloister some of the best stained glass in Switzerland (182 roundels with coats of arms and figures, 13th-17th century). The extensive renovations to the exterior and the redevelopment of the cloister and chapter-house were completed in 1988. Refurbishment of the interior began in 1990 and lasted about four years.
Brugg, Switzerland
10km/6mi northwest of Baden lies Brugg (alt. 355m/1,165ft), an old town of 7,000 inhabitants and an important traffic junction near the confluence of the Aare, the Reuss and the Limmat. As the name indicates it grew up around its bridge, near which are the Black Tower (Schwarzer Turm, 11th century) and the Town Hall. In the old-world main street (No. 39) stands the house in which the educationist Heinrich Pestalozzi (1746-1827) died; his grave is at Birr, 7km/4mi south.
Vindonissa Museum
The Vindonissa Museum in Brugg contains a rich collection of material from the Roman fort of Vindonissa (first century AD, now called Windisch). Opening hours are given.
Local Museum
The local museum in Brugg has interesting information on the town.
Königsfelden Convent
From Baden the Zurich road (No. 3) passes the former convent of Königsfelden (on left), founded in 1308 by Elisabeth, widow of the German King Albrecht I, on the spot where he was murdered by Duke Johann of Swabia. The convent was converted into a mental hospital in 1866-72. The choir of the Gothic church has magnificent 14th century stained glass.
Windisch
1km/0.6mi beyond the Königsfelden convent is Windisch (alt. 366 m/1,201ft; to the left of road), on the left bank of the Reuss, the site of Roman Vindonissa. On the road to Lucerne, which goes off on the left just before the village, are remains of a large amphitheater which could seat 10,000 spectators.
Map of Baden Attractions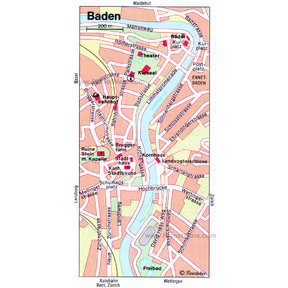 Baden Map
Popular Destinations Nearby