Surroundings, Örebro
Related Attractions
Nastasten
10km/6mi northeast of Örebro, on the old Fellingsbroväg, is the Nastasten, a runic stone with the inscription "Tored had this stone set up for Lydbjörn, his good son".
Glanshammar
15km/9mi northeast of Örebro is Ekebergs Herregård, home of Gustavus Vasa's second wife Margareta Leijonhufvud. The famous Ekberg marble (used, for example, in the Town Hall and the Dramatic Theater in Stockholm) came from the nearby village of Glanshammar.
Village Church
The Glanshammar village church, which dates from the middle of the 12th century, is one of the richest churches in the province, with Renaissance paintings and a fine processional crucifix. 200m/220yd west of the church are the old silver mines which gave the place its name. (Mining ceased about 1530).
Glanshammar Cemetery
Northeast of Glanshammar church is a ship burial, part of a cemetery area which extends along the road to Fellingsbro.
Arboga, Sweden
40km/25mi east of Örebro on E 20, on the Arbogaå, is Arboga (pop. 14,000), in the province of Västmanland. It was founded in the 12th century, when the river was made navigable, and rapidly developed into a busy trading town. Until the early 17th century Arboga was one of the best-known towns in Sweden, but its trade declined when the mining towns of Nora and Lindesberg were established (1643) and the Hjälmar Canal was built.Arboga is noted as a transportation, communication and tourist center. Highways E18 and E20 merge at the town as do the two railways Mälarbanan and Svealandsbanan.
St Nicholas's Church
The town center of Arboga has largely preserved its old-world atmosphere, with many old merchants' and craftsmen's houses. The medieval church of St Nicholas, in which provincial assemblies were held, was restored in 1921; it has a beautiful reredos (German work, 16th C.) and old wall paintings. In front of the church is a statue (1935) of the national hero Engelbrekt Engelbrektsson, who was elected Rikshövitsman (Governor of the Realm or Regent) at the first meeting of the Swedish Riksdag in 1435. To the west of the church stands the Town Hall (18th C.).
O-Ringen Orienteering Competition
Five-day international orienteering competition in Arboga is held in July.
Lake Hjälmar
Lake Hjälmar (area 483sq.km/190sq.mi, greatest depth 28m/90ft) extends eastward into Södermanland, and is linked with Lake Mälar by the Hjälmar Canal and the Arbogaå. Between 1877 and 1888 the water level was lowered by 1.80m/6ft, thus making an additional 27,000 hectares/67,500 acres of land available for cultivation. The lake is well stocked with fish and is frequented by many species of birds. At Segersjöviken is a bird-watching tower.
Mosjö Church
17km/10.5mi south of Örebro is Mosjö church, a medieval church which has survived practically unchanged. It contains a reproduction of the 12th century Mosjö Madonna (75cm/30in. high), the original of which is in the National Historical Museum in Stockholm. This wood figure in the costume of a Nordic goddess is believed to be one of the oldest representations of the Virgin in Scandinavia. To the east of the church are a number of tombs and a "judgment ring".
Hallsberg, Sweden
South of Örebro lies the town of Hallsberg (pop. 16,000), a railroad junction. The town is noted for its railway yards and oversize train station, larger than normally needed for a town of this size. In Västra Storgatan is an Art Nouveau house built for a businessman named Adolf Bergöö in 1889, with wall paintings by his son-in-law Carl Larsson in the banqueting hall.
Boo Manor House
South-east of Hallsberg, on Lake Avern, is the neo-Gothic manor house of Boo (1876-82). The chapel has a bell-tower built by Field Marshal H. J. Hamilton (1728-33) in thanksgiving for his safe return from imprisonment in Russia.
Kopparberg, Sweden
Kopparberg (10km/6mi from Örebro) has a number of unusual museums - Sweden's only Photographic Studio Museum, a Postal Museum, a Goldsmiths' Museum, a Shoemakers' Museum and a Mine Museum.Kopparberg is noted for Kopparberg Cider, a famous pear cider; the local church was started in 1635 - it was voted the most beautiful church in Sweden in 2006; and the well-known Finngruvan mine with veins of copper and traces of silver and gold.
Västmanland Mining Settlements
Between Nora and Kopparberg (Road 60; both in the province of Västmanland) are many old mining and ironworking settlements such as Pershyttan. At Klacka-Lerberg, in the mining area, are stalactitic formations.
Festival of Folk Music, Hallefors, Sweden
Hällefors Festival of Folk Music is held in June.The area surrounding the town of Hallefors is ideal for hiking, fishing, canoeing and biking.
Map of Orebro Attractions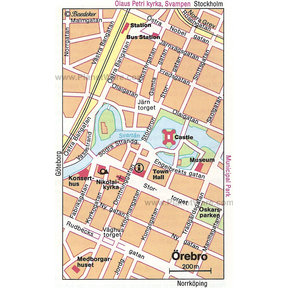 Orebro Map
Popular Destinations Nearby